Malawi's Elephant Road Trip
Wildlife officials will begin transporting 500 elephants to a new sanctuary next month.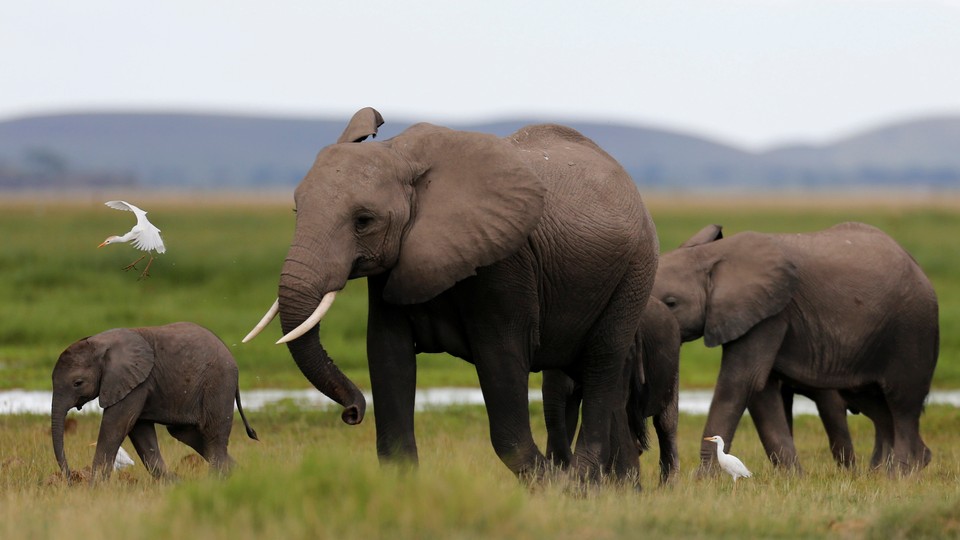 Wildlife experts in Malawi next month will begin moving up to 500 elephants to a new preserve in the country in what is considered the largest-ever pachyderm relocation in Africa.
The elephants will be transported from Majete and Liwonde, two wildlife parks that have become overcrowded, to a new 42,000-acre sanctuary inside the Nkhotakota Wildlife Reserve, about 300 kilometers, or 185 miles, away. Officials say they hope the elephant population will grow there, helping to replenish the numbers of a threatened species.
The relocation will take about a year, the AP reports. The operation "will involve darting the elephants from a helicopter, hoisting the slumbering animals by crane, and loading them in crates onto trucks" for the drive to Nkhotakota. Animals will be moved in small groups in July and August, and then again in the same period next year. Zebras, buffalo, impalas, waterbucks, and other species will also make the trip.
The journey and the new preserve are managed by African Parks, a nonprofit organization that manages 10 parks in seven African countries. The group in February received 2.6 million euros, or $2.9 million, from a Dutch charity lottery to be used in the move.
Malawi's elephant population, like in other African nations, is presumed to be declining. Exact figures are difficult to calculate, but populations have shrunk in the last few decades as poachers slaughter elephants for their tusks for the illegal and growing trade in ivory. In March of this year, the Malawi government set aflame and destroyed 781 pieces of ivory worth nearly $3 million that had been confiscated in 2013 from smugglers traveling from Tanzania to Malawi.