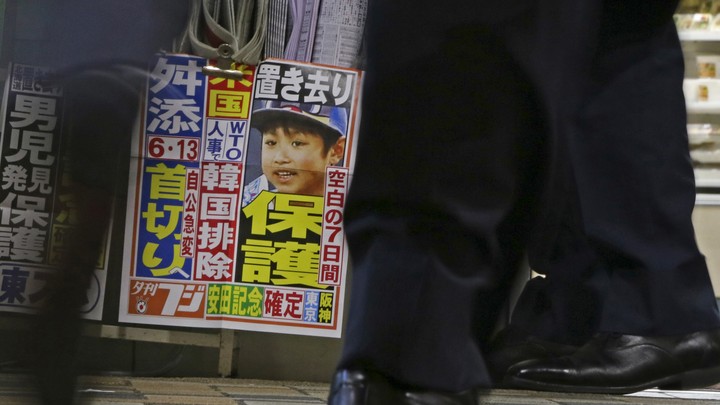 A 7-year-old boy left by his parents on a mountain road in Japan as punishment for his behavior has been found after a six-day search by the Self-Defense Forces.
Yamato Tanooka was found at a military exercise area in Shikabe, a town on Hokkaido, Japan's northernmost island, where he had been since last Saturday. He was last seen about three miles from there. Here's the background to the story, via Asahi Shimbun, the Japanese newspaper:
Yamato and three other family members were on a day trip at a park in Shikabe on May 28, where the boy threw pebbles at people and cars. To discipline Yamato, the parents left him in the mountain and drove away, according to their account. When they returned to the place five to 10 minutes later, he was not there.

The parents initially told police the boy went missing when the family was gathering edible wild vegetables. They later changed the explanation and said they left the boy in the mountain to punish him.
Yamato, a second-grader, suffered no injuries, officials said, and he survived on water. One of his rescuers offered him rice balls, which he accepted and ate, news reports said. The Japan Times adds:
He was taken to a hospital in Hakodate in an apparent state of exhaustion. He was placed on an intravenous drip as he had symptoms of mild dehydration and hypothermia, a doctor there said. He had minor scratches on his arms and legs but was otherwise unharmed.

It was at the hospital that he was reunited with his parents and sister.
The boy's father has apologized several times for the actions, including on Friday during an emotional news conference.
"I feel very sorry for the boy as I came down on him hard," Takayuki Tanooka said, adding he had apologized to Yamato.
Tanooka also apologized to the Japanese public, who have been captivated by the story of the missing boy and engaged in a debate over disciplining children.
"I deeply apologize to people at his school, people in the rescue operation, and everybody for causing them trouble," Tanooka said. "I have poured all my love into my son, but from now on, I would want to do more, together with him. I would like to protect him while he grows up."
We want to hear what you think about this article. Submit a letter to the editor or write to letters@theatlantic.com.