No Civil-Rights Charges in Minnesota Police Shooting
Federal prosecutors ended their investigation into the November 2016 shooting death of Jamar Clark.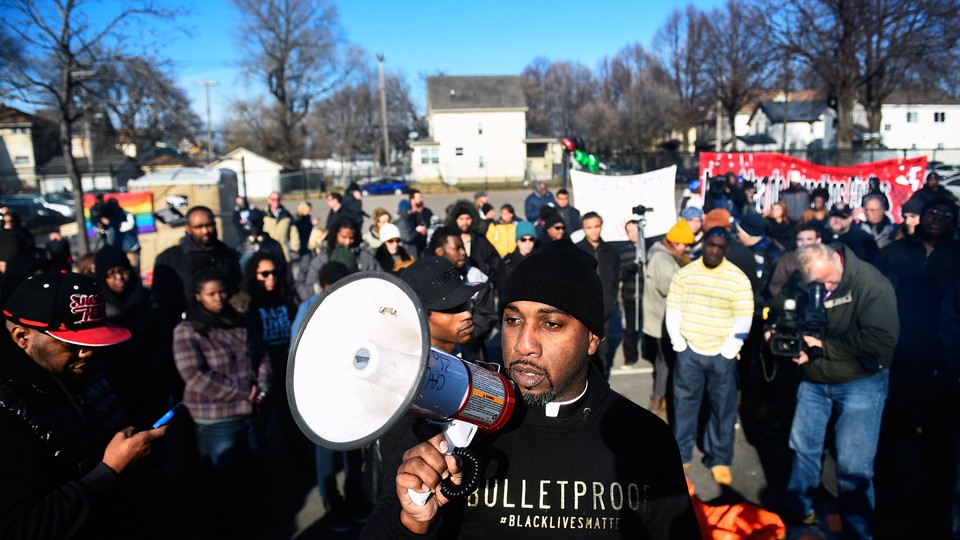 Federal prosecutors won't bring civil-rights charges against two Minneapolis police officers for the fatal shooting of Jamar Clark last November, citing "insufficient evidence," the U.S. attorney's office for Minnesota announced Wednesday.
Clark died under unclear circumstances after being shot in the head during an arrest by two Minneapolis police officers. The 24-year-old man survived but was taken off life support the next day. Black Lives Matter demonstrators soon gathered to protest the shooting, and Minneapolis Mayor Betsy Hodges asked the federal Justice Department's Civil Rights Division to investigate Clark's death.
The Washington Post has more:
Investigators said that people in the area differed on whether Clark was handcuffed when he was shot, described by local and federal officials alike as a pivotal question in their probes. Federal officials said they focused heavily on this, because the question of whether Clark was cuffed could change whether the officers were deemed to have used reasonable force.

The Justice Department said Wednesday that evidence suggested that Clark was not handcuffed during the encounter. Mike Freeman, the Hennepin County attorney, had said a dozen witnesses said one or both of Clark's hands were cuffed, two others said he was not cuffed and several others were not sure. Law enforcement agents and paramedics all said he was not cuffed, Freeman said.

The federal probe found that while half of the civilian witnesses who spoke to the FBI said that Clark was handcuffed, their accounts "varied significantly," which investigators determined undermined whether they could prove that he was cuffed. In addition, the federal probe said that neither an autopsy nor an independent autopsy review found that Clark's wrists had injuries suggesting he was handcuffed.
Hennepin County District Attorney Mike Freeman previously declined to bring criminal charges against the two officers in March. Wednesday's announcement might not be the end of legal proceedings, however. The Minneapolis Star Tribune reported Clark's family is planning to file a civil complaint against the two officers over his death.