Who Was Behind the Attack on Istanbul Airport?
Turkish media reports say three men—a Russian, a Kyrgyz, and an Uzbek national—carried out the attack that killed 42 people.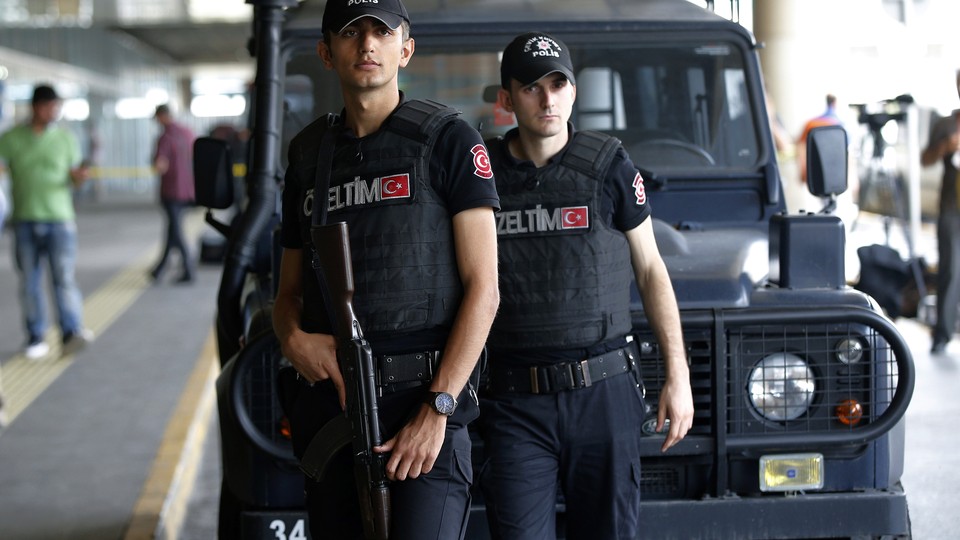 Here's what we know on Thursday June 30:
—Turkish media, citing government officials, say a Russian, a Kyrgyz, and an Uzbek national were behind the attack on Istanbul's Ataturk International Airport Tuesday night that killed 42 people and wounded more than 200.
—Three suicide bombers, whom officials suspected belonged to the Islamic State, opened fire and blew themselves up at the airport, one of Europe's busiest.
—We're live-blogging the aftermath of the attack, and you can read how it unfolded below. All updates are in Eastern Standard Time (GMT -5).
---
June 30 at 8:12 a.m.
Turkish media and officials are reporting the three men who attacked Istanbul airport were foreign nationals: Russian, Uzbek, and Kyrgyz. The death toll from the attack now stands at 42, according to Anadolu, the state-run news agency.
Here's more from Hurriyet, the Turkish newspaper:
---
8:12 a.m.
The Istanbul Governor's Office said the dead included 10 foreign nationals, including three who had dual nationality. The office also said that of the 239 people wounded in the attack, 109 had been discharged from hospital.
---
June 29 at 7:48 a.m.
Reuters, BBC, AP and others report the number of dead has risen from 36 to 41 between early Wednesday morning and Wednesday afternoon, citing Istanbul's governor. The number of injured has risen from 147 to 239.
---
11:08 p.m.
Witnesses described the attack and the chaos that followed reporters in Istanbul. From the AP:
From Reuters:
---
9:29 p.m.
The Turkish Red Cross tweeted a list of locations where people could donate blood in support of the victims:
---
9:03 p.m.
Wire-service photos from the airport show people, some with luggage, sitting on sidewalks outside of the terminal where the attack occurred. Mark Lowen, BBC's Turkey correspondent, is there after his flight landed at Ataturk around the time of the bombing:
---
7:59 p.m.
Turkish Prime Minister Binali Yildirim told reporters outside Ataturk airport that 36 people had been killed in the attack. The dead included five police officers. He said 147 people had been wounded, adding the three attackers blew themselves up.
He said the initial investigation suggests the Islamic State was behind the attack, but "we are still working on determining the cause." He said the attackers had come to the airport by taxi. He said by 2:22 a.m. Wednesday local time "air traffic is back to normal and flights have resumed" in Turkey.
---
7:44 p.m.
Steven Nabil, a freelance journalist, who was at the airport at the time of the attack, tweeted this account of what he saw:
---
7:35 p.m.
This is at least the sixth major attack to hit Turkey this year. Earlier this month, the Kurdistan Freedom Falcons (TAK) killed seven officers and four civilians in Istanbul; in March, the Islamic State was blamed for a suicide attack in Istanbul that killed four people; earlier that month, a car bomb claimed by TAK killed 34 people in Ankara, the Turkish capital; in February, a TAK attack killed 29 people on military buses; and in January, 11 Germans were killed in Istanbul by a Syrian bomber. (All the numbers come from the BBC.) In 2015, there were at least three major attacks in Turkey that killed more than 100 people. ISIS claimed responsibility for two; TAK for one (which occurred at Istanbul's other airport).
---
7:23 p.m.
It is not yet clear who was behind the airport attack, but terrorist organizations often target such crowded places, known as "soft targets," where the number of casualties can be high. In March, suicide bombers killed 16 people and injured many more at Zaventem airport in Brussels. Another 16 people were killed the same day in a bombing at a Brussels metro station. The Islamic State claimed responsibility for the coordinated attacks.
---
7:17 p.m.
In Washington, the White House said President Obama has been briefed on the attack. In a statement, White House spokesman Josh Earnest called the assault a "heinous terrorist attack" and reiterated the U.S.'s support for Turkey, a NATO ally.
"Ataturk International Airport, like Brussels Airport which was attacked earlier this year, is a symbol of international connections and the ties that bind us together," Earnest said. "Our deepest condolences go out to the families and loved ones of those killed, and we wish a speedy recovery to those injured."
The two presumptive presidential nominees also addressed the attack:
---
7:10 p.m.
Anadolu, the state-run news agency, quoted Vasip Sahin, Istanbul's governor, as saying three suicide bombers were involved in the attack. The news agency also quoted Justice Minister Bekir Bozdag as saying one attacker opened fire "using an AK-47 ... before detonating a suicide bomb."
---
6:49 p.m.
Turkish President Recep Tayyip Erdogan said the attack "should serve as turning point in fight against terror around the world," according to his spokesman, who tweeted his comments.
---
5:32 p.m.
Facebook has activated its safety-check feature, which allows users near the Ataturk Airport to mark themselves as "safe" and alert their Facebook friends to their status.
---
5:23 p.m.
AP, Reuters, and others now report at least 28 people are dead, citing Istanbul's governor. More from AP:
---
4:55 p.m.
Turkey's state broadcaster TRT World and others have increased the number of wounded from 20 to at least 60:
---
4:49 p.m.
BBC's Turkey correspondent Mark Lowen landed at Ataturk around the time of the attack and is tweeting what he sees:
---
4:39 p.m.
The U.S. State Department has advised U.S. citizens to stay away from the airport:
---
4:38 p.m.
This is the second airport in Istanbul to be attacked in recent months. Last December, an explosion at the Sabiha Gökçen International Airport killed one person. A group known as the Kurdistan Freedom Falcons (TAK) claimed responsibility.
---
4:26 p.m.
No one has yet claimed responsibility for the explosions, but Turkey has been the target of several recent attacks both by the Islamic State, which operates in neighboring Syria, as well as Kurdish separatist groups, some of which Ankara views as terrorist organizations.
The Syrian civil war next door has created turmoil in Turkey. President Recep Tayyip Erdogan was quick to call for Bashar al-Assad's ouster soon after the conflict began more than five years ago. But the civil war shows no sign of ending, and millions of people who have fled the fighting have made Turkey their top destination. This has also allowed some members of the Islamic State to cross over and operate inside the country. Add to this restive climate, Turkey's decades-long problem with Kurdish separatists. That conflict, which had eased in recent years, has escalated in recent months, with Turkish troops bombing Kurdish rebel group's some of which are fighting against Assad, and those groups, in turn, attacking Turkey through bombings and other means.
---
4:20 p.m.
Turkey's state broadcaster TRT World reports dozens of police, medics, and firefighters have been dispatched to the airport. The wounded are being treated at the site. TRT says Turkish Airlines staff are among the injured.
---
4:12 p.m.
Turkey's state-run Anadolu news agency confirms earlier reports of 10 fatalities and gives a number wounded:
---
4:08 p.m.
Wire services have released the first photos of the airport after the explosions. Here's one from Reuters, showing ambulances rushing to the scene:
And another, also from Reuters, of police cars blocking the road toward the airport:
---
4:02 p.m.
CNN Turk and other news organizations report 10 people have died after the explosions, citing Turkey's justice minister.
---
3:43 p.m.
CNN Turk is reporting that taxis outside the airport are ferrying the wounded; the airport is on lockdown, the network adds.
---
3:42 p.m.
More on Ataturk International Airport: The airport is one of the busiest in Europe. It saw 61.3 million passengers last year, according to the website of TAV Airports, which operates Ataturk and four other airports in Turkey and several in Georgia, Tunisia, Macedonia, Saudi Arabia, and Croatia.
---
3:31 p.m.
CNN Turk is reporting that two explosions, as well as gunfire, were heard at Ataturk airport in Istanbul.
Turkey has been the target of several recent deadly attacks. Some have been claimed by the Islamic State, which operates in neighboring Syria, while others have been claimed by Kurdish separatist groups.
This is a developing story and we'll update it as we learn more.