United Nations Panel Tells Ireland to Change its Abortion Ban
Human-rights experts said the country's laws subject women seeking abortions to "discrimination and cruel, inhuman, or degrading treatment."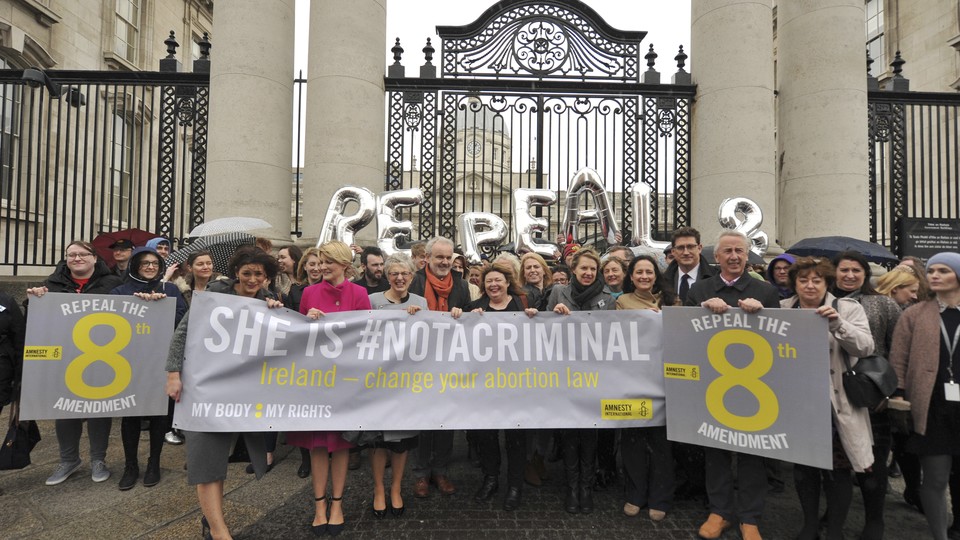 United Nations human-rights experts have declared Ireland's ban on most abortions subjects women to "discrimination and cruel, inhuman, or degrading treatment" and urged the country to amend its laws or constitution.
The Geneva-based Human Rights Committee said in a statement Thursday that independent experts had determined Ireland's laws had subjected a woman named Amanda Mellet to such discrimination when she sought to get an abortion in 2011. Mellet learned during her 21st week of pregnancy that her fetus had congenital defects and would die in the womb or shortly after birth. Abortion is illegal in Ireland, except when a pregnancy threatens a woman's life, which includes the risk of suicide. The law does not allow abortions in cases of incest, rape, congenital defects, or when it is known the fetus will not survive outside of the womb.
Mellet traveled to the United Kingdom to receive an abortion "and returned 12 hours after the procedure as she could not afford to stay longer," the UN experts said. "The UK hospital did not provide any options regarding the fetus's remains and she had to leave them behind. The ashes were unexpectedly delivered to her three weeks later by courier."
Mellet, the experts said, was forced to choose "between continuing her non-viable pregnancy or traveling to another country while carrying a dying fetus, at personal expense and separated from the support of her family, and to return while not fully recovered."
When she returned to Ireland, Mellet "was denied the bereavement counseling and medical care available to women who miscarry," the experts said.
In 2013, Mellet, an American who is married to an Irishman and lives in Dublin, formally requested the UN to denounce Ireland's ban on abortions in the case of fetal abnormalities. She told The Guardian at the time that the law condemned her to become a "walking tomb."
Ireland is party to the International Covenant on Civil and Political Rights, a UN treaty. The UN human-rights committee has authority to review complaints against states party to the treaty, but no power to compel states to change any laws. The committee said Thursday that Ireland "should amend its law on voluntary termination of pregnancy, including if necessary its constitution, to ensure compliance with the covenant." Experts said Ireland must provide Mellet "adequate compensation and psychological treatment she may need."
It is legal in Ireland for doctors to provide information to women about abortion services abroad, and women who travel to other countries to receive the procedure are not breaking any Irish laws. But it is illegal for doctors or medical counselors to encourage abortions in individual cases or make appointments on behalf of pregnant women.
In 2015, 3,451 women and girls in Ireland traveled to the United Kingdom to access abortion services, according to the British Department of Health. Britain is the most common destination, but women also go to the Netherlands, Spain, Scandinavia, the United States, Canada, and even India and Africa, according to The Irish Times.
Ireland's ban on most abortions is enshrined in a constitutional amendment approved in 1983. In 1992, the country's highest court ruled that abortion should be allowed when there is "a real and substantial risk to the life of the mother" and the Irish Parliament made that ruling law the following year.