The Legacy of Helen Chavez
The labor-rights activist and widow of Cesar Chavez has died at the age of 88.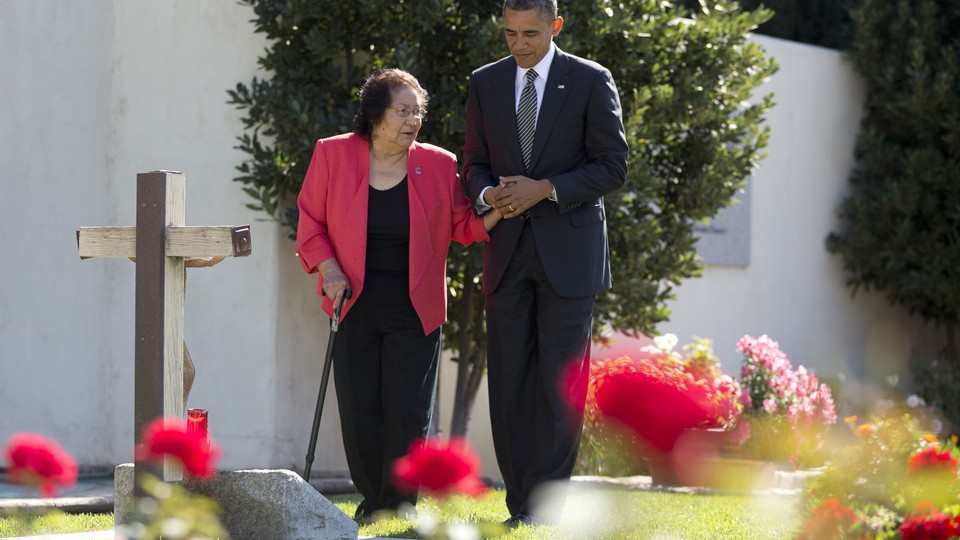 Helen Chavez, the widow of Cesar Chavez, and who picketed alongside her husband in the farm labor movement in the United States, got arrested in strikes, and raised the couple's eight children, died Monday night. She was 88.
Chavez died of natural causes at a hospital in Bakersfield, California, surrounded by her family, according to a statement from her family.
Helen was notoriously shy of the media. She gave few interviews, and preferred to work in the background of the farmworker's union movement that rose to prominence in the 1960s and 1970s. Her husband helped found and lead the United Farm Workers of America, a union of mostly poor Mexican and Filipino immigrants who worked in the fields of the West and Southwest. Farmworkers often earned little pay and worked in brutal conditions. Under Chavez's direction and through organized strikes in the Southwest, wages and conditions improved.
A statement from the Chavez family released Tuesday said Cesar Chavez would not have led the farmworker's labor movement if not for his wife's support:
After they were married in 1948, Cesar Chavez would return home after experiencing a fresh injustice toiling in the fields and tell his bride, Helen, "somebody's got to do something about it." Helen Chavez nurtured her husband's dream of organizing farm workers. She and their eight small children gave up a middle class lifestyle in 1962, embracing a life of voluntary poverty to support her husband's labors. During the earliest years when he would sometimes return home to Delano, Calif. after days on the road feeling alone and demoralized, not having recruited anyone into his new union, she would encourage him, saying, "Cesar, you have to have faith in God that what you're doing is right." 

...

During the Delano grape strike Helen joined vineyard picket lines before dawn and then worked all day running the Farm Workers Credit Union for more than 25 years before retiring. It loaned more than $20 million to farm worker members over the years. During this period she not only raised her own kids, but also became a surrogate mother to many young volunteers who came to Delano and later to La Paz, UFW headquarters in Keene, Calif., to work with the movement. 
Cesar Chavez died in 1993, and for much of the future Helen remained out of public eye. A year after her husband died, Helen accepted on his behalf the Medal of Freedom, the highest American honor for civilians, from then-President Bill Clinton. In 2003, she gave a rare interview when the U.S. released a commemorative stamp featuring her husband. In 2012, at a dedication for a national monument to Cesar's memory, she met President Barack Obama in Keene, her hometown where she helped organize farmworkers and where the Cesar Chavez Foundation is based.