Remembering Gordie Howe
The hockey hall-of-famer was part of four Stanley Cup-winning Detroit Red Wings teams. He died Friday at 88.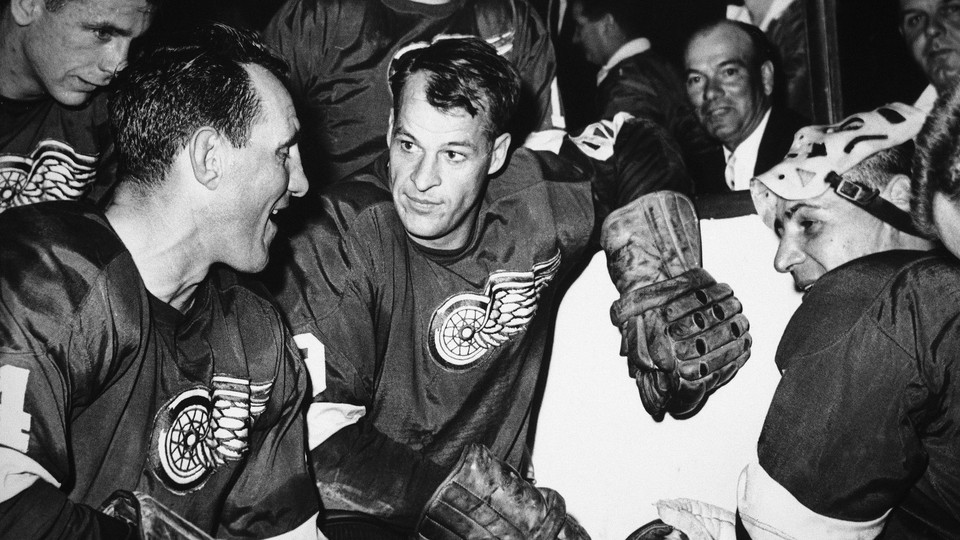 Updated on June 10 at 10:40 a.m. ET
Mr. Hockey is no more.
Gordie Howe, the hockey hall-of-famer who won four Stanley Cups with the Detroit Red Wings, died Friday. He was 88.
News of his death was confirmed by the Red Wings.
The Detroit Free-Press reported Howe died in Toledo, Ohio, where he had been staying with his son, Murray. Howe, who has suffered a stroke in 2014, had dementia, the newspaper said.
Howe's career spanned five decades. Starting in 1946, he played 26 seasons with the National Hockey League (NHL)—all but one of them with the Red Wings. He also played six-seasons for the short-lived World Hockey Association (WHA). Howe, who is widely regarded as one of the greatest players in the sport, holds the record for most games and seasons played in hockey. To put his career in perspective, Howe began playing in the NHL shortly after the end of World War II and ended his career in the last months of the Carter presidency.
Howe was awarded the Hart Memorial Trophy, given to the NHL's most valuable player, six times; he was inducted into the Hockey Hall of Fame in 1972, a year after his first retirement in 1971. But he was back two years later in the WHA where he played until 1977. Howe returned to the NHL to play one season, 1979-80, for the Harford Whalers. He retired at the age of 52.