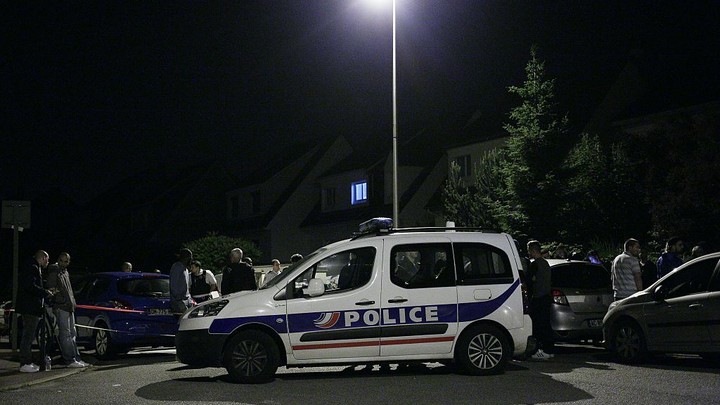 Updated on June 14 at 6:57 a.m. ET
French President Francois Hollande is labeling as "terrorism" the killing of a police officer and his partner by a man who claimed allegiance to the Islamic State.
"It's unquestionably a terrorist act," Hollande said Tuesday, adding France, which is hosting Euro 2016, was still "facing a very significant terrorist threat."
The officer was identified as Jean-Baptiste S, 42, and his partner as Jessica S. Hollande said they were "murdered in cowardly fashion." Their 3-year-old child was unharmed during the attack in Magnanville, a suburb of Paris.
The BBC and others reported Tuesday that the killer was identified as Larossi Abballa. French news reports said two people connected to him had been arrested. The BBC adds:
Abballa, 25, was killed during the police assault on the couple's home in Magnanville, hours after posting a 13-minute live video on Facebook in which he swore allegiance to IS. ...

Abballa lived in nearby Mantes-La-Jolie and was convicted in 2013 of "criminal association with the aim of preparing terrorist acts".

He was sentenced to a three-year term in prison, of which six months were suspended, for recruiting fighters for jihad in Pakistan.
The Amaq news agency, which is linked to the Islamic State, said one of its fighters had carried out the attack.
---
Our original post from June 13 at 9:27p.m.:
A man who reportedly claimed allegiance to the Islamic State killed a French police officer and his partner in a Paris suburb, French news reports say.
Witnesses told investigators the man may have shouted "Allahu akbar" (God is greatest) as he stabbed the policeman repeatedly outside his home before holing up inside with the woman and the couple's three-year-old son.

Sources close to the inquiry told AFP the attacker had claimed allegiance to the Islamic State jihadist group while negotiating with police from the elite RAID unit.

"The anti-terror department of the Paris prosecution service is taking into account at this stage the mode of operation, the target and the comments made during negotiations with the RAID," one source said.
When negotiations failed, Pierre-Henry Brandet, an Interior Ministry spokesman, said a decision was made to launch an assault in Magnanville, which is about 35 miles northwest of Paris. Explosions were heard as the RAID unit moved in. They found the woman's body inside; the attacker was killed during the assault. The three-year-old son was unharmed, but "in shock," a French prosecutor said. Bernard Cazeneuve, the French interior minister, expressed his "infinite sadness" at the night's events. The victims have not yet been named. 
The killing comes as France hosts the Euro 2016 soccer tournament under tight security that were imposed after last November's deadly attacks on Paris that killed 130 people.
We want to hear what you think about this article. Submit a letter to the editor or write to letters@theatlantic.com.