Fort McMurray, After the Wildfires
One month after they were allowed back in to the fire-ravaged city, residents are still trying to settle into daily life.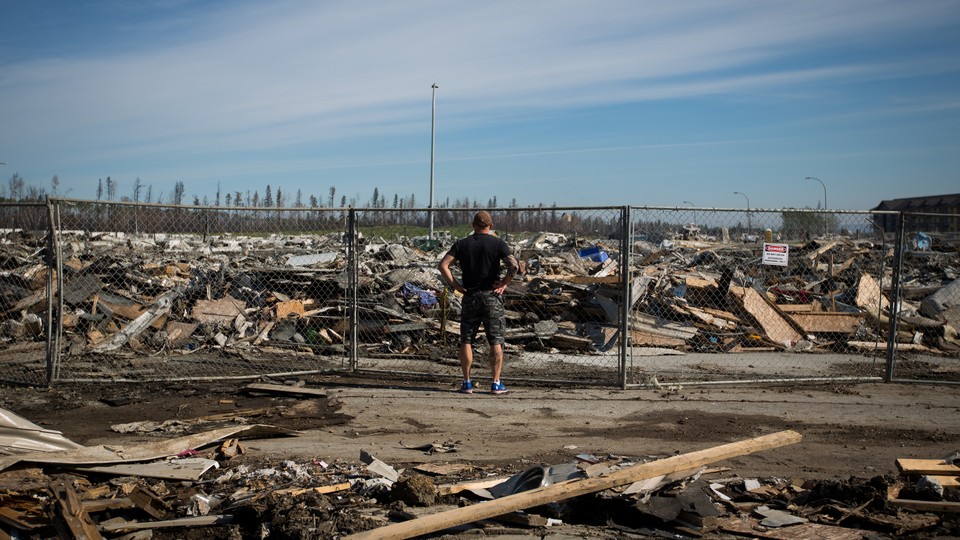 Nearly two months after fast-moving wildfires in Fort McMurray forced 80,000 people to evacuate the Canadian city, some residents are still returning to their homes—or what's left of them.
Verna Murphy, her husband, and their three children returned this week after being evacuated to the north. Their home was still standing, with some flooding in the basement, but some of their neighbors returned to nothing more than debris.
"You're standing there and you're seeing people sifting through trying to find something left in the ash," Verna Murphy told Information Morning, a CBC radio show in Cape Breton, Nova Scotia, on Tuesday. "It was a lot to take in yesterday, along with just coming back and dealing with everything."
Murphy and her family were evacuated and lived in an apartment in Edmonton until last weekend. Residents were allowed to begin reentering the city June 1, a full month after the blaze began 15 kilometers, or just under 10 miles, southwest of the city. Murphy said she waited because she has severe lung issues, and worried about the air quality.
The wildfires, which came to be known as "the beast," began southwest of Fort McMurray. Dry weather conditions and high temperatures fed the flames, and within days dozens of fires were burning in and around the city, engulfing it in black smoke and ash. Officials announced a mandatory evacuation order, and thousands of people rushed to Highway 63, the only major highway connecting Fort McMurray to the rest of Alberta. One woman recently told Canada's Global News she grabbed only passports, external hard drives, and the family dog, while her son took some of his stuffed Pokemon toys.
For days, smoke obscured the city from the view of helicopters whirring overhead, so government officials could only guess at what was damaged and what was spared. The oil-sands industry, on which the city depends, shut down; production was halted on more than 1.1 million barrels a day, nearly 30 percent of Canada's total daily oil production. Many residents were scattered across a dozen centers in the province, where they have received food, water, clothes, and bedding, as nearly 2,000 firefighters fought the blaze. "It was draining emotionally because you're just going so hard. It felt like a losing battle every step of the way," Lucas Welsh, a firefighter and a part-time pastor at a church in the city, recalled in an interview with CBC News this weekend. "In that first week, you'd save five houses and there's fifteen more on fire down the block."
In mid-May, the Alberta government released a mobile app featuring satellite imagery that allowed residents to see their homes from above. When the worst was over, toward the end of the month, 2,400 buildings had been destroyed. Three neighborhoods—Beacon Hill, Abasand, and Waterways—were almost completely wiped out.
Wood Buffalo, the municipality in which Fort McMurray is located, has since created a more comprehensive "fire map," another satellite-imagery tool, that allows residents to input their addresses and view their properties before and after the fire, from multiple perspectives. Searches for some properties in Beacon Hill return a status that says simply, "destroyed."A bird's eye view shows how the blaze transformed lush lawns and dense boreal forests into gray heaps of soot and debris: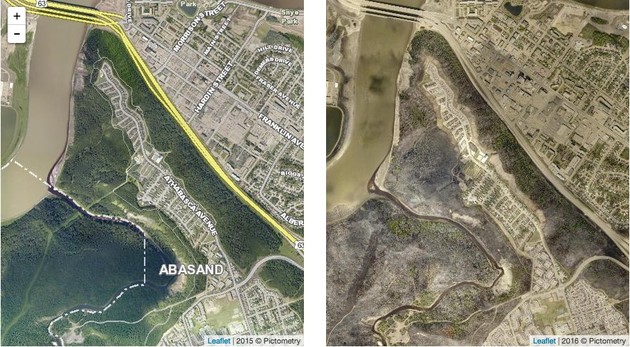 Officials have been testing and monitoring air, ash, and water, including drinking water and rivers and streams, in the region, according to Alberta's government. The levels of ash in Beacon Hill, Abasand, and Waterways were found to be hazardous, and development in those neighborhoods is prohibited until Alberta health officials declare them fit for human habitation, according to Fort McMurray Today. Residents have been allowed back there to see the damage and take whatever belongings survived, but are unable to stay. Damaged buildings have been sprayed with a sticky substance that prevents wind from spreading toxic ash and other debris and contaminating other areas. The results of the latest round of tasting will be made public July 10.
Alberta's government offers a a 17-page document about "Returning to Your Home" on its website, which includes tips for cleaning up and boiling water that could be unsafe for human consumption. Most critical infrastructure, like police, fire, and medical services, was restored earlier this month. Nearly all of about 400 businesses listed on the city's Chamber of Commerce website have reopened. The Fort McMurray SPCA is giving away free supplies to pet owners. Schools will reopen this fall. Canadian band Nickelback headlined a concert series Wednesday night in Edmonton to raise money for residents.
Wildfire investigators in Alberta have ruled out lightning as the cause of the fire and believe it was the result of human activity. Canadian police are asking the public for help in the investigation.
Fort McMurray fire chief Darby Allen, who became the face of the city's response to the disaster, recently recommended that if or when residents rebuild their homes, they do so farther away from the country's boreal forest, and use materials that would prevent flames from spreading so easily, CTV News reported. Wood Buffalo Mayor Melissa Blake said this week residents shouldn't wait for new city building codes.
"I've got a cedar roof on my house and it's the first thing I want to change," Blake said.