The Secret Bonus Pool For FIFA's Top Leaders
A day after Swiss police raided FIFA headquarters in Zurich, investigators revealed top officials paid themselves $80 in bonuses.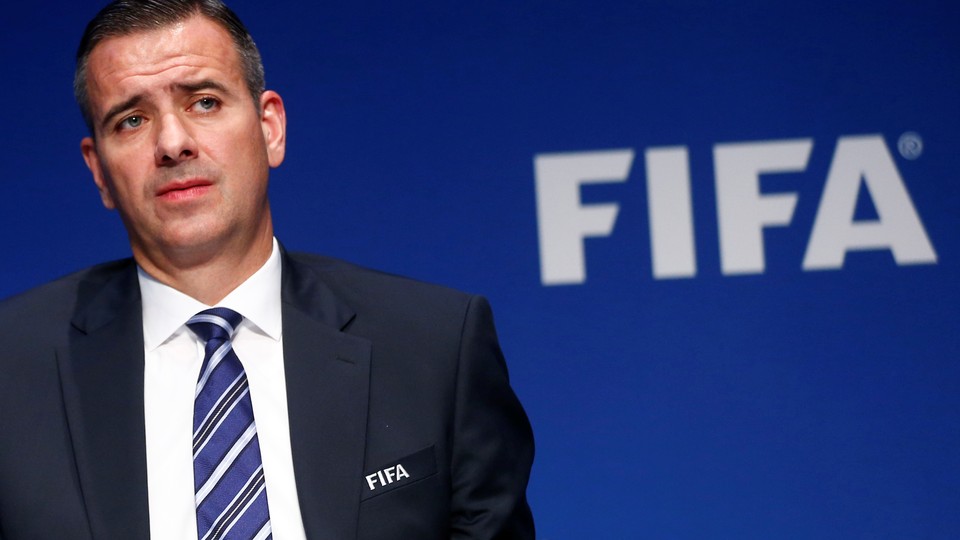 A group of top leaders in FIFA paid themselves tens of millions of dollars in secret bonuses and salary increases, according to contracts that investigators revealed Friday.
Three people at FIFA, the organization that governs global soccer, have been implicated for hiding bonuses they approved for one another, totaling nearly $80 million. They are former FIFA President Joseph Blatter, former Secretary General Jérôme Valcke, and former Chief Financial Officer Markus Kattner, who also served as deputy secretary general. All three men have either been suspended or fired from the organization.
The news comes just a day after Swiss police raided FIFA's offices in Zurich. With this evidence, the three men are accused of approving bonuses for each other, then hiding the evidence of those payouts in a bonus pool, as The Wall Street Journal reported:
A person familiar with the investigation said the payments were concealed in FIFA's financial results as part of a general bonus pool, without any details on who might be receiving them or the specific amounts.

Their existence was also kept hidden from all but a few senior officials at FIFA, all of whom had the power to approve them for each other, people familiar with the investigation said.
According to a statement released on FIFA's website, the payouts took place from 2011 until 2015. The contracts that revealed the financial details were found in a safe in Kattner's office at FIFA, the Journal reported.
FIFA said it would share the results of its internal investigation with the Swiss Attorney General's Office, and with the U.S. Department of Justice, which indicted top FIFA officials last may on charges of racketeering, conspiracy, and corruption. That led to the arrest of several top FIFA officials at a hotel in Zurich the same month. Since then, FIFA has been in turmoil, as its own investigation reaches deeper into corruption at the very top levels of the organization.