The Civilians Trying to Flee Fallujah
Some residents have drowned, been shot, or been killed by hidden explosives as they fled fighting between ISIS and Iraqi forces.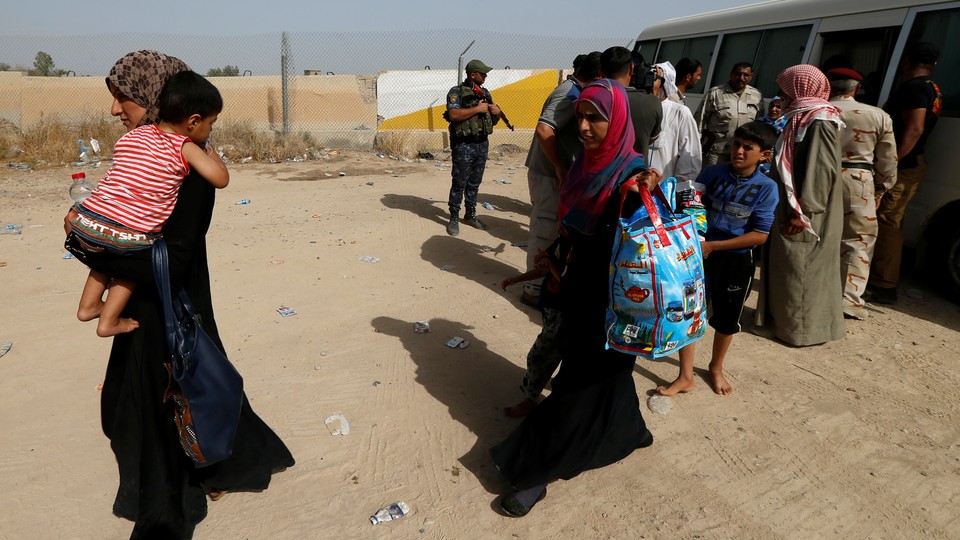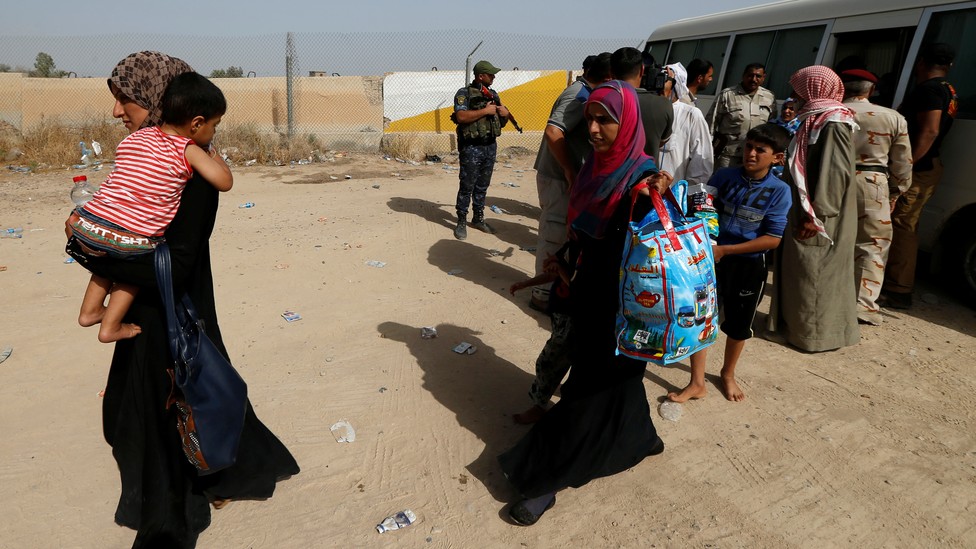 At least four people died Saturday trying to flee Fallujah, as the fight for control of the city between Iraqi forces and Islamic State militants enters its third week.
Two children, their mother, and a man drowned when the boat carrying them sank in the Euphrates River, Reuters reported Sunday, citing local police. Nine other people thought to have been on the vessel are missing.
At least 50,000 people, 20,000 of them children, are believed to be trapped in Fallujah as Iraqi special forces, Shia militias, and local police exchange fire with Islamic State fighters, who took control of the city more than two years ago. About 5,000 people have managed to escape the besieged town, according to United Nations humanitarian officials. Many have fled on foot, while others made the crossing in the Euphrates on the outskirts of the eastern part of the city.
Abu Tabarak told Reuters he watched from shore as the boat, which was carrying his wife, son, and daughter, sank. "I've seen with my own eyes my family disappear under the water," he said. "There was no place for me on the departing boat, so I had waited with my second daughter for the next one."
A local official told Reuters more than 1,000 families have crossed the river into territory that is not ISIS-held. Civilians have been turning anything that floats into makeshift boats, including "empty refrigerators, wooden cupboards, and kerosene barrels."
Others have been killed by sniper fire from ISIS as they tried to run from the city, or by explosive devices planted by the militant group along the roads. ISIS has corralled some residents inside the city to be used as human shields as government forces approach.
The military offensive began May 22 and is backed by air strikes from the U.S.-led coalition that has been fighting ISIS in Iraq and Syria since 2014. Iraqi Prime Minister Haider al-Abadi said last week the slow pace of the operation was deliberate and an attempt to reduce soldier casualties and protect civilians. Iraqi forces have focused on dislodging ISIS militants from the outskirts of Fallujah before entering the city.
The Iraqi government and humanitarian agencies have set up shelters for Fallujah residents in Ameriyat al-Fallujah, about 30 kilometers, or 19 miles, away.
Fallujah has been held by ISIS since January 2014. Food, medicine, and other supplies are in short supply. Humanitarian agencies say they have been unable to reach the city for months because Iraqi forces have cut supply routes between Fallujah and nearby Ramadi in an attempt to hinder ISIS operations. Iraqi forces recaptured Ramadi in December after six months of ISIS control.