The Crackdown at Euro 2016
French authorities say more than 500 rowdy fans have been arrested at the quadrennial soccer tournament so far.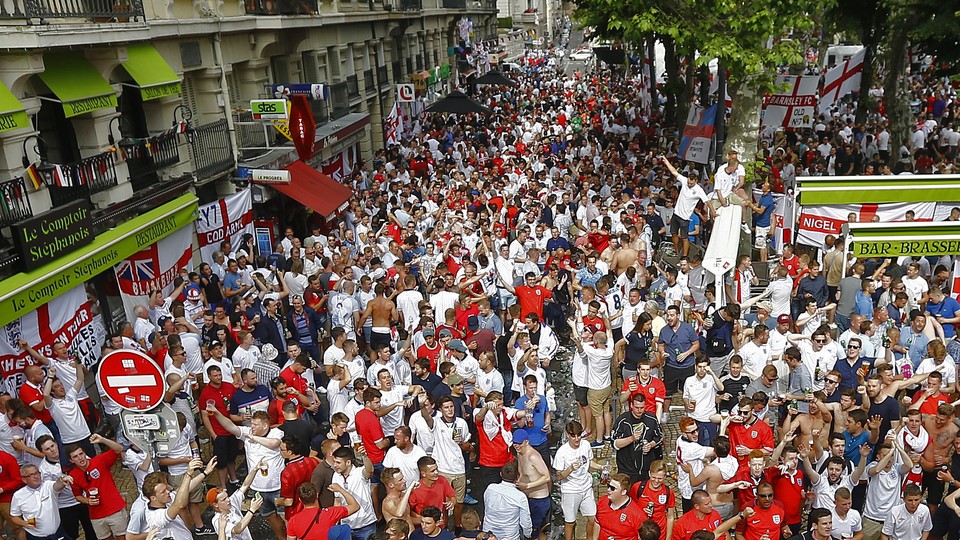 More than 500 people have been arrested in the first 10 days of the monthlong European Championship in France that has been punctuated by the actions of rowdy and sometimes violent fans.
France's interior minister, Bernard Cazeneuve, said Monday 557 "violent supporters" were arrested at Euro 2016, the men's soccer tournament that takes place every four years, the AP reported. Twenty-one fans were jailed, six received prison sentences, and another 25 were ordered to be deported.
Among those set to be deported are 20 Russian fans who clashed with English fans before and after the competition's opening game in Marseille on June 11, the worst violence of Euro 2016 so far. Police deployed tear gas into the crowds as fans brawled, and dozens were injured. English fans said the Russian fans appeared intent on assaulting them. One described the scene to The Guardian last week:
"They were very organised," said Ian Allsop, a builder from Luton. "They wore gumshields, some had England shirts on to mix in. They were there to do the English. And they were thickset, stocky guys. People were getting bottles smashed on their heads, bats smashed into them. Loads of people were hurt."

Allsop said he had been looking for his 24-year-old son during the violence when he was attacked. "About 300 Russians came out of nowhere. They just walked straight through all the England fans who were standing about singing," he said. "The Russians just started hitting anyone they could.
In response, UEFA, soccer's governing body in Europe, fined Russia 150,000 euros ($168,000) and handed down a suspended disqualification, which means the national team will be kicked out of the tournament if the country's fans continue to misbehave.
The actions of fans from other countries have also prompted the wrath of UEFA. The agency on Monday fined Croatia 100,000 euros ($113,000) because Croatian fans threw flares onto the field during Friday's match between Croatia and the Czech Republic, causing referees to pull players off the pitch in the 86th minute.
The next matches will take place Monday night; Russia will play Wales, and Slovakia will face England.