A Bump in the Road to El Chapo's Extradition
A Mexican judge has granted a temporary stay of extradition for the Sinaloa cartel kingpin while two appeals are reviewed.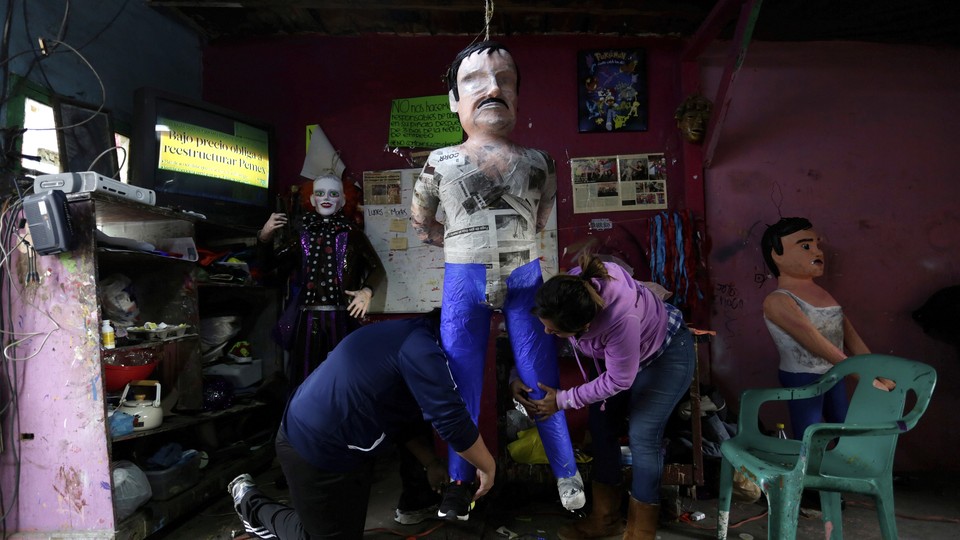 A Mexican federal judge granted a temporary stay against the extradition of Joaquin "El Chapo" Guzman, the drug kingpin,  to the U.S., pending a review of two appeals the trafficker's lawyer filed.
The judge granted the stay late Monday until the appeals could be reviewed. Guzman's lawyer, Jose Refugio Rodriguez, said the statute of limitations has run out on some of the charges brought against Guzman, which was the basis of one appeal. The other appeal argues the evidence against Guzman, the leader of the Sinaloa Cartel, is based on hearsay.
Rodriguez said it could be a long time before Guzman leaves Mexico, as the Associated Press reported:
Rodriguez said the appeals were filed late Monday in courts in Mexico City. He predicted it could take as long as three years to resolve the appeals.
Guzman is wanted in seven U.S. court districts, including New York, Miami, San Diego, and Chicago, where he's charged with conspiracy to import and distribute cocaine, arms possession, and murder, among other crimes. Since his arrest in January, he's been moved from the maximum-security prison near Mexico's capital, to a smaller prison near the U.S.-Mexico border city Ciudad Juarez.
In an interview with VICE News in March, Rodriguez said he meets with Guzman each week for 30 minutes to discuss their legal strategy:
If we can establish the conditions that will guarantee Joaquín Guzmán's life isn't in jeopardy in Mexico, we will fight tooth and nail to keep him here. Why? Because through my experience with other cases, I don't see how he would be sentenced to less than 20 years in prison there. Here in Mexico, if we don't manage to get him out in less than 10 or 12 years, he would be entitled to preventive imprisonment. Here he could go out and spend the last years of his life at home.
Guzman has previously said he wanted to be extradited to the U.S., but that was when he was in the Altiplano prison near Mexico City. There he complained that constant transfers between prison cells and poor conditions made him ill with sleep deprivation. Guzman had escaped from that prison last July through an underground tunnel. He previously escaped from prison in 2001.