The Rare Shark Attack in Egyptian Waters
Government officials have temporarily banned fishing and swimming near a resort where a swimmer was attacked this weekend.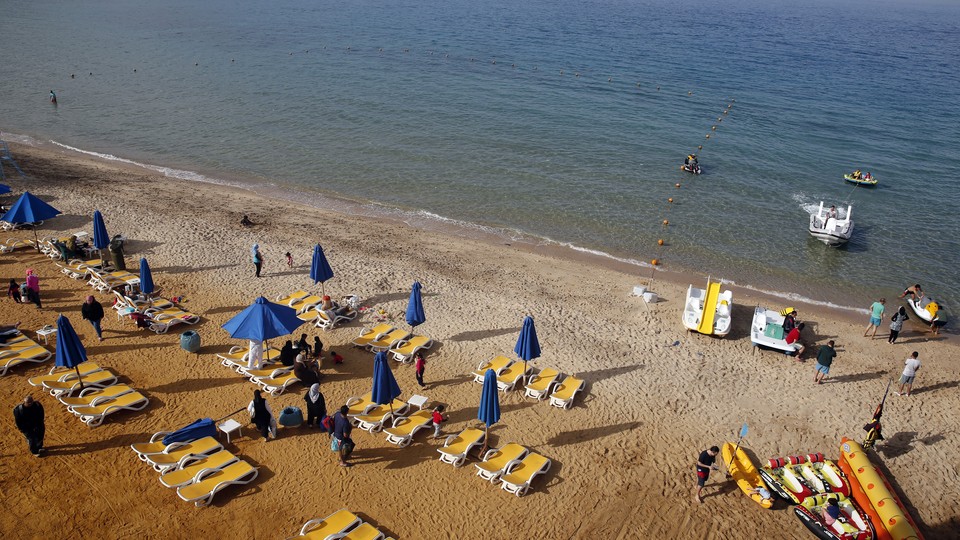 Egypt has banned fishing and swimming near a Red Sea resort for 15 days after a recent shark attack injured a swimmer.
The attacked occurred Saturday off the shores of Ain Sokhna, a popular tourist spot about 80 miles east of the capital, Cairo. Omar Abdel Qader, 23, an Egyptian man who was vacationing with friends, had jumped from a rented motorboat floating about four miles from shore and into the waters of the Gulf of Suez for a swim, according to Daily News Egypt, an English-language daily. The shark attacked his left leg, which had to be amputated.
Egypt's environment ministry imposed the ban Monday. Officials told the Associated Press the shark may have been lured to shore by bait thrown into the water by fishers.
Shark attacks are rare in Egypt. The country ranks 12th on a list of the most dangerous countries for shark attacks, according to the Florida Museum of Natural History. The United States tops the list with 1,301 recorded attacks, followed by Australia (593) and South Africa (249). The roster reports 18 recorded attacks in Egypt.
In 2010, a German woman was killed and several people were seriously injured in shark attacks off the coast of Sharm el-Sheikh, another popular beach destination in Egypt. In 2015, a German man died after a shark bit off his leg at the knee in the waters off al-Qusair.