Deadly Flooding in West Virginia
Earl Ray Tomblin, the state's governor, said Friday 14 people were killed.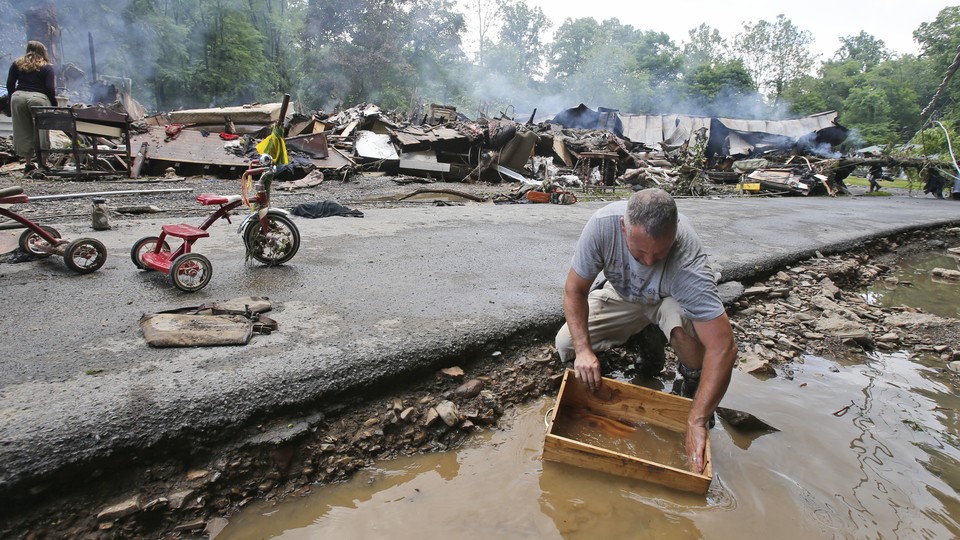 At least 14 people have died in West Virginia from flooding over the past two days, Governor Earl Ray Tomblin said on Friday.
Announcing the deaths, the governor said, "Please continue to work together and support each other as West Virginians always do."
Heavy rains on Thursday led to severe flooding, and left at least 35,000 people without power. At least 100 homes were destroyed, as well:
Deaths are still being reported from around the state. The Charleston Gazette-Mail reported:
One man drowned in the Elk River at Clendenin, in the area of Frame Road, on Thursday night, and an 8-year-old boy's body was recovered from Big Wheeling Creek on Thursday night after he was pulled downstream by the rushing water earlier in the day.

Kanawha Metro 911 spokeswoman Brooke Hylbert said Friday morning that emergency responders learned of two more deaths in Kanawha County overnight, a woman on Wills Creek Road in Elkview and an elderly person on Poca Fork Road in Frame. She believed the woman's car was swept away by flood waters and the elderly person was stranded in a home. She said emergency responders had been unable to get to the elderly person.
Tomblin declared a state of emergency on Thursday evening in 44 counties. The next morning, he activated 200 members of the West Virginia National Guard to help first responders. Tomblin said there could be further showers and more flooding in the coming days.