D.C.'s Minimum-Wage Hike
Councilmembers have unanimously approved a measure to increase the minimum wage to $15 per hour by 2020.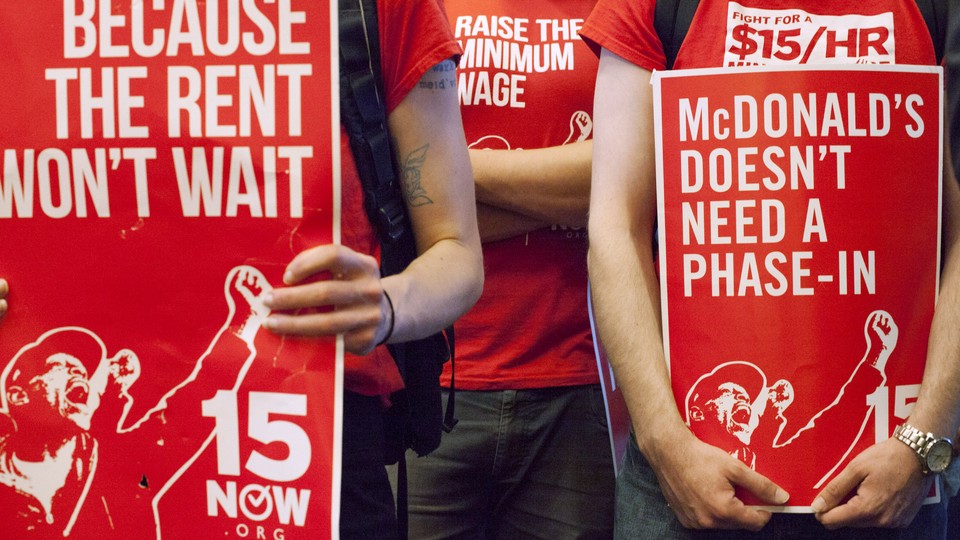 Councilmembers in Washington, D.C., unanimously approved a $15 minimum wage on Tuesday. Mayor Muriel Bowser has pledged to sign the measure into law.
D.C. will join Los Angeles, New York City, and Seattle with similar minimum wage laws. The new measure would raise the minimum wage from $10.50 to $15 by 2020. Beyond that, the minimum wage would be tied to inflation.
The minimum wage for tipped workers, though, will not be as high. As The Washington Post reports:
But to assuage the District's powerful restaurant-industry lobby, D.C. lawmakers have demanded that tipped workers' pay rise by a smaller amount.

Tipped workers' base rate would increase from $2.77 an hour to $5 an hour and would be tied to inflation. Employers in the District would also remain responsible for paying employees the difference between their base pay and minimum wage if tips do not make up the balance.
Advocates for the "Fight for $15" campaign have been pushing for a minimum wage increase in D.C. for over a year. Bowser proposed the measure in March.
Passing $15 minimum wage laws has growing momentum across the U.S. In April, California Governor Jerry Brown signed a law increasing the state's minimum wage to $15 an hour, joining New York as the only states to pass a wage that high.