The Death of Corey Jones: Six Shots, Two Charges, Few Answers
A prosecutor on Wednesday charged a police officer for attempted murder and negligent manslaughter in the 2015 killing of the 31-year-old black man.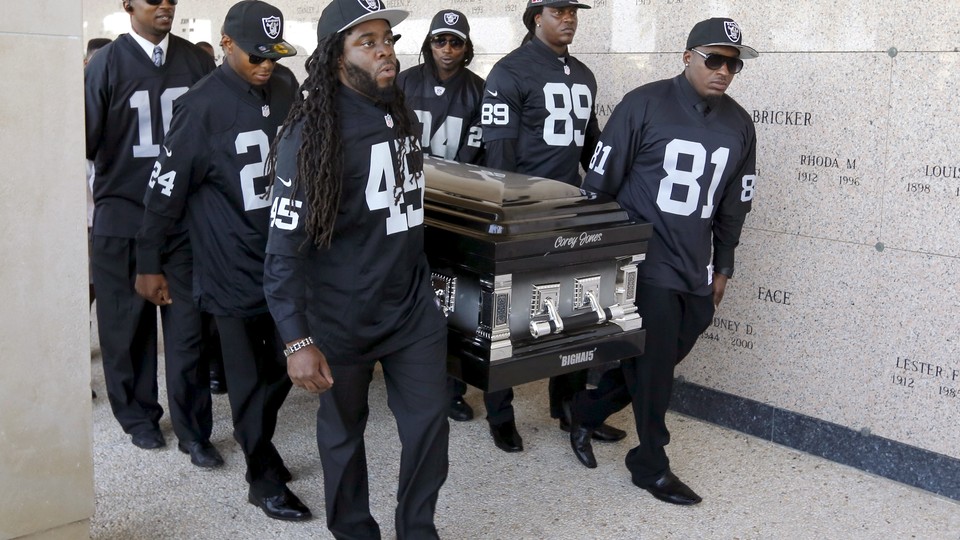 Corey Jones's only crime was having his car break down in the middle of the night.
The 31-year-old drummer was on his way home from a gig when his car broke down on October 18, 2015, in Palm Beach Gardens. Jones, who was black, had called for a tow and was waiting when Officer Nouman Raja of the Palm Beach Gardens police arrived, driving an unmarked car and wearing plainclothes. Raja questioned Jones, then shot him six times, killing him. A grand jury found the shooting unjustified on Wednesday, and a prosecutor then charged Raja with attempted first-degree murder with a firearm and manslaughter by culpable negligence. If convicted, he could spend his life in prison.
Raja never identified himself as a police officer, prosecutors said. Jones had a license to carry a concealed weapon, and his gun was found 72 feet from his body, unfired. In a bitter irony, he had been reluctant to leave his van with a bandmate because he was afraid some harm might come to his drum set. When Raja arrived, Jones was on the phone with an AT&T roadside-assistance officer. A recording of the call captures a horrifying turn of events, as Raja arrived—driving the wrong way down an interstate exit ramp—accosted Jones without ever explaining that he was an officer, and then fatally shot him. Here's a passage of dialogue from the recording, included in the probable-cause affidavit released Wednesday:
Jones: Huh?
Raja: You good?
Jones: I'm good.
Raja: Really?
Jones: Yeah, I'm good.
Raja: Really?
Jones: Yeah.
Raja: Get your fucking hands up! Get your fucking hands up!
Jones: Hold on!
Raja: Get your fucking hands up! Drop!
Two seconds later, Raja opened fire, shooting six times and hitting Jones three times.
The arrest report notes that Raja had been an officer for more than seven years, and had even taught training courses in criminal justice at a local institution. "Despite his experience, his extensive police training, and the direction of a superior officer to wear a tactical vest with police markings on it to clearly identify himself as a police officer, Raja chose to approach Corey Jones' vehicle in a tactically unsound, unsafe and grossly negligent manner," the affidavit states.
The Palm Beach Gardens Police Department fired Raja less than a month after the killing. Family members had been concerned that the prosecutor had turned the case over to a grand jury rather than simply charge Raja himself. In many cases of deaths at police hands, including ones that have attracted public outrage like the killing of Tamir Rice, officers have been not been indicted. But even when officers are charged, it's often challenging for prosecutors to convict: Evidence can be muddy, and juries often give officers the benefit of the doubt.