No More Questions on Human Rights in China
A Canadian reporter's query prompted a lecture from China's foreign minister.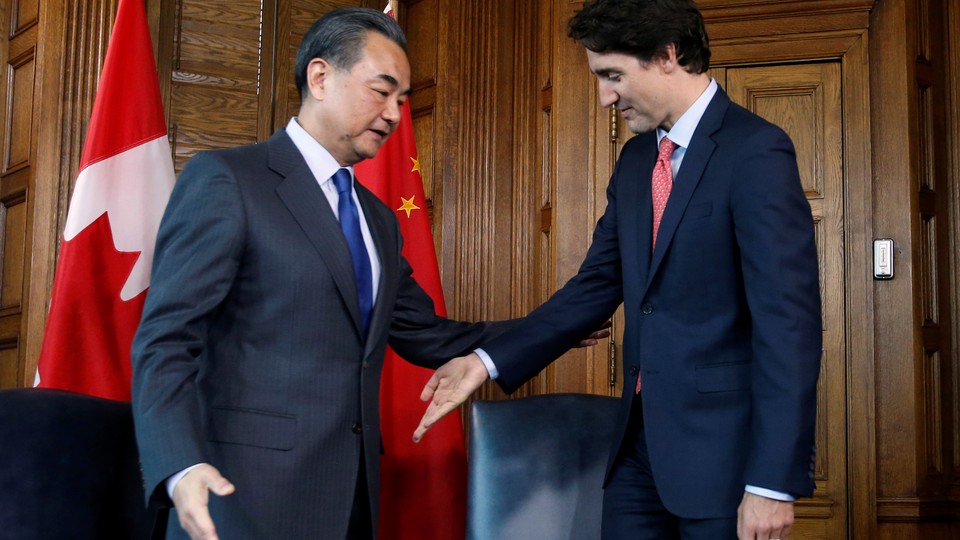 Don't ask about human rights in China in the presence of Foreign Minister Wang Yi.
At a news conference in Ottawa Wednesday, a Canadian reporter asked Stéphane Dion, the Canadian foreign minister, why Canada was seeking a closer relationship with a country that jails human-rights activists, and has shown increasingly aggressive tactics in the South China Sea.
As The Wall Street Journal reported, Wang cut in, saying through an interpreter:
"Do you understand China? Have you ever been to China?" he said, adding that China's government had lifted 600 million people out of poverty to become the world's second biggest economy. "Do you think such development would be possible if China didn't protect human rights?"

The foreign minister wasn't finished.

"I'll tell you: You are not the one who knows best about the human rights situation in China. Chinese people are." Mr. Wang said. "You don't have a say in this matter; only Chinese people do."
Although Wang singled out a reporter, the question was apparently agreed to by several news organizations. Watch the exchange here.
China has cracked down on activists since President Xi Jinping took power in 2012. Last July, the government arrested dozens of lawyers and activists. The police later called them a "criminal gang." In January, police arrested a Swedish human-rights activist and held him on charges of attempting to undermine the ruling Communist Party.