A Chinese Bank's Motivational Spanking
Two top bank executives in have been suspended after poor-performing employees were spanked at a company training session.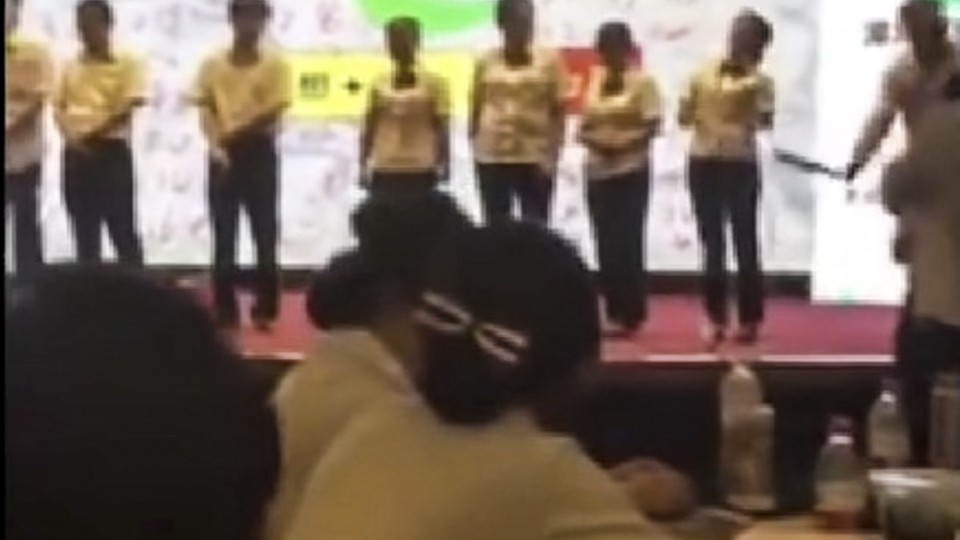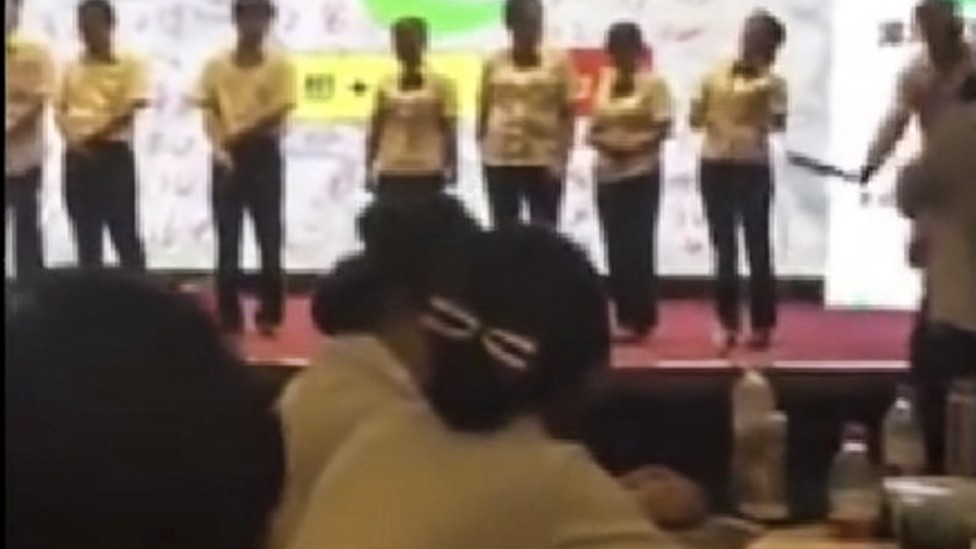 A video that shows eight Chinese bank employees being spanked with what looks like a plank has led to the suspension of two of the company's top executives, and huge backlash online.
The video was first posted Monday by the People's Daily––the official newspaper of the Chinese Communist Party––and shows employees of Changzhi Zhangze Rural Commercial Bank at a training session standing on stage while a man paces behind them. More than 200 employees participated in the "Breakthrough Performance" class. And its trainer, Jiang Yang, singled out the eight people for "failing to make a personal breakthrough" and their "inadequate team cohesiveness." Jiang is a corporate trainer for the Shanghai-based Leadership Academy, and reportedly earns $15,000 (100,000 yuan) for his services. Before he smacked each employee several times, Jiang said, "get your butts ready."
Here's the video:
The spanking happened Saturday, and along with the video, the People's Daily posted photos of male employees who had their heads shaved, and female employees who had their hair cut, reportedly also for poor performance at the training.
The video was widely shared online, which prompted an apology from Jiang, who called the spanking "a training model I have tried for years," but that bank executives had not condoned. The bank's chairman and deputy governor have been suspended, the BBC reported. The company has also issued an apology. The People's Daily reported that "compensation is in discussion for the spanked employees."
Corporal punishment is banned in China. But this is not the first time it's been used as a business motivator, as the Shanghaiist points out. Under-performing sales people have been forced to crawl around a lake, and employees have been made to kneel for an hour on a steel overpass.  Corporal punishment was outlawed in schools in 1986, but remains common practice in rural areas.