The Opening of Visa-Free Travel From Mexico to Canada
Canada agreed to lift its requirements for Mexican citizens, and in exchange Mexico will open its beef market.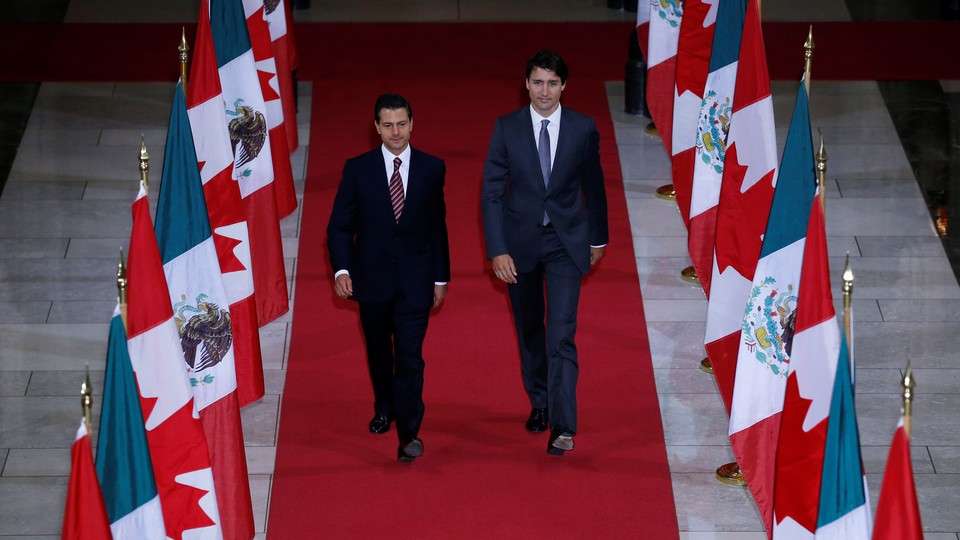 Canada announced Tuesday it would drop visa requirements for Mexican visitors as of December 2016, and in exchange Mexico announced it would open its markets to Canadian beef.
Canadian Prime Minister Justin Trudeau and Mexican President Enrique Peña Nieto made the announcement in Ottawa, ahead of the North American leaders' summit on Wednesday, where they will be joined by U.S. President Obama.
A statement from Trudeau read:
Lifting the visa requirement will deepen ties between Canada and Mexico and will increase the flow of travellers, ideas, and businesses between both countries.

Closer collaboration between Canada and Mexico on mobility issues will also help encourage travel between the two countries while preventing any increase in asylum claims or other irregular migration. Officials plan to meet regularly to promote these mutual interests.
From 2005 to 2008, asylum claims in Canada had tripled, and many of those were from Mexican citizens. In 2009, the conservative Canadian government, headed by then-Prime Minister Stephen Harper, imposed the visa restrictions to cut down on asylum applications. Last year, Trudeau ran on a platform to repair the country's relationship with its North American partners, which included a promise to rid the visa requirement for Mexico.
For its part, Mexico agreed to open its beef market to Canadian exporters, which it had closed in 2003 after the discovery of mad-cow disease in Canadian beef. Mexico later relaxed its restrictions, but limited it to animals under 30 months of age. Canadian cattlemen say they believe Mexico could buy as much as $250 million in beef each year.