California's Deadly Wildfires
The Erskine Fire in the mountains 150 miles north of Los Angeles has killed two people and destroyed more than 100 homes.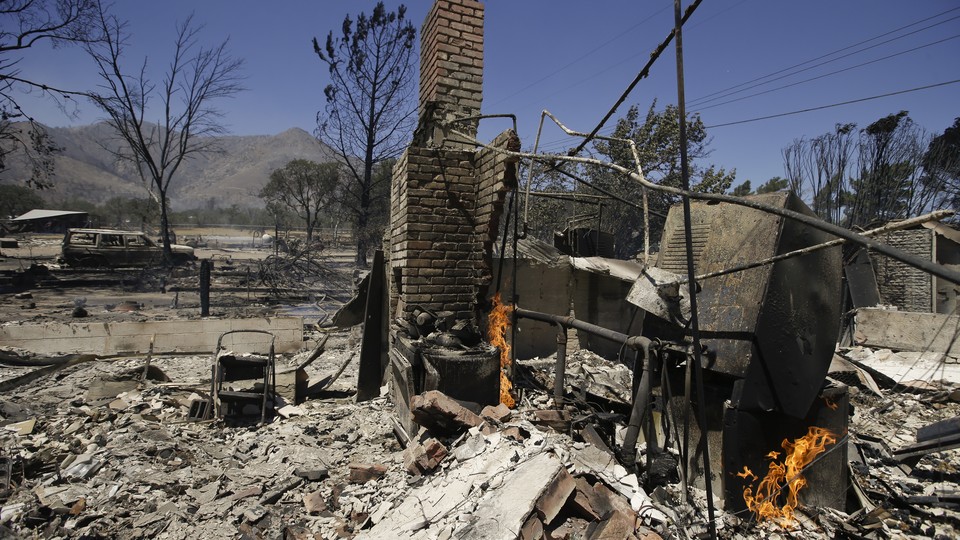 The fire that began last week in Kern County, California, has destroyed more than 150 homes, burned almost 50,000 acres, and killed two people.
About 2,00 firefighters are battling the blaze, known as the Erskine Fire, which was 40 percent contained by Monday. The fire is burning in the mountains around Lake Isabella, 150 miles north of Los Angeles. Hundreds of people in several communities have evacuated their homes. Many have had to stay in evacuation centers since shortly after the fire began on Thursday.
Weather has been a major factor in the fire's explosive growth, and in the difficulty of containing it. As the Los Angeles Times reported, the coming week's near 100-degree Fahrenheit temperatures pose a huge challenge:
"With those temperatures, there's not a lot of humidity to work with," said Carlos Molina, a National Weather Service meteorologist. "Conditions up there are dry right now. It's favorable for the fire to continue growing at this rate."

Molina said the conditions would likely persist throughout the week.

Further complicating matters, Molina said, if moisture from a monsoon currently in Arizona reaches to Kern County, it could cause thunderstorms and lightning that may spark additional fires.
Four consecutive years of drought have dried up much of California's mountain ranges. A record 26 million trees have died in the Sierra Nevada mountains since October, partly due to lack of water, and partly due to a bark beetle infestation. The abundance of dead trees has given fires this year plenty of fuel, and already in 2016 about twice as many acres have burned compared to this time in 2015. Currently, seven fires are burning in the California.