A 'Not Guilty' Verdict in the Death of Freddie Gray
A judge acquitted Officer Caesar Goodson of all charges in the April 2015 mortal injury of the 25-year-old Baltimore man, including second-degree murder.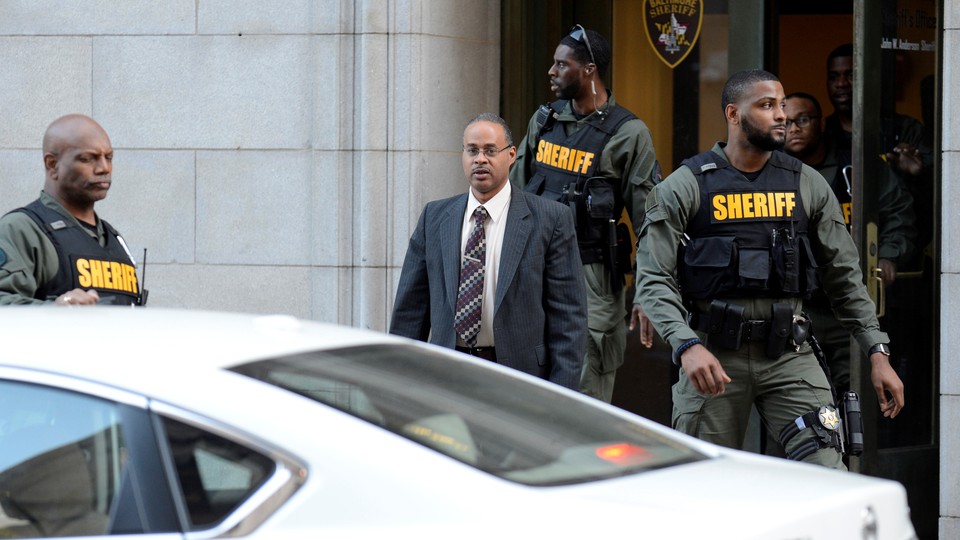 Updated on June 23 at 1:48 p.m.
Officer Caesar Goodson, the Baltimore police officer driving a van where Freddie Gray was mortally injured in April 2015, is not guilty of all seven charges, a judge ruled Thursday morning.
The most serious charge against Goodson was second-degree depraved-heart murder. He also faced second-degree assault, manslaughter, reckless endangerment, and misconduct charges. Judge Barry Williams adjudicated the case himself after Goodson waived his right to a jury trial. Williams said in court that while Goodson may have shown poor judgment, the prosecution failed to prove that he had intended any harm to come to Gray, according to The Baltimore Sun. The judge that said they had not proven even negligence, much less depraved-heart murder.
The decision is a massive blow to a prosecution team that has struggled to convict officers in the high-profile death of the 25-year-old black man. Goodson's case has been considered the centerpiece of the trials of six officers charged with Gray's death, and he faced the most serious charges. The trial also came after two high-profile failures for the prosecution. First, Officer William Porter's prosecution ended in a hung jury. Then Officer Edward Nero was acquitted.
The depraved-heart murder charge against Goodson raised eyebrows from the moment that Baltimore City State's Attorney Marilyn Mosby announced it last spring. Because Gray was apparently injured while riding in a police van after his arrest, it made sense that the driver of the van might face the harshest charges, but the severity still surprised many observers. "Officer Goodson is charged with depraved-heart murder in a case that on its face seems more like negligence, whereas depraved-heart murder says that the individuals showed such wanton and reckless disregard for human life that it amounts to malice," David Jaros, a law professor at the University of Baltimore School of Law, told me at the outset of the trial. Jaros said the prosecution was advancing "novel" legal theories to make their case.
On Thursday, Williams repudiated that approach, saying prosecutors had failed to substantiate their theories: "As the trier of fact, the court cannot simply let things speak for themselves." He said that because Gray's injuries were internal, a non-medical professional would have been unable to gauge them.
In order to prove that charge, prosecutors argued that Goodson had been giving Gray a "rough ride," a form of punishment in which police drive vans erratically, turning sharply or braking suddenly, to throw prisoners in transit around. There had been suspicions of a rough ride since Gray's death, because the 25-year-old was placed in a van while apparently healthy, but less than an hour later was found with a nearly severed spinal cord. He spent a week in a coma before succumbing to his injuries. But prosecutors did not seek to prove the rough ride until Goodson's trial. What was not in dispute was that the shackled Gray was not seat-belted in the van, which is contrary to department policy but nonetheless common, according to witnesses.
But Williams rejected the rough ride argument, and upbraided prosecutors for using an "inflammatory" term without proving it.
Almost immediately, prosecutors got off to a difficult start in the Goodson trial. Williams erupted at the team over revelations that they had withheld potentially exculpatory evidence from the defense team, information gleaned from a meeting with Donta Allen, who was transported in the same van as Gray. Williams declined to throw the case out over the move, but he berated the prosecution: "What else is out there that you haven't turned over?" Williams's questioning throughout the case seemed to indicate some skepticism about the prosecution's case.
The Gray case became one of the most high-profile in a string of cases of deaths involving police officers, joining Michael Brown, Eric Garner, and others. Gray's death inspired massive protests in the streets of Baltimore, as well as brief rioting and looting. The protests revealed a long-simmering fury on the part of black Baltimoreans toward a police force known for its brutality and harshness in communities of color. But the case also showed the subtle ways race plays in policing in places like Baltimore. The mayor and then-police chief are both black, as are three of the officers charged in Gray's death, including Goodson. Nonetheless, parts of the city are strongly segregated by race and income, with poor black areas said to be subject to policing that could be both indifferent and brutal.
Some of the fervor of protesters has chilled since the initial demonstrations more than a year ago. Journalists on the scene for The Baltimore Sun reported that media outnumbered protestors at the court house.
The verdict in the Goodson case has been viewed as crucial for Mosby, the state's attorney. She won praise from police-reform advocates for her prompt and aggressive charging of officers, but critics worried that she was moving too quickly or did not have adequate evidence, and was simply trying to appease protesters in the streets. The failure to convict Goodson on the most serious charges is certain to amplify doubts about her judgment and approach. After the Goodson case, there are three more officers yet to be tried, all on charges less serious than his. Prosecutors have also said they intend to retry Porter after his hung jury. But they'll face an uphill battle, as it's believed they've already presented their best evidence, with no convictions to show for it.
"There just wasn't enough to prove that Officer Goodson was aware of what he was doing," Jaros said. "The fact that officers are shuttling people through the system in a callous and unthinking way is an indictment of the whole system, but actually an argument that this particular defendant is not guilty of the crime."
In that way, the Goodson trial, and Mosby's aggressive but so far futile prosecutions, may spotlight the need for more system reforms of the police, rather than simply more criminal charges. There's no dispute that Gray incurred the injury while in police custody, and he seems to have been arrested for nothing, and yet prosecutions have proven an inadequate tool for responding.
"The case revealed some egregious problems with policing in Baltimore," Jaros said. "It's incumbent on policy makers to ask, 'If the criminal process is not working, what are we going to do?'"