Brexit's Front Pages
How the British press reported on a historic referendum day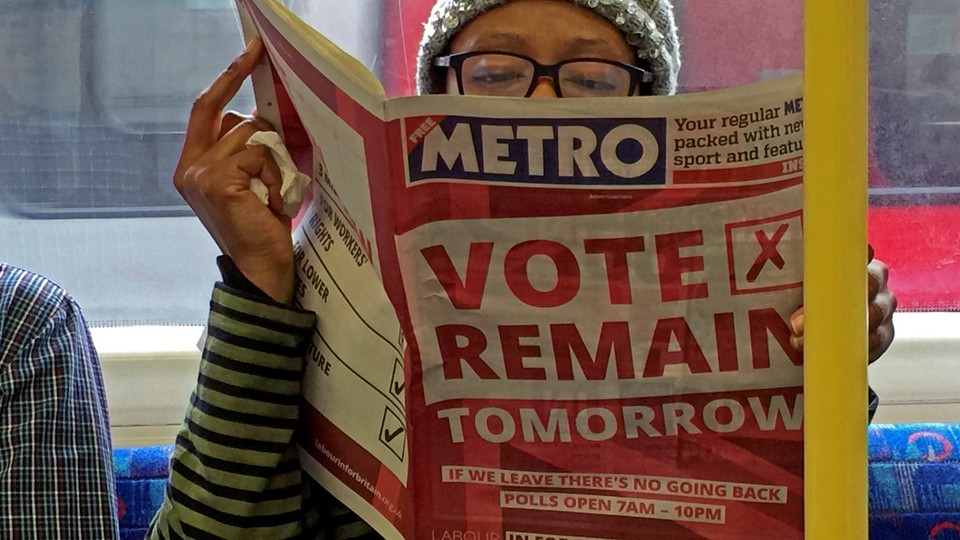 As British voters head to the polls in the European Union membership referendum on Thursday, the country's major newspapers are marking the historic vote with special front-page spreads.
The Guardian, which supports staying in the EU, made its preference clear through a slight alteration to its logo
The Daily Mail, a longtime EU foe, tried to reiterate four final points in the campaign's closing hours.
The Daily Mirror, for its part, urged voters to choose Remain over risks.
The Sun, which also sided with the Leave campaign, took a page from pop culture.
The Daily Express opted for the straightforward approach.
Traditional British iconography received the full-page treatment from the Telegraph.
And the Times, which backed Remain, combined space and Shakespeare.
Even one German newspaper got into the spirit. Bild's front page says it will recognize a controversial goal during the 1966 World Cup final in which England triumphed over West Germany—but only if British voters opt to stay in.