The Political Future of Brazil's 'Frank Underwood'
Eduardo Cunha, the legislator who led the charge to remove Dilma Rousseff, now faces his own crisis.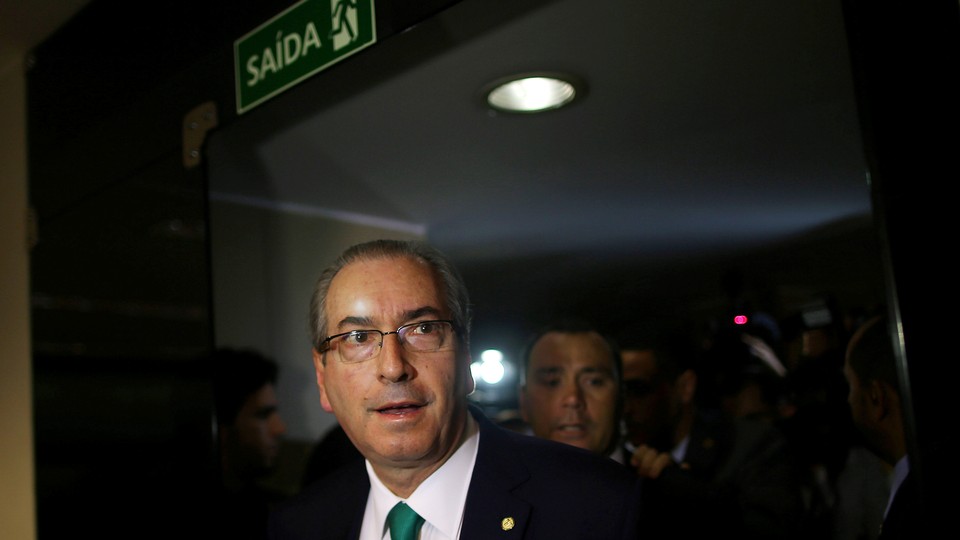 Two months ago, Eduardo Cunha was leading the impeachment movement that would temporarily unseat Dilma Rousseff, banishing her to the presidential palace to prepare for a trial while her vice president took over her job. Now, Cunha is facing his own fight for his political future.
Brazil's congressional ethics committee on Tuesday voted in favor of removing Cunha from his seat in the Chamber of Deputies, the lower house of Brazil's congress. The decision arose from corruption allegations against Cunha, a member of the now-ruling Brazilian Democratic Movement Party (PMDB) who has been described as Rousseff's "political nemesis." In May, just one week before Rousseff's decisive impeachment vote, the country's Supreme Court suspended Cunha from his position as speaker of the house, at the request of the attorney general, for using his high-ranking role to obstruct ethics committee hearings and intimidate lawmakers.
Cunha said he would appeal the decision to another congressional committee. The full chamber will now vote on the ethics committee's recommendation, which would require an absolute majority of members—257 of 513—to pass. If legislators vote to kick Cunha out, the chamber would hold elections for a new speaker; Waldir Maranhao, a member of the Progressive Party and a Cunha ally, currently holds the position on an interim basis. And Cunha, dubbed the "Frank Underwood of Brazil" by Western media for spearheading House of Cards-esque impeachment proceedings, would be barred from running for political office for eight years.
Cunha's political crisis is reminiscent of the one he laid out for Rousseff, the leader of the Workers' Party (PT), this spring. Rousseff is accused of lying about and concealing the state of the government's troubled financial situation during her re-election campaign in 2014; Cunha is accused of lying about and concealing bank accounts he owns in Switzerland. Rousseff spent days in limbo as lawmakers considered whether to oust her; Cunha will do the same. Signs reading "tchau querida"—bye, darling—followed Rousseff out after the months-long impeachment saga; last month, members of the lower house who oppose Cunha held up placards that read "fora Cunha"—out Cunha. Both Cunha and Rousseff have repeatedly denied any wrongdoing. And both face increasing public distrust because of the same thing: the biggest corruption scandal in the history of Brazil.
Two years ago, investigators uncovered a decade-old money-laundering scheme at Petrobras, the state-run oil firm and the largest company in Brazil, that allowed executives, politicians, and others get rich from bribes and kickbacks. The scandal ensnared dozens of Brazil's top politicians across the political spectrum. Rouseff has not been directly implicated in the scheme, though the fact she had served on Petrobras's board of directors while it went on didn't help her image. But Cunha has. A day before the congressional ethics committee voted to boot him out, prosecutors in the Petrobras investigation, known as Operação Lava Jato, or Operation Car Wash, filed a civil lawsuit against Cunha, alleging he took $5 million in bribes from companies looking to secure contracts with the oil company. If Cunha loses his seat, he'll lose the parliamentary immunity granted by Brazil's constitution, which shields elected officials from prosecution, even for capital crimes, and could be arrested and tried for corruption.
"From left to right; from the anonymous to the most powerful public figures, no one, no one at all, will be above the law, as far as it concerns the public prosecutor's office," said Rodrigo Janot, Brazil's chief prosecutor, according to Brazilian newspaper Estado de São Paulo.
Last week, Janot asked the Supreme Court for permission to arrest Cunha, Jose Sarney, Brazil's president in the mid-1980s, Senate President Renan Calheiros, and Senator Romero Juca—all members of the PMDB. Their arrests would add to a series of setbacks the new administration, led by Michel Temer, has suffered in its first month. In late May, Juca, a Temer confidant, resigned from his new role as minister of planning, development, and management after he was heard on recordings discussing the need to stymie the Petrobras investigation. Days later, Fabiano Silveira, the newly appointment minister of transparency, supervision, and control, quit for the same reason.
On Wednesday, Cunha took to Facebook to refute news reports he had met with his lawyers to talk about potentially resigning. "It's very unpleasant having to come here all the time and refute the lies," he wrote in a post that ended in a hashtag of his own name. "Especially because it's a fascist practice to repeat lies so many times until they become the truth."
Cunha's potential removal won't affect Rousseff's impeachment trial, which is expected to reach a verdict in mid-August, during the Olympic games in Rio. Rousseff said Tuesday she's preparing a letter that would call for early presidential elections should she survive the trial. Until then, the first female president of the Brazil is hanging out in the Palácio da Alvorada, riding her bike in the mornings, reading The New York Review of Books online at night, and having her credit card declined at grocery stores.