The Southern Baptist Call to Stop Displaying Confederate Flags
The denomination so rooted in slavery passed a resolution Tuesday, recognizing its past.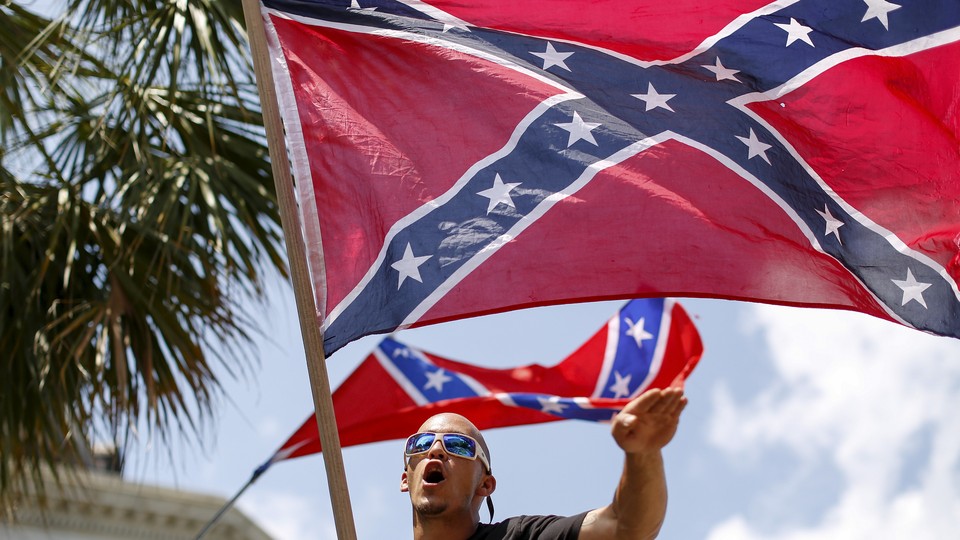 The representative body of Southern Baptists called on its members to stop displaying the Confederate battle flag.
The Southern Baptist Convention, the largest Protestant Christian denomination in the U.S. with 15.8 million members, on Tuesday adopted a resolution that said the flag was an emblem of slavery, and called members to discontinue its display "as a sign of solidarity of the whole Body of Christ, including our African-American brothers and sisters."
The measure was passed at the convention's annual meeting, which took place in St. Louis, by the predominantly white evangelical conservative leadership.
Russell Moore, who runs the Ethics and Religious Liberty Commission, the public policy arm of the SBC, wrote in a blogpost:
As I've said before, the Cross and the Confederate flag cannot co-exist without one setting the other on fire. Today, messengers to the Southern Baptist Convention, including many white Anglo southerners, decided the cross was more important than the flag. They decided our African-American brothers and sisters are more important than family heritage. We decided that we are defined not by a Lost Cause but by amazing grace. Let's pray for wisdom, work for justice, love our neighbors.

And let's take down that flag.
Four years ago, the convention elected Fred Luter, the first black president in its 171-year history, who served for two years. It was only in 1995 that the convention adopted a resolution apologizing for condoning slavery and racism in its past. Slavery has been a major part of the convention's past, my colleague Emma Green wrote in 2015:
[In 1845,] the Southern Baptist Convention had formed when a group of churches broke away from another loose association of Baptists, called the Triennial Convention. The foreign-outreach arm of the organization had forbidden a slaveholding church elder from becoming a missionary, saying it would violate the organization's neutral position on slavery. After attempting to negotiate a compromise, 293 dissenting church leaders—representing as many as 365,000 Christians—met in Augusta, Georgia, and formed a new association that supported slavery.
Since the shooting in Charleston, South Carolina, last July that left nine black churchgoers dead, discussion over the Confederate battle flag's place in the country has increased. In the months that followed, South Carolina removed the flag from its statehouse grounds. In May, the U.S. House voted to ban the flag from Veterans Administration cemeteries. And earlier this June, the National Cathedral in Washington also decided to remove the Confederate flag from its stained glass windows.