The Murder of a Bangladeshi Hindu Priest
Suspected Islamists continue to target religious minorities and secularists in the South Asian country.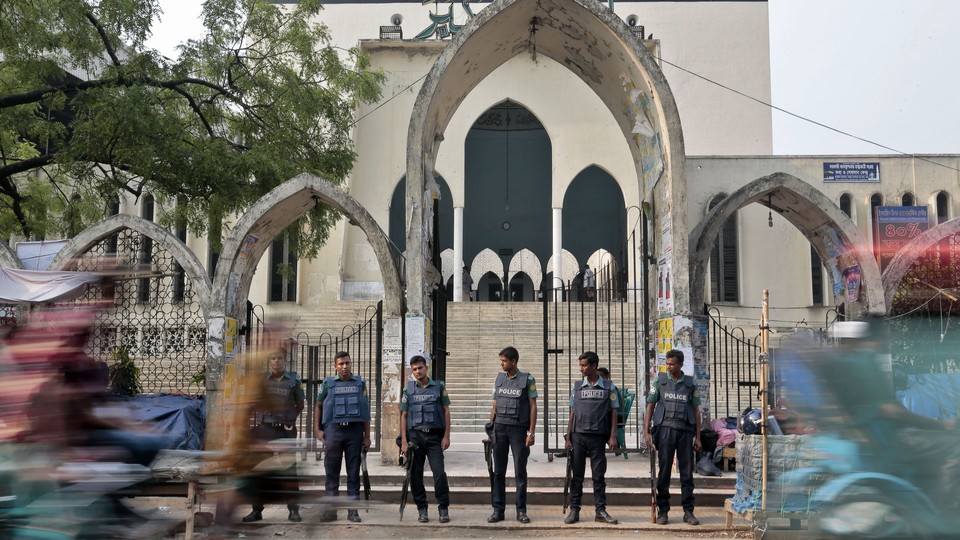 A Hindu priest, on his way to offer prayers at his local temple in western Bangladesh, was killed by suspected Islamists earlier this week.
Police found Ananda Gopal Ganguly, a 70-year-old from the Jhenaidah district, in a rice field with his head nearly severed from his neck. He is the third person killed by suspected Islamists in the country in two days. On Sunday, a Christian businessman and the wife of one of the lead police officers investigating Islamist attacks were killed.
While officials in the predominantly Muslim country continue to deny that ISIS or its sympathizers are operating there, Bangladeshi police have cracked down on several Islamists tied to other attacks. This week, police killed three suspected extremists, as the BBC reports:
Two alleged members of the banned Jamaat-ul-Mujahideen Bangladesh (JMB) were shot dead in Dhaka when police raided a home in the city—police said unidentified gunmen opened fire on them.

A third—said to have been linked to a recent bombing of an Ahmadiya mosque—was killed in western Rashahi district.
Bangladesh has seen an increased amount of violence tied to Islamists this year. Since January 2015, 40 religious minorities and secularists have been killed by extremists, police say. Meanwhile, the South Asian country continues to prosecute, and sometime execute, leaders tied to the largest Islamist party, Jamaat-e-Islami.