The Belated Verdict of an Auschwitz Conspirator
Former SS guard Reinhold Hanning was sentenced to five years in prison for his role at the death camp.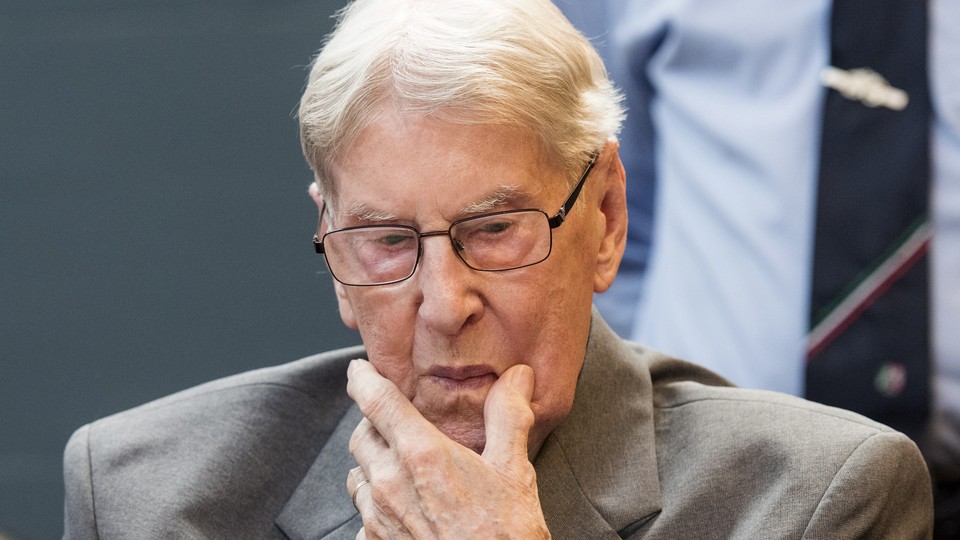 It's been more than 70 years since he was an SS guard at Auschwitz, but Reinhold Hanning, now 94, was sentenced to five years in prison on Friday for his role in the death camp in Nazi-occupied Poland during World War II.
Around 1.1 million Jews and other ethnic and political minorities were killed in Auschwitz. A court in Detmold, a city in western Germany, found Hanning guilty of being an accessory in the murders of 170,000 people at the notorious camp.
While reading the verdict, presiding judge Anke Grudda told Henning he was a cog in a "perfectly functioning machinery of destruction," reports the Associated Press. Further, she said:
"You were in Auschwitz for two and a half years and performed an important function. You were part of a criminal organization and took part in criminal activity in Auschwitz."
Back in April, Hanning apologized for his role in Auschwitz, saying "it disturbs me deeply that I was part of such a criminal organization." According to the AP:
Hanning joined the Hitler Youth with his class in 1935 at age 13, then volunteered at 18 for the Waffen SS in 1940 at the urging of his stepmother. He fought in several battles in World War II before being hit by grenade splinters in his head and leg during close combat in Kiev in 1941.

He told the court that as he was recovering from his wounds he asked to be sent back but his commander decided he was no longer fit for front-line duty, and so sent him to Auschwitz, without his knowing what it was.

Though there was no evidence Hanning was responsible for a specific crime, he was tried under new legal reasoning that as a guard he helped the death camp operate, and thus could be tried for accessory to murder.
The trial lasted four months. Last year, another SS sergeant, Oskar Groening, was charged with 300,000 counts of accessory to murder for his time at Auschwitz using the same argument.