The Bombing Attack in Somalia's Capital
The terrorist group al-Shabaab claimed responsibility for a bombing Wednesday in Mogadishu that has killed 10 and injured dozens more.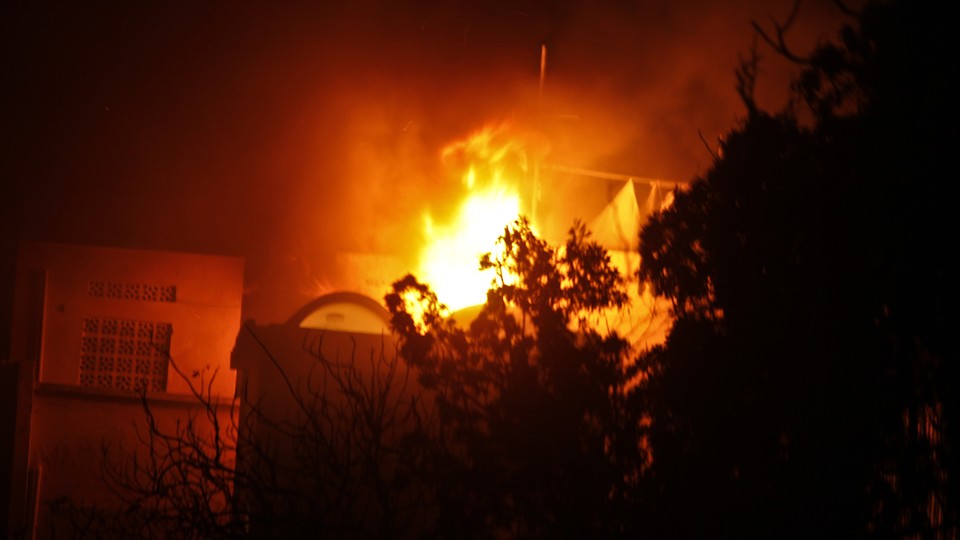 At least 10 people were killed and dozens injured after attackers detonated a bomb outside a hotel in Somalia's capital, Mogadishu.
The car bomb exploded near the gates of the Ambassador Hotel Wednesday. Shortly after the blast, three gunmen swarmed inside the building. Somalia's National Intelligence and Security Agency tweeted it had rescued survivors from inside and sent security forces to clear the upper levels of the hotel.
Al-Shabaab, a terrorist group affiliated with al-Qaeda, quickly took responsibility for the attack, Reuters reported:
"We targeted the members of the apostate government ... We killed many of them inside and we shall give details later. Our mujahideen are on the top floor of the hotel building," Sheikh Abdiasis Abu Musab, al Shabaab's military operation spokesman, told Reuters.
The terrorist group has remained a large threat in Mogadishu, even after African Union troops pushed them out of the city in 2011. The U.S. has also targeted them in bombings as recently as March. Al-Shabaab has repeatedly attacked towns and cities in Ethiopia, Kenya, and Somalia, including another hotel bombing in Mogadishu this February.