Germany's Vote on the Armenian Genocide
The Bundestag's move Thursday has angered Turkey.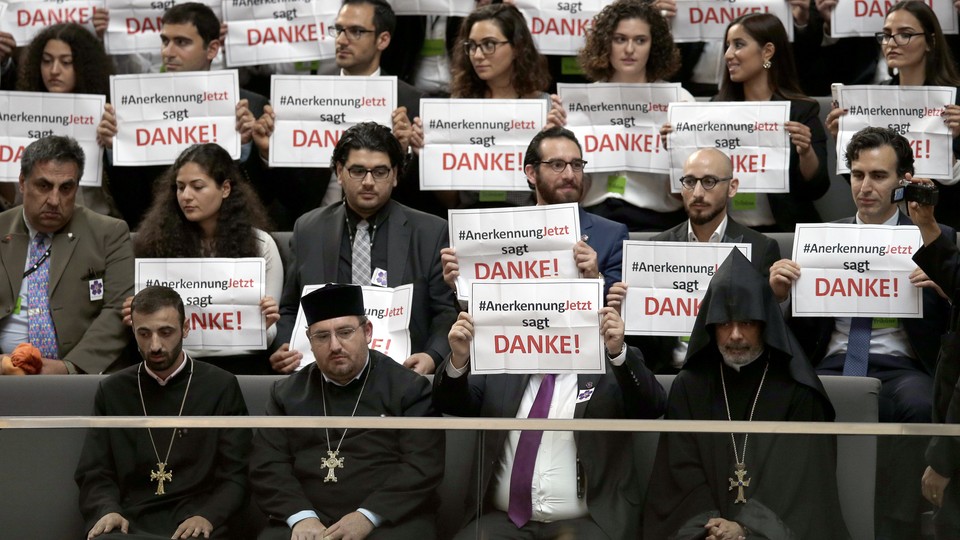 Lawmakers in Bundestag, Germany's lower house of Parliament, voted overwhelmingly Thursday to label as "genocide" the mass killings of Armenians during the dying days of the Ottoman Empire—a move that has angered Turkey.
The issue is a sensitive one in Turkey, the successor to the Ottoman Empire. Ankara acknowledges there was violence against Armenians during the period, but denies the actions constituted a genocide because, it says, many of those killed were casualties of World War I.  Armenians say as many as 1.5 million people were killed. With their vote Thursday, German lawmakers joined colleagues from more than 20 countries, including France and the Vatican, who have labeled the actions genocide—as have most non-Turkish historians. Turkey denounced the vote.
Binali Yildirim, Turkey's new prime minister, blamed the "racist Armenian lobby" for the designation, and warned of consequences for Turkish-German relations. "Ours is a country that prides itself with its past," he said. Turkey recalled its envoy from Berlin over the action, and its foreign minister,  Mevlüt Cavusoglu, said on Twitter that the Bundestag's vote was "designed to denigrate another country's history … [without] closing the dark chapters of one's own history." That's an apparent reference to Nazi Germany.
German Chancellor Angela Merkel and senior members of her government skipped Thursday's vote, citing scheduling conflicts. Germany has been working with Turkey on an agreement with the EU to stem the flow of migrants and refugees to Europe. Prior to Thursday's vote, Turkish President Recep Tayyip Erdogan said the "genocide" designation could hurt "diplomatic, economic, business, political and military ties" between the two countries.