An Ethics Conviction in Alabama
A jury found House Speaker Michael Hubbard guilty on 12 counts of ethics violations.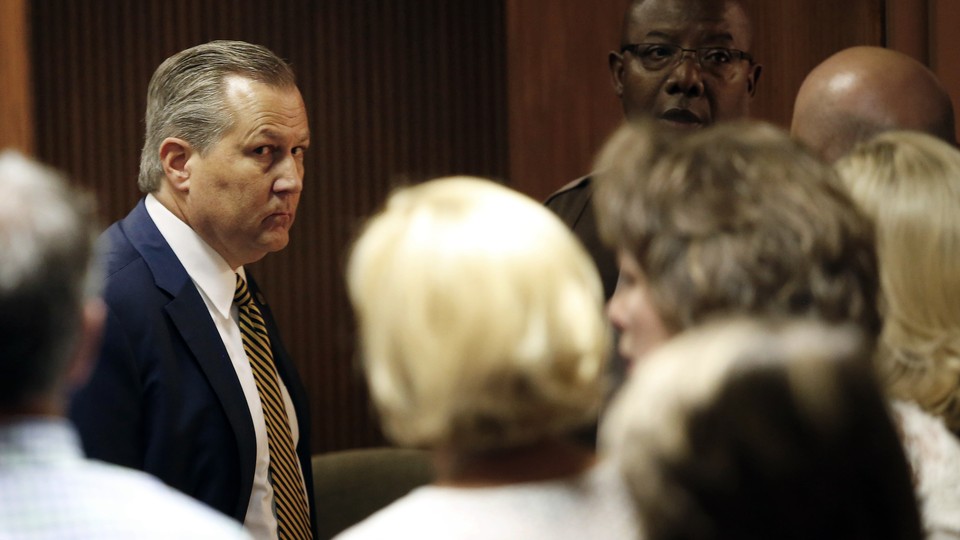 Alabama House Speaker Michael Hubbard was automatically removed from office Friday after a jury convicted him on 12 felony public-corruption charges, adding to the state's extraordinary political crisis.
Hubbard originally faced 23 charges, all of which accused the once-powerful Alabama Republican of using his office to enrich himself and others. The Huntsville Times has more:
Prosecutors said Hubbard used the power of his office to improperly benefit his companies and clients and to try to obtain $2.3 million worth of work, investments and financial favors.

Hubbard's defense argued that the transactions were legal and within the bounds of the ethics law and exemptions for normal business dealings and longstanding friendships.

Defense lawyer Bill Baxley told jurors that Hubbard took care not to run afoul of state ethics law and asked advice from the then-director of the Alabama Ethics Commission.

Prosecutor [Matt] Hart depicted Hubbard as a conniving politician who seized at opportunities to make money through his political party work and elected office.
Public-corruption trials aren't exactly unusual among the 50 state governments. In New York, federal prosecutors toppled Senate Majority Leader Dean Skelos and Assembly Speaker Sheldon Silver last year. The U.S. Supreme Court is currently reviewing Bob McDonnell's 2015 conviction for accepting lavish gifts from an influential donor while Governor of Virginia. And New Mexico Secretary of State Dianna Duran resigned last October after pleading guilty to fraud and embezzlement.
But even by those standards, Alabama's current situation is an outlier. In addition to Hubbard's conviction and ouster, both the state's governor and its chief justice are also facing removal from office.
Alabama's House Judiciary Committee will meet this week to consider articles of impeachment against Governor Robert Bentley for the firing for Spencer Collier, the state Law Enforcement Agency secretary. Collier then accused Bentley of an extramarital affair with his senior political advisor. Bentley admitted to sending sexually explicit messages to her but denied an affair.
Last month, the Alabama Judicial Inquiry Commission also charged Chief Justice Roy Moore with six counts of violating judicial ethics. Moore issued a controversial order to the state's probate judges in January forbidding them from issuing marriage licenses to same-sex couples, effectively defying a federal district court's orders. It would not be his first removal from office: Moore was previously ousted in 2003 for refusing to remove a Ten Commandments monument from the state supreme-court building.
Hubbard's sentencing hearing is scheduled for July 8. He faces a maximum of 20 years in prison on each of the 12 charges.