How An American Basketball Player Can Compete for Armenia
University of Connecticut center Steven Enoch is becoming a dual citizen, having never traveled to the country before.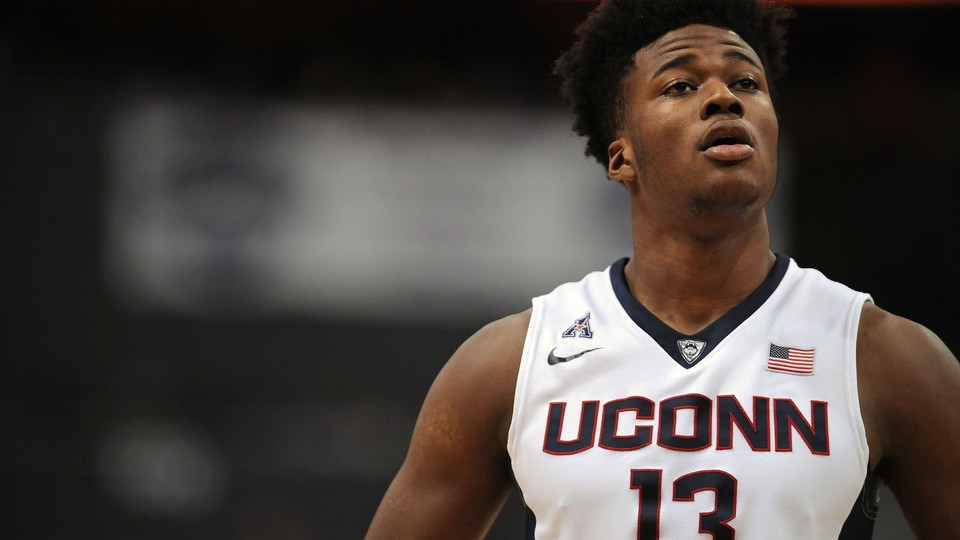 A University of Connecticut basketball player, born and raised in the United States, is joining an unusual squad this summer: the Armenian national team.
Steven Enoch, an 18-year-old sophomore from Norwalk, Connecticut, is filling out the necessary paperwork to get dual citizenship for Armenia. Come July, he'll compete with the under-20 team at the Division B European Championships in Greece.
Even though he has no Armenian ancestry, and has never visited, Enoch is still allowed to play for them. As the Associated Press explains:
Once he plays for Armenia, he won't be allowed to play for USA Basketball or any other country. Under international rules, players can suit up for only one country after they turn 17, except under special circumstances, such when their participation might benefit the advancement of basketball in the country for which they wish to play.

But there are no rules preventing a player who has never visited a country from playing for that nation, as long as they obtain a passport from that nation. Each nation gets one slot per team for a dual-citizenship player.
Armenia was looking for a center to compete with the team with summer, and Enoch answered the call.
While this doesn't happen often, players have competed with other nations to get more playing time in the past. Tyrese Rice, a North Carolina native who played for Boston College, played for Montenegro in 2013. Similarly, Becky Hammon, a South Dakota native, competed for Russia in the 2008 and 2012 Olympics.
As Enoch's former high school coach, Jere Quinn, told the AP, "With USA basketball, I don't think people are knocking at his door for that right now, so this is a good opportunity for him." Enoch has also been reassured that most of his future teammates speak English.