Remembering Bretagne, the Last Known 9/11 Rescue Dog
The 16-year-old golden retriever was the oldest surviving member of the group of dogs who took part in rescue and recovery operations at Ground Zero.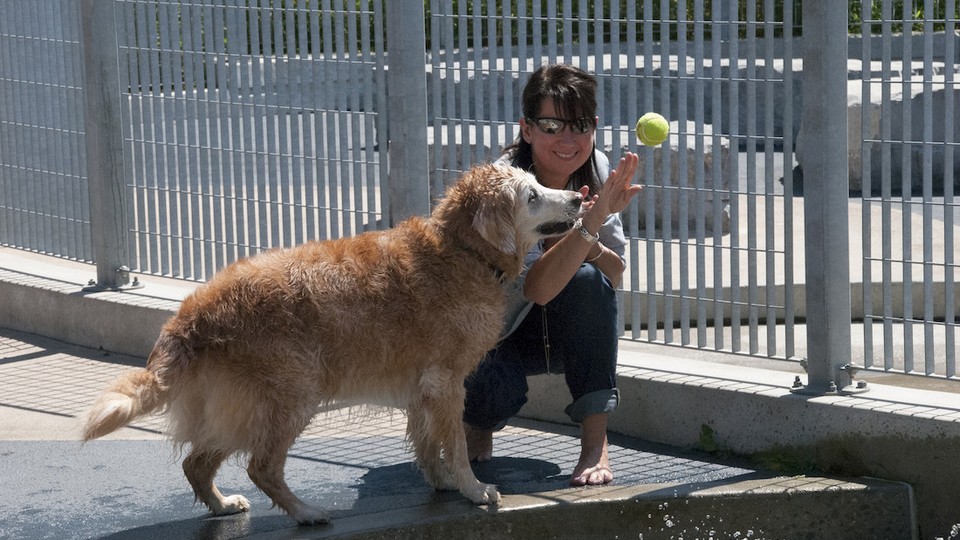 After the attacks of September 11, 2001, Bretagne, a two-year-old golden retriever, was among the dogs rushed to New York from across the country to help in the rescue and recovery. On Monday, the now 16-year-old was given a hero's farewell as she walked into a Houston-area veterinary clinic for the last time.
Bretagne was euthanized Monday amid declining health, including kidney failure.
Bretagne (pronounced Brit-nee) was two years old at the time of the attacks. She and Denise Corliss, her owner and handler, worked at Ground Zero for 10 days as their mission went from rescue to recovery. Here's how a teammate remembered her:
She has always taken her job as a search dog seriously, but herself not so much. Always ready for a belly rub, or a treat. In remembering her first deployment at the World Trade Center, there are images of her going to where she was directed to search, the unknown, the chaotic environment. But even then, she knew who needed the comfort of a dog, which firefighter needed to hold her close and stroke her fur.
Corliss, a volunteer firefighter with the Cy-Fair Fire Department, was looking for a dog to train for disaster work. Enter Bretagne, who at the time was eight weeks old. The duo soon became a FEMA-certified canine team that also worked in the rescue missions during Hurricanes Katrina, Rita, and Ivan.
Bretagne retired from formal search work at the age of nine, but continued to work as a goodwill ambassador for her local fire department, and as a reading assistance dog at a local elementary school. Here's more from the Cy-Fair Volunteer Fire Department in Harris County, Texas:
For the past 3 years, until just a few weeks ago, she was a regular visitor to Roberts Road Elementary School in the Waller Independent School District. Each week, she would visit a first grade classroom and listen to young readers, providing a non-judgmental ear, and soft paw. She also visited students with special needs, such as autism. Her calm demeanor and warm heart helped the young and old through their own difficult moments.
Bretagne was the oldest-surviving member of the dogs that worked at Ground Zero. In 2014, she and Corliss visited the September 11 Memorial, and a year later, she was back in New York for her 16th birthday:
As Bretagne entered the animal hospital in Cypress, Texas, Monday, f
irefighters and search-and-rescue workers from the
 Cy-Fair Volunteer Fire Department
 lined the sidewalk and saluted. She was carried out later, her body draped in an American flag.