Where the World's Slaves Live
A new report estimates nearly 46 million people live in contemporary slavery, more than half of them in five countries.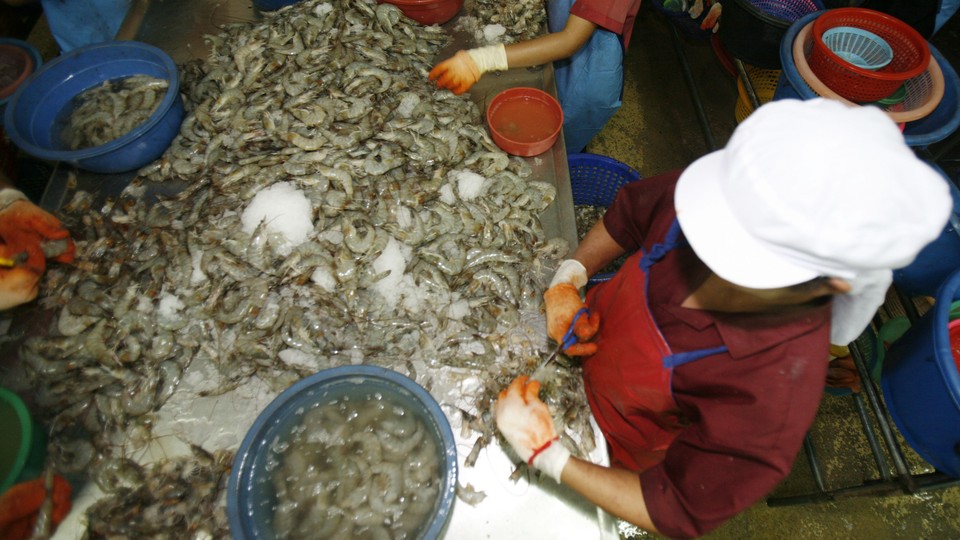 This year, researchers surveyed residents of 15 states in India and asked them what it is like to live in conditions of contemporary slavery—the term used to describe human trafficking, forced labor, sexual exploitation, and other forms of illegal enslavement in the 21st century.
"I was physically and sexually assaulted when I was working in the field. I had also threat on my life and on my family," said one unnamed person who was in bonded labor, a type of exploitation in which people are forced to work to repay debt, real or assumed. Another person, who was made a street beggar, said: "Though I am begging I am not paid a single amount. I have to deposit all to them. I am deprived of food and good sleep."
These individuals are two of an estimated 18.4 million Indians who live in contemporary slavery, according to
a new report
from the Walk Free Foundation, an Australia-based organization. The group's Global Slavery Index, released Tuesday, estimates a total of 45.8 million people are in some form of contemporary slavery in 167 countries. Nearly 60 percent of those live in just five nations: India, the country with the highest number of slaves, followed by China (3.4 million),
Pakistan (2.1 million), Bangladesh (1.5 million), and Uzbekistan (1.2 million).
Slavery is illegal in every country; Mauritania became the last to outlaw it, abolishing the practice in 1981 but only criminalizing it in 2007. But it still exists in every country, and is common in some poor countries with oppressive governments or few human-rights protections.
North Korea has the most people enslaved in proportion to population, with 4.4 percent of the country's population living in conditions of slavery. That equals about 1.1 million people out of 25 million. Uzbekistan is next with 4 percent of its population, followed by Cambodia (1.6 percent), India, (1.4 percent), and Qatar (1.4 percent).
Walk Free created the index using a Gallup survey of more than 42,000 respondents in 53 different languages, as well as statistical modeling.
People who are forced into labor most often work in the agriculture, food production, fishing, manufacturing, and construction industries. Migrant workers and indigenous people are among the most vulnerable. Women and girls are forced into sex work and marriages in nearly every country. There are as many as 20,000 North Korean workers in Russia who are required to hand over nearly all of their wages to the North Korean government. Victims of trafficking in Europe often come from Eastern European countries, forced to work abroad in dangerous conditions for little pay. In Syria, Iraq, Yemen, and the Palestinian territories, children have been forced into armed conflicts, coerced into become informants and suicide bombers.
The Global Security Index also ranks the responses of national governments to contemporary slavery inside their borders, based on laws, the availability of services for victims, labor standards, and other factors. At the top of the list are Western nations, including the Netherlands, the United States, the United Kingdom, Sweden, and Australia. The worst are North Korea, Iran, Eritrea, Equatorial Guinea, and Hong Kong.
Exact numbers of today's victims of contemporary slavery are impossible to obtain, and estimates can vary by year and organization. Kevin Bales, a leading researcher of contemporary slavery and author of several books on the topic, estimates 35.8 million people are trapped in slavery. The International Labor Organization, a United Nations agency, puts the number at nearly 21 million.