The End of Thailand's Tiger Temple
Wildlife officials have begun confiscating tigers from a popular tourist destination after allegations of animal abuse.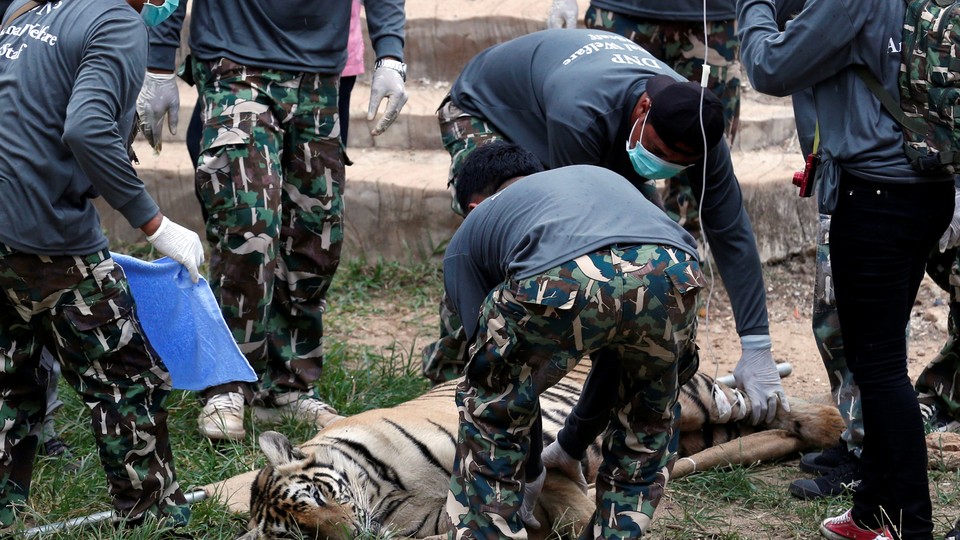 Wildlife officials in Thailand have seized some of the more than 100 tigers held at a Buddhist temple in response to allegations of mistreatment of the animals.
Six tigers were tranquilized and removed Monday from Wat Pa Luangta Maha Bua Yannasampanno, which is known as "Tiger Temple," according to animal-welfare advocates. The temple is a popular tourist spot in Kanchanaburi province, where visitors are allowed to play with tigers and cubs and even take selfies with them. Government officials plan to clear the temple of all tigers, and will spend the next week removing the remaining 131 animals. The tigers will be transported to government sanctuaries elsewhere in the country.
For years, former temple workers and animal-welfare groups have alleged that the tigers have been abused—beaten, fed poorly, and housed in small concrete cages with limited time outside. Some conservationists say the monks have illegally bred and trafficked the animals. Temple officials have denied the allegations.
Monday's raid was led by Thailand's national parks, wildlife, and plant conservation department, which obtained a warrant from a provincial court to seize the tigers, according to The Nation, an English-language newspaper in Thailand. Officials had previously seized 10 tigers in raids in January and February. The department granted the temple a zoo license in April, but appeared this month to reverse course.
"We have a court warrant this time, unlike previous times, when we only asked for the temple's cooperation, which did not work," Adisorn Nuchdamrong, deputy director-general of the national parks department, told Reuters Monday. "International pressure concerning illegal wildlife trafficking is also part of why we're acting now."
The Wildlife Friends Foundation Thailand, an animal-rights group based in Phetchaburi province, located south of Kanchanaburi, documented the interaction between the monks and department officials:
The Nation described "high tension" at the temple as wildlife department staff, local police, Thai armed forces, and members of animal-rights groups descended on the grounds. At first, the temple's monks denied entry to officials. Later, monks unchained several tigers and allowed them to roam freely, which animal-rights activists said was an attempt to hinder operations to confiscate them.
More than 300 officials remained at the temple overnight to ensure the remaining tigers' safety, the AP reported.
The New York Times in May reported temple officials say the tiger attraction earns $3 million a year in ticket revenue, while government officials say it brings in $5.7 million.