The Rising Floods in Texas
Torrential rain in Texas, and overflowing rivers and reservoirs have caused thousands to evacuate their homes, and killed at least six people.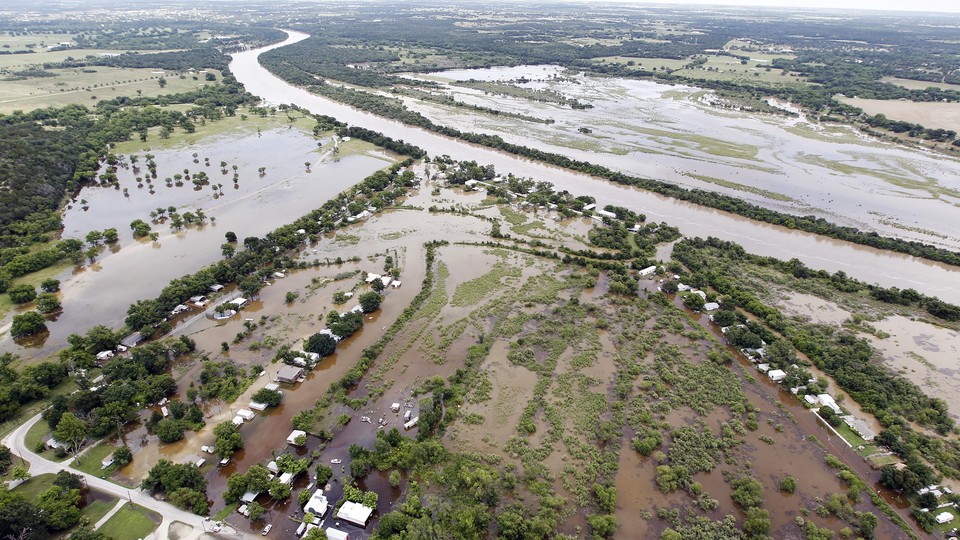 Torrential rain over the weekend and what meteorologists called "rain bombs" have flooded parts of Texas, causing rivers and reservoirs to overflow, and killed at least six people as of Tuesday morning.
The rain began last week and has dumped more than 30 inches in some areas, including 16 inches in just one day in Washington County, which is between Houston and Austin. The devastation in the county was made worse after the Brazos River and nearby reservoirs overflowed and forced thousands to evacuate, including 2,600 inmates from a prison.
The intense rain is to blame for much of the flooding, but the ground in this part of Texas isn't used to absorbing so much water so quickly, as The New York Times reported:
In an area including San Antonio and Austin, Tex., the heavy rain could not soak into the limestone and sandstone that characterize the Hill Country region, leading narrow creeks to brim with fast-running waters.

Since Wednesday, the thunderstorms have dropped pockets of intensely heavy rain, or "rain bombs," as meteorologists call them.
Six people have died in the floods, most trapped in their cars surrounded by rising water. One boy who was swept away by the Brazos River was still missing. Schools were closed Tuesday, and the American Red Cross had opened shelters in the worst-hit areas.
The Weather Channel predicted more rain for the week, picking up Tuesday night until Friday, which could greatly increase the chance of more flooding.