A Former Miss Turkey's Punishment for Reposting a Poem to Instagram
A court in Turkey sentenced Merve Büyüksarac to a 14-month suspended prison sentence for insulting the president.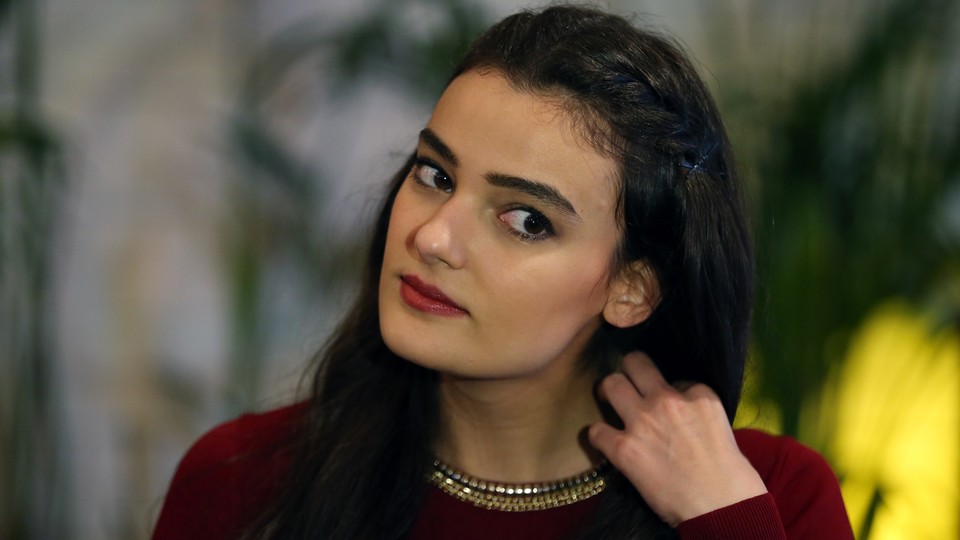 A Turkish court convicted a former Miss Turkey on Tuesday for reposting a poem that officials say insulted president Recep Tayyip Erdogan.
The court sentenced Merve Büyüksarac to a 14-month suspended prison term, meaning she won't serve time unless she repeats the offense within five years.
Büyüksarac was crowned Miss Turkey in 2006, and authorities detained the 27-year-old in 2014 after she posted a poem to her Instagram account. The poem was called "The Master's Poem," and some of its lines referenced a high-level corruption case. Lawyers representing Erdogan, who was prime minister at the time, argued her repost amounted to an attack on the Turkish leader's personal rights.
Büyüksarac's conviction has increased fears Turkey is becoming more authoritarian, the Associated Press reported:
Since becoming president in 2014, Erdogan has filed close to 2,000 defamation cases under a previously seldom-used law that bars insulting the president. Free speech advocates say the law is being used aggressively to silence and intimidate critics.

The trials have targeted journalists, academics and even schoolchildren. Coupled with a crackdown on opposition media and journalists, the trials have sounded alarms over the erosion of rights and freedoms in a country that was once seen as a model of Muslim democracy.
Thousands of people shared the same post, and Büyüksarac has said she did not post the poem to attack Erdogan.
"I shared it because I found it funny," Büyüksarac had said.
A journalist accused of insulting Erdogan appeared in court Tuesday as well. Cengiz Candar wrote columns last year that criticized the president; he now faces up to four years in prison.