The Rising Death Toll in the Mediterranean
The UN refugee agency says at least 880 migrants and refugees may have died last week as their vessels capsized.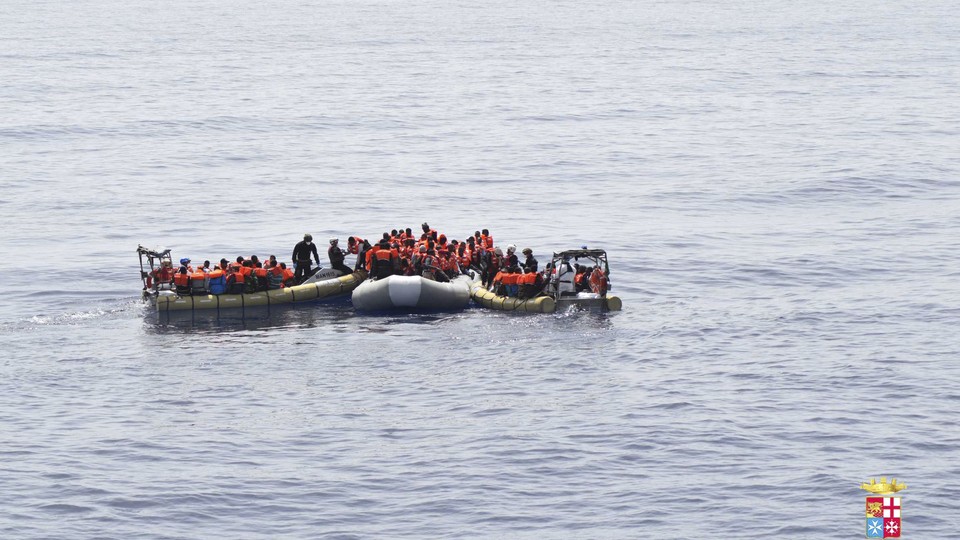 Updated on May 31 at 9:51 a.m. ET
The United Nations refugee agency estimates that at least 880 people were killed last week as their vessels capsized in the Mediterranean while they were trying to cross from North Africa to Europe. The International Organization for Migration, which tracks migration, said the number was at least 1,000.
William Spindler, a spokesman in Geneva for the UN High Commissioner for Refugees, said Tuesday:
As well as three shipwrecks that were known to us as of Sunday, we have received information from people who landed in Augusta over  the weekend that 47 people were missing after a raft carrying 125 people from Libya deflated. Eight others were reported separately to have been lost overboard from another boat, and four deaths were reported after fire aboard another.
As we reported Sunday, the UN refugee agency previously said 700 lives were lost in the crossings. Here's more from the IOM:
The worst incident occurred last Thursday and involved an engineless wooden boat with over 550 people on board. The vessel was being towed by another smuggling boat, which had an estimated 800 people on board. After several hours, the smaller boat began to take on water.
Spindler, the UNHCR spokesman, said Tuesday 2016 was proving "particularly deadly" for migrants and refugees crossing the Mediterranean: 2,150 people have died so far compared to 1,855 in the same period in 2015, and 57 in the first five months of 2014.
So far this year, 203,981 people have crossed the Mediterranean, and the death toll means they have a 1-in-81 chance of dying making the journey.
Many of the recent crossings are of migrants and refugees making their way from Libya to Italy, which has replaced Greece as their favored entry point to Europe after a deal between the European Union and Turkey made it more difficult for them to sail across the Aegean Sea to Greece.