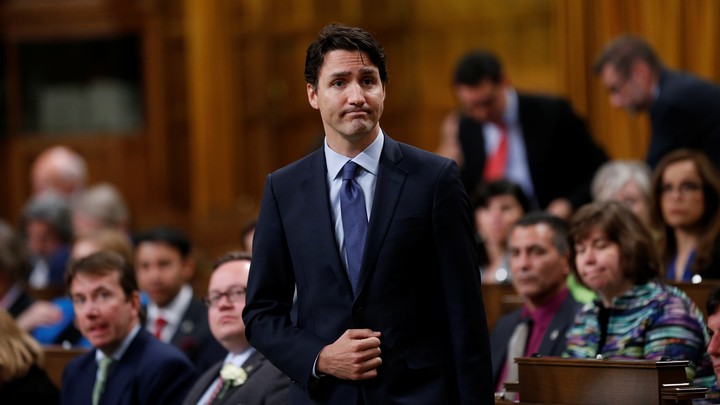 Three public apologies and one serious parliament discussion later, Justin Trudeau has been formally forgiven for tugging the arm of one legislator and elbowing another during a vote earlier this month.
Canada's House of Commons decided Tuesday that the prime minister will not face parliamentary sanctions, or be asked for more apologies, for what some members of parliament called "unprecedented physical interaction."
The controversy began May 18, during a heated vote on doctor-assisted suicide legislation. Members of the opposition New Democrat Party and other parties had blocked the aisle, seen by some as an attempt to prevent others from returning to their seats to begin the vote. Seeing this, Trudeau, who is in the Liberal Party, walked toward the group and pulled on Conservative whip Gord Brown's arm and began to drag him out of the way, simultaneously elbowing New Democrat Party member Ellen Brosseau. The sequence of events caused an uproar among members of parliament, and opposition members spent the next few days criticizing Trudeau for "manhandling" the legislator. The incident became known as "Elbowgate," taking on the suffix given to any public scandal these days. Trudeau apologized for the tussle three times in two days.
The Toronto Star reported Brosseau released this statement Tuesday:
"It left many members stunned and raised important questions about the conduct of the prime minister in a House that was already confronted with unprecedented government measures to limit debate."

That was a reference to a motion, since withdrawn, that would have given the Liberal government more control over parliamentary procedures.

But Brosseau said the fact that the committee was considering the question of privilege, coupled with her acceptance of Trudeau's apology, was the closure she was looking for.
Brosseau said she hoped all members of parliament "will work to ensure that we never see this conduct repeated."
Trudeau had attributed his reaction to Brown in part to feeling under pressure in his new office, which he took in November. For Canadians, none of it really mattered. A poll about the incident a week later showed the majority of people thought of it as "no big deal" or, at most, a "momentary lapse of judgement."
We want to hear what you think about this article. Submit a letter to the editor or write to letters@theatlantic.com.