The Conviction of Chad's Ex-Ruler
A court in Senegal has sentenced Hissène Habré to life in prison for crimes committed during his eight-year rule.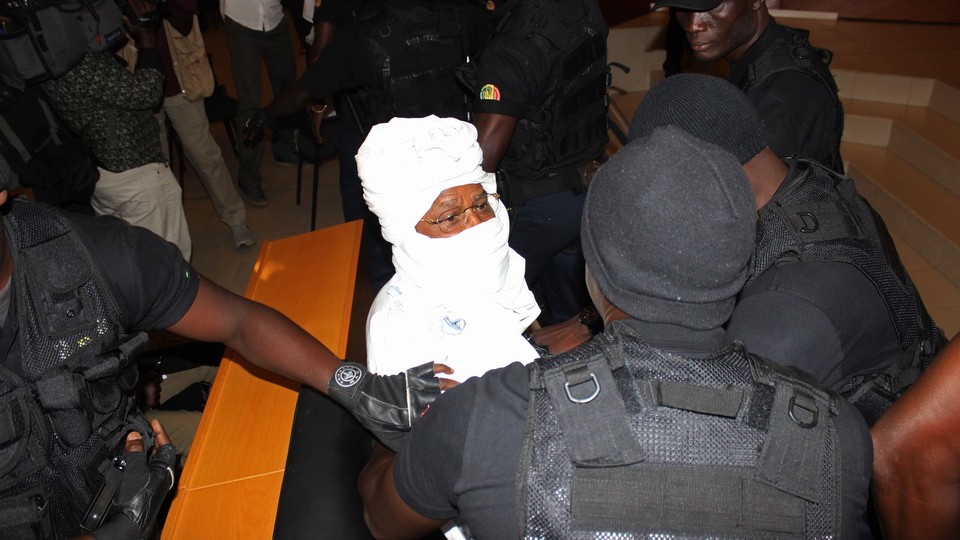 Hissène Habré, the former dictator of Chad, has been found guilty of crimes against humanity committed during his eight-year rule and sentenced to life in prison.
Habré was convicted Monday of crimes against humanity, war crimes, and rape, the BBC reported, nearly a year after his trial began. The verdict came from a court in Senegal specially appointed by the African Union to judge Habré. Habré's victims and human-rights groups had spent almost two decades trying to bring him to justice.
Reed Brody, the Human Rights Campaign lawyer who initiated the case against Habre, praised Monday the efforts of the victims, many of whom recalled experiences of torture in their testimonies against Habré while the former ruler sat in the same room.
"This verdict sends a powerful message that the days when tyrants could brutalize their people, pillage their treasury, and escape abroad to a life of luxury are coming to an end," Brody said in a statement. "Today will be carved into history as the day that a band of unrelenting survivors brought their dictator to justice."
The trial was a landmark event in international criminal justice. In Africa, it marked the first time in which the courts of one country prosecuted the former ruler of another for alleged human-rights abuses.
Habré came to power in 1982, in the midst of warring between Chad and neighboring Libya over the Aouzou Strip, the northernmost part of Chad that Libyan ruler Muammar Qaddafi sought to control. Habré's forces, backed by the United States and France, eventually drove Libyan troops out.
Habré was deposed in 1990 by Chad's current president, Idriss Déby, who served as commander-in-chief of the army under Habré. Habré fled to Senegal, where he has lived since, marrying and having children. A Chadian commission established after Habré's ouster to investigate the leader's alleged crimes found the Directorate of Documentation and Security, the government agency in charge of suppressing the regime's political opponents, was responsible for about 40,000 killings and 200,000 cases of torture. Thousands died of torture, malnutrition, and disease in secret detention camps in the capital, N'Djamena, and other prisons.
More than 90 witnesses testified during the trial. Habré watched the proceedings unfold behind a pair of sunglasses, his head and face wrapped in a white turban. He denied the allegations against him, refused to recognize the legitimately of the court, and on some occasions was brought inside by force. Habré has 15 days to appeal the verdict, according to the AP.