Floodlines: Timeline of Events
A retrospective on the events that led to the disaster, and what came next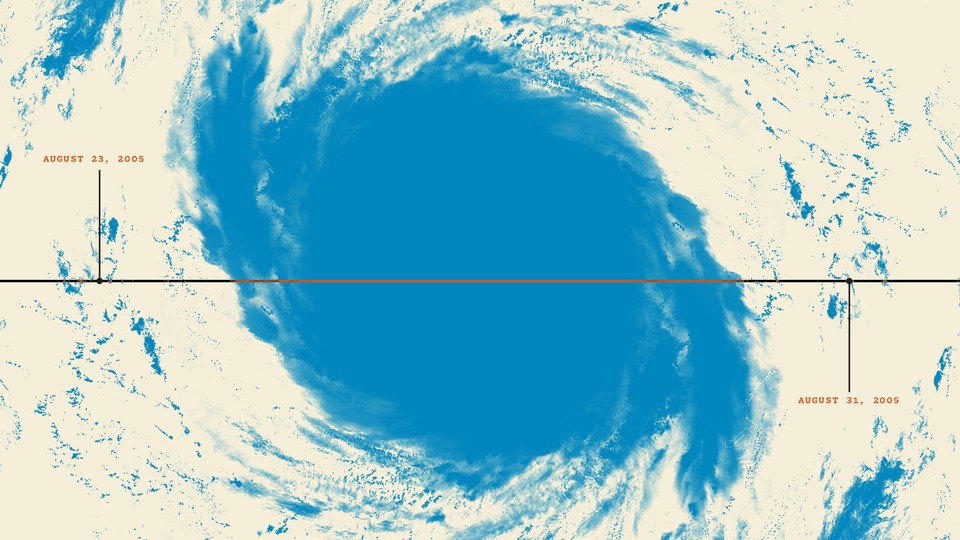 Editor's Note:
This timeline is a companion to our podcast Floodlines. You can listen to the full series here.
Chronology
1923
Opening ceremony for the Industrial Canal, connecting Lake Pontchartrain to the Mississippi River
1927
The Great Mississippi Flood of 1927—the most destructive river flood in United States history—leads Congress to task the U.S. Army Corps of Engineers with taming the Mississippi River. The world's longest system of levees was built.
1937
The Housing Authority of New Orleans receives funding for six public-housing projects, and builds them according to the mandate of segregation.
1979
President Jimmy Carter creates the Federal Emergency Management Agency.
1996
President Bill Clinton elevates FEMA to Cabinet status.
2001
President George W. Bush appoints Joe Allbaugh—his former chief of staff, who has no disaster-management experience—as FEMA head.
2002
The post-9/11 Homeland Security Act reorganizes FEMA under the Department of Homeland Security, effective 2003.
The Times-Picayune's Mark Schleifstein and John McQuaid write "Washing Away" predicting "The Big One"
2003
Michael Brown takes over as head of FEMA after the reorganization.
2004
FEMA and Louisiana officials hold "Hurricane Pam" exercise to test scenario of a Category 3 hurricane hitting New Orleans
Wednesday, August 24, 2005
A tropical depression near the Bahamas strengthens into Tropical Storm Katrina.
Friday, August 26
Hurricane Katrina passes over Florida. LSU models show the possibility of catastrophic flooding if the storm hits New Orleans.
Saturday, August 27
New Orleans Mayor Ray Nagin and Louisiana Governor Kathleen Blanco declare a state of emergency and issue a voluntary evacuation order.
Sunday, August 28
The Superdome opens to the public as a "shelter of last resort" for those unable to leave the city.
FEMA and other disaster officials brief Bush of the possibility that Katrina will cause catastrophic damage and breach the levees.
Nagin calls for mandatory city evacuation.
Monday, August 29
Katrina makes landfall near Buras, Louisiana, on the west bank of the Mississippi, as a strong Category 3 storm. Levees in St. Bernard Parish begin failing, and levees around the Lower Ninth Ward follow. Levees around the Industrial Canal are first overtopped, then breached, leading to catastrophic flooding in the Lower Ninth. Breaching occurs in the London Avenue and 17th Street Canals (two drainage canals that empty into Lake Pontchartrain), leading to serious flooding of the Orleans Metro Bowl. The Army Corps confirms breaches, but that information does not make it to first responders or local emergency staff. Two-thirds of drowning deaths occur after the drainage-canal breaches.
Tuesday, August 30
The water is still rising as the New Orleans bowl fills. Officials deny alarm and don't appear aware of the continued flooding. DHS declares Katrina an "incident of national significance," triggering the first use of the National Response Plan created after 9/11 to create a single federal command unit for military and civilian assets. Governor Blanco orders complete evacuation of the city. Media coverage describes mass "looting" and "lawlessness."
Wednesday, August 31
After days of overcrowded and squalid conditions at the Superdome, FEMA prepares total evacuation. Thousands of residents escaping flooding accumulate at the nearby convention center, an unofficial evacuation center without provisions. Joint Task Force Katrina is established, with Army Lieutenant Governor Russel Honoré as commander. Air Force One flies low over New Orleans, and President Bush is photographed looking out at the devastated city.
Thursday, September 1
News coverage continues of several bodies in and around the convention center. In an NPR interview, DHS Secretary Michael Chertoff says he is unaware of evacuees at the center. FEMA Director Michael Brown says the government only just became aware that the center was being used as a shelter, despite regular media coverage. Police Chief Eddie Compass describes rapes and beatings, adding to rumors of widespread crime.
Friday September 2
Nagin declares conditions at the convention center unsafe and unsanitary.
The National Guard orders its evacuation.
Army Corps of Engineers takes control of levee operation. President Bush tours the disaster region. In Alabama, Bush infamously congratulates the FEMA director on the response: "Brownie, you're doing a heck of a job."
NBC airs the charity telethon "A Concert for Hurricane Relief." Kanye West declares, "George Bush doesn't care about black people."
Danny Brumfield is shot and killed by police, who are later found to have lied about the shooting.
Henry Glover is shot by police, who intimidate people coming to help and eventually burn Glover's body. Four officers are later charged, and one is sent to prison.
Saturday, September 3
Federal troops arrive, with Russel Honoré in command.
Sunday September 4
Evacuation of 25,000 residents from the Superdome to the Houston Astrodome is completed. Evacuation of the convention center is completed as well.
Police officers—none in uniform and driving a rental truck—respond to a police call on Danziger Bridge. They arrive and fire on a group of unarmed civilians with rifles and a shotgun, killing two and wounding four. They take one civilian into custody, and attempt to cover up the incident.
Monday, September 5
The 17th Street Canal levee breach is closed, and pumping begins.
Tuesday, September 6
With concern for "holdouts" in New Orleans, Nagin orders another mandatory evacuation.
Friday, September 9
FEMA Director Michael Brown is removed from directing Hurricane Katrina relief, replaced by United States Coast Guard Vice Admiral Thad Allen.
Monday, September 12
Michael Brown resigns as director of FEMA.
Thursday, September 15
President Bush addresses the nation from Jackson Square, New Orleans: "And all who question the future of the Crescent City need to know: There is no way to imagine America without New Orleans, and this great city will rise again."
Wednesday, September 21
The official death toll is raised to 1,036.
Saturday September 24
FEMA announces a transitional-housing program, providing rental assistance to evacuees.
Hurricane Rita makes landfall near the Texas-Louisiana border.
Wednesday September 28
HUD Secretary Alphonso Jackson tells the Houston Chronicle, "New Orleans is not going to be as black as it was for a long time, if ever again," and chides black leaders for making it "a racial issue."
December 2005
Major repopulation begins, as most areas in the city have services restored.
January 2006
January 16, 2006
Nagin gives his "Chocolate City" speech.
February 18–21
First Mardi Gras since Katrina
August 2007
Two years later: About two-thirds of the pre-Katrina population has returned to New Orleans. Of the city's 128 public schools, 83 are back in operation. Of the 23 hospitals, 13 are back in operation.
February 2008
Thousands of people living in FEMA-provided trailers are asked to evacuate after unhealthy levels of formaldehyde are found in the units.
May 2009
FEMA's temporary-housing program ends.