When a Local Tragedy Becomes National News
Annapolis residents are struggling to make sense of the attack at the Capital Gazette, which is already being politicized.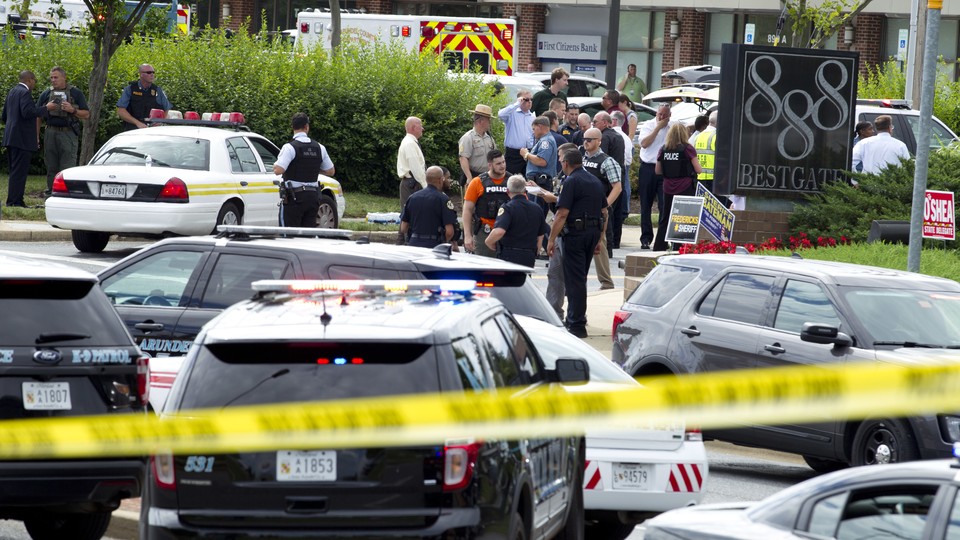 ANNAPOLIS, Md.—Wendi Winters was assigned to report on Davis' Pub on Friday. The owner, Kevin Colbeck, told me she had pitched them an interview about life at a beloved local hangout; the bar is like "the Cheers of Annapolis," one bartender told me. These kinds of stories were a regular part of Winters's beat. The 65-year-old veteran reporter most enjoyed writing her column on the "teen of the week," her daughter told me, and a recent series on "off-limits" places.
But Winters will never write that story. On Thursday, she was one of five employees shot and killed at the offices of the Capital Gazette, Annapolis's local newspaper. Keith Cyphers, an insurance salesman who works across the hall from the paper, described what he remembers seeing through the glass doors of his office. "There's a guy, he's got a ponytail. He's wearing this outfit that makes him look like a video-game soldier character," Cyphers told me. "He's got, like, the tactical pants on, and they're tucked into his black boots, and he's wearing a black T-shirt, and he's got these amber shooting glasses on. And he's holding this enormous, black gun."
On Thursday night, local residents wrestled with what it means to be swept up into a narrative: about mass shootings, about violence against the media, about the toxic and divisive culture of the U.S. Within hours of the shooting—with many facts still unknown—that kind of punditry had already begun. But just like the surviving Capital Gazette reporters, who got to work covering their own story right away, people in Annapolis are straining to prevent this shooting from becoming just another talking point. To keep control of the story. To stay local.
By Friday morning, the suspect's identity was confirmed in online court records from the District Court of Maryland, as reported earlier by The Baltimore Sun: 38-year-old Jarrod Ramos has been charged with five counts of first-degree murder. The Sun described him as a Maryland resident who had been involved in a legal feud with the paper over its coverage of a criminal harassment charge against him. The acting police chief of Anne Arundel County, William Krampf, told reporters on Thursday night that "this was a targeted attack on the Capital Gazette," and that there had been past threats against the newspaper made on social media which "indicated violence."
Thomas Marquardt, the former editor and publisher of the newspaper, was named in a 2012 defamation suit filed by Ramos, according to the Sun. He told me that Ramos had personally threatened him, and that he wasn't surprised to hear reports that Ramos is the suspect. "There is a strong possibility that this guy would probably have wanted to make me the victim of his rant," Marquardt said, but he was not in Annapolis at the time of the shooting. "Was that bullet meant for me?" he asked. "I can't help but feel guilty for not being there."
By all accounts, the Capital Gazette is a beloved local newspaper that has managed to hang on as the news industry has contracted across the country. The paper claims history dating decades before the founding of the American republic, and was owned for years by Philip Merrill, the former diplomat who served in Republican presidential administrations. In 2014, it was sold to the Baltimore Sun Media Group. Along with hard news, opinion columns, and editorials, the paper covers "small-town stuff," Marquardt told me: soap-box derbies, high-school honors, neighborhood cooking demonstrations. Ultimately, this is what people want to read, he said.
But even this kind of local institution has been affected by political and cultural hostility toward the media, he said. Police haven't released much detail about the suspect's motive or state of mind, and according to the Sun, his issues with the newspaper started in mid-2011. But Marquardt nevertheless pointed to the shooting as evidence of a broader willingness to commit acts of violence against the press. "You have a president who says that everything we do is 'fake news,' who has no compunction about disparaging the people whose assignment is to go out and report what he does, and who gives us token sympathy and prayers," he said, alluding to President Trump's tweeted statement about the shooting on Thursday. "The fact that this happened in a newspaper is no coincidence."
Many of the people I spoke with were similarly grappling with how the attack on the Capital, as it's called, fits into bigger cultural conversations. "There was a part of me that was still just aghast that I was now involved in one of these situations," said Cyphers, the eyewitness from across the hall. "This is what happens to people on the TV. This is not what happens to me, in real life."
Late on Thursday night at Davis' Pub, Doug Gibson, a sergeant with the Baltimore City Police Department, told me he doesn't usually carry his gun when he's off-duty and going out for a beer. But "I'm scared that something's going to happen, and I'm not going to be able to take action," he said. He's generally a supporter of gun rights, he added, but he's beginning to question societal norms around firearms. The shooting at the Capital "does disrupt the [assumption] that this is a safe place," he said. "The reality is that it can happen anywhere, and it's happened here."
But his girlfriend, Anita Hagan, was adamant that what happened in Annapolis may not be connected to any larger patterns of violence in the U.S. "I'm not going to lump it into a big political conversation or social commentary, because nobody knows right now," she said. "There's too many pundits starting to talk about what this means. … It may have no meaning at all."
After a while, Hagan seemed to become agitated by our conversation and walked outside. She came back just a few minutes later: The victims' names had finally been released, and she knew one of them. She, too, had been interviewed by Wendi Winters, the reporter who had been slated to show up at that very bar the next day. Hagan began to cry.
"It's just sad and unfortunate that this older lady, who was at the end of her career, writing about kids' frickin' soccer games, is suddenly the victim of something stupid," Hagan said.
Of the five dead victims who were named on Thursday, only one was under 55, according to the Sun. But Eric Smith, the Capital's long-time cartoonist, told me he had been thinking most about the young staffers who had been affected by the shooting. "They have to love journalism to take a job in a dying industry," he said. For those who died, "I pray that if they make it to heaven, they get a really nice newsroom and a good boss."
The newsroom they left behind seems to come close. On Thursday, facing the deaths of their colleagues, the reporters at the Capital decided to get to work. A photographer, Joshua McKerrow, took pictures of the crime scene outside of his office. The reporter E.B. Furgurson III claimed prime territory right behind Krampf, the acting police chief, at the Thursday evening press conference. Another reporter, Chase Cook, tweeted, "I can tell you this: We are putting out a damn paper tomorrow."
In the early hours on Friday morning, the Capital tweeted a screenshot of the next day's cover story about the shooting. Pictures of the five staff members who were killed—Gerald Fischman, Rob Hiaasen, John McNamara, Rebecca Smith, and Wendi Winters—line the top of the page.
Winters's eldest daughter, whose name is Winters Geimer, told me her mom had always dreamed of working at one of the big national media outlets. "It's a pity that she's making national news," she said, "and she's not the one who's writing it."
Elaine Godfrey contributed reporting.