Terrorists Are Still Obsessed With New York City
One person is in custody after Monday's explosion. Three people suffered minor injuries.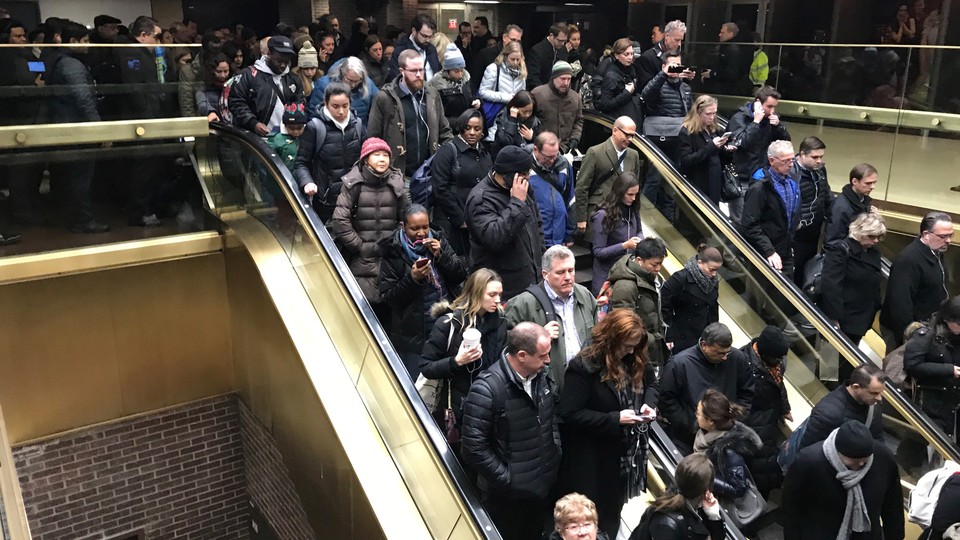 Updated at 11:07 a.m. ET
A man wearing an improvised explosive device caused an explosion Monday in a New York subway tunnel near Times Square, authorities said. The state's governor told New Yorkers what they already know: attacks like this one are inevitable in a city that is a permanent target for anti-American terrorists.
"This is New York," Andrew Cuomo, the New York state governor, said Monday. "The reality is that we are a target by many who would like to make a statement against democracy, against freedom. We have the Statue of Liberty in our harbor, and that makes us an international target. We understand that."
The blast occurred at about 7:20 a.m. in the passageway connecting the busy subways stations at Times Square and Port Authority Bus Terminal, officials said at a news conference. James O'Neill, the city's police commissioner, identified the attacker as Akayed Ullah, 27, a resident of Brooklyn. Other news reports, citing unnamed police sources, said Ullah is an immigrant from Bangladesh who has lived in the U.S. for seven years. Ullah sustained serious injuries in the explosion, while three others in the vicinity of the blast had minor injuries, authorities said.
The city has long been a terrorist target. Since the 1960s, left-wing militants, Puerto Rican activists, and Islamists have carried out fatal attacks on New York. Monday's attack near the iconic Times Square is the latest in a series of prominent Islamist terrorist attacks on the city, one of the first being in 1993, when al-Qaeda used a truck bomb to target the World Trade Center, killing six people and injuring hundreds. In the 24 years since then, jihadists have attacked the city several more times—a testament not only of the city's place in the world's imagination, but also their desire to strike blow against what they see as the most potent symbol of the United States.
Most famously, al-Qaeda struck on September 11, 2001, using passenger aircraft to destroy the Twin Towers of the World Trade Center, killing nearly 3,000 people. Then in October this year, sixteen years after 9/11, there was another fatal attack in New York when a jihadist struck pedestrians and cyclists with his truck in Lower Manhattan, killing eight people. That attack was claimed by ISIS. There have been several other attempts in the intervening years to attack the city, many of which have been foiled; others that haven't caused the damage their perpetrators had hoped, including Monday's explosion.
In many ways, New York is a desirable target. The city of 8.5 million people—a third of whom were born in other countries—is easily the most recognized symbol of the United States around the world. Images of the city's skyline, the Statue of Liberty, and Times Square are almost as ubiquitous on television and movie screens globally as other American cultural exports. A successful, or even unsuccessful, attack on New York underscores the ease with which a terrorist can target the city. But the city's police department has successfully foiled several high-profile plots against New York. In 2010, for example, a car bomb was discovered and disarmed near Times Square—and the man behind it, Faisal Shahzad, was arrested and ultimately convicted.
Despite these successes, New York is also a vulnerable target. The focus, in particular, on the city's subway system, which is used daily by New Yorkers from all walks of life, shows the limits of counterterrorism and security measures undertaken around the world since 9/11. Public transit is nearly impossible to secure. All it takes is one terrorist to cause millions of dollars' worth of disruption quite easily. The financial toll is significant, even in attacks that are considered failures. Terrorism, after all, is not just the cost of lives lost and affected by an attack, but the act of forcing a society's citizens to change the way they live.
By that measure, many terrorist attacks, whether fatal or not, are still quite successful. Jihadists have struck transit systems in Madrid, London, Mumbai, and Moscow, killing hundreds. Monday's explosion in New York's subway is only the latest example of a transportation-focused attack. Bill de Blasio, New York City's mayor, called the latest attempt "incredibly unsettling" because "our lives revolve around the subway." He told New Yorkers to be prepared for an expanded police presence in the city. He also offered his own rationale for why the city was targeted again. "The choice of New York is always for a reason, because we are beacons of the world," he said. "And we show that a society of many background and many faiths can work."
Attempts to target the United States and other countries have continued despite counterterrorism success against, first, al-Qaeda, and, now, ISIS. The former group is now mostly restricted to Afghanistan after suffering severe battlefield losses in its other areas of operation. ISIS, which just a few years ago marched through and seized large parts of Syria and Iraq, is now mostly defeated—and looking for other places to operate.
ISIS might have lost its ability to hold onto territory it once controlled, but it has not lost its seeming ability to inspire others to carry out terrorist attacks around the world through its online propaganda and other means. Attacks in the past year alone have targeted Egypt, the U.K., New York, and other places. Vehicular attacks have become popular, given how easy they are to carry out. And as Monday's blast shows, a single person, working in the shadows, with the will to cause harm is hard to stop—except through luck.
In New York, a city by now used to carnage and heavy police presence, the mood was one of resilience.  "Let's go back to work," Cuomo said. "We're not going to allow them to disrupt us."