Why Charlottesville?
The university town was once named "the happiest city in America." More and more, though, it's the setting for hatred.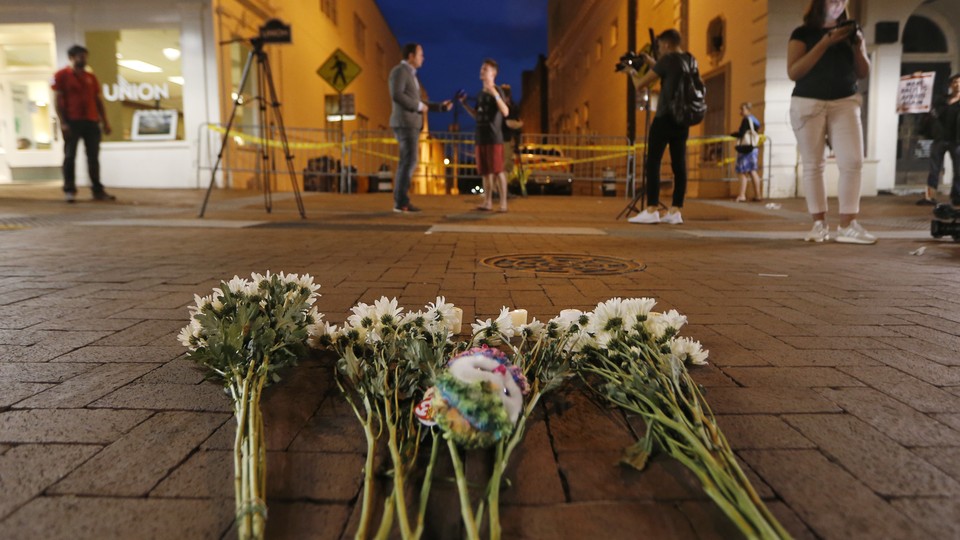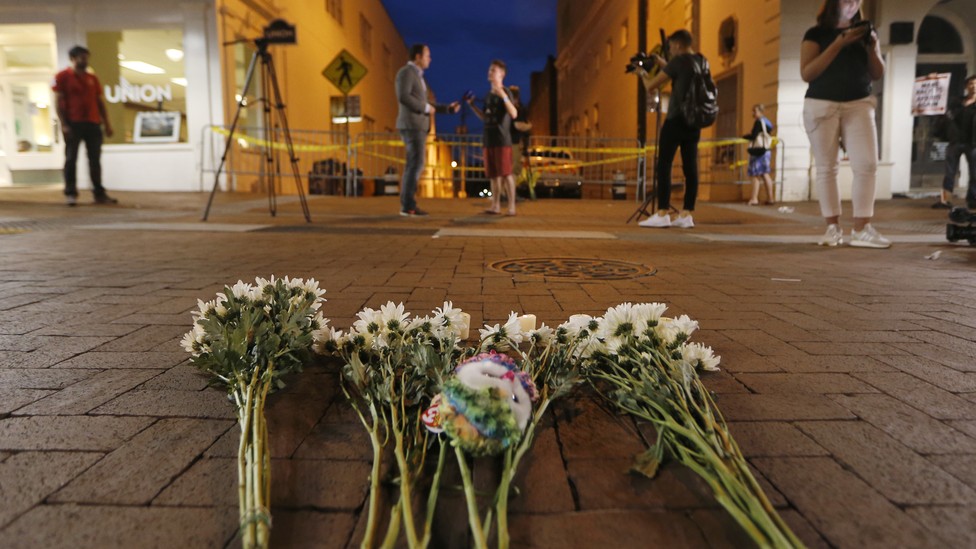 CHARLOTTESVILLE, Va.— "We value diversity, equality, and love in this establishment and in our community," a paper sign read. It was taped to the door of The Pie Chest, a small bakery just off the brick-lined downtown mall in Charlottesville, Virginia. A similar sign—"MINORITY RIGHTS ARE HUMAN RIGHTS"—was taped to the window of the mall's Citizen Burger Bar. A banner stretched over East Market Street, right next to the Paramount Theater: "DIVERSITY makes us STRONGER," it read. "DIVERSITY" was rendered in the colors of the rainbow.
Charlottesville is, like many university towns, a progressive enclave. Its commercial areas are studded with juice bars and coffee shops and boutiques with whimsical names like The Impeccable Pig. Charlottesville is almost aggressively scenic. Charlottesville is almost impossibly charming. In 2014, Charlottesville was named by the National Bureau of Economic Research as America's happiest city.
Why, then, has Charlottesville, home of the University of Virginia, also been home—repeatedly, if extremely reluctantly—to the rallies of white supremacists? Why has this cheerful and laconic and politically progressive town been a favorite venue of neo-Nazis and the alt-right and the KKK? And why has Charlottesville been, this weekend, the setting for the violence that has emerged from what has been dubbed "the largest hate-gathering of its kind in decades in the United States"?
The answer comes down, in large part, to one more thing Charlottesville is: historic. It is a city that embraces its history, not as a frank fact of the past but as a defining feature of its present. Plaques and statues are everywhere on the becolumned UVA campus. Thomas Jefferson—as a person and as an idea—infuses the place. But Charlottesville is not merely a blue city in a red state; it is also a southern town in a southern state. The monuments that make the city's history manifest are often ones that celebrate figures of the Confederacy. And one of those monuments, in particular, has served as a bronze-sculpted lightning rod. At the center of downtown Charlottesville, steps from The Pie Chest and a mile or so from campus, sits Emancipation Park. At its center, soaring 26 feet above the park's manicured lawn, stands an enormous statue of Robert E. Lee astride his enormous horse.
The battle between Charlottesville and the white supremacists began most directly when, in April, Charlottesville's city council, taking a cue from many others around the country, voted to remove the statue of Lee. (The removal, CNN noted, is currently on hold pending litigation.)
In May, Richard Spencer—a white nationalist who is also a UVA graduate—led a group of his followers to protest the removal of the statue. They paraded around the park, chanting and wielding torches. "We will not be replaced from this park," Spencer told the crowd, CBS News reported at the time. "We will not be replaced from this world. Whites have a future. We have a future of power, of beauty, of expression."
In June, Charlottesville's city council voted to rename two of its Confederacy-commemorative parks, Robert E. Lee Park and Stonewall Jackson Park. They are now known as Emancipation Park and Justice Park, respectively.
In July, the Ku Klux Klan hosted its own rally in Charlottesville—this one to celebrate the statue of the Confederate Lieutenant General Stonewall Jackson. "White power," some 50 people chanted, clad in their robes, and bearing their Confederate flags. Counter-protesters—some 1,000 of them—greeted them, shouting, "racists go home." Finally, they did.
As Charlottesville's mayor, Mike Signer, summed things up to CNN last month, "Charlottesville has kind of been put on the map recently." He added: "We want to change the narrative by telling the true story of race through public spaces. That has made us a target for groups that hate that change and want to stay in the past, but we will not be intimidated."
But Charlottesville, it seems, remains a target—to the extent that, this weekend, its name has become nearly synonymous with hatred and violence. (The trending hashtag for the events that have been unfolding in the city has been, simply, #charlottesville.) On Friday night, a group of white nationalists descended on the lawns of the University of Virginia, ostensibly to protest the removal of Lee, waving Confederate flags, carrying (tiki) torches, raising their arms in Nazi salutes. On Saturday, this time on the streets of downtown Charlottesville, those protesters were met with counter-protesters. The groups clashed, sometimes violently. A man plowed his car into a group of protesters, killing one person and injuring 19. Two Virginia state troopers died in a helicopter crash while assisting with the response to the violence.
One of the few stores that remained open on Saturday afternoon on Charlottesville's brick-lined downtown mall, even as the violence raged on, was a drug store. The most popular items it sold during the afternoon, an employee told me, were bottles of water—"water like crazy"—and eye wash, or really "anything to wash out their eyes" from the tear gas that they said had been used—by or against whom, it was not entirely clear—and lingered in the air.
"This is the first time something like this has happened in this city," another employee told me. She was partially mystified—at the scale of anger, at the extent of the violence. But she wasn't entirely surprised. Charlottesville, after all, like so many other cities like it, is a place of collisions: of blue and red, of past and present, of hatred and hope. And Charlottesville, too, is protesting. As Signer put it to reporters on Saturday: "This tide of hatred and ... of bigotry was brought here by outsiders who belong in the trash heap of history." And also: "This day will not define us."