The Latest on Hurricane Harvey
A guide to The Atlantic's ongoing coverage of the catastrophe in Texas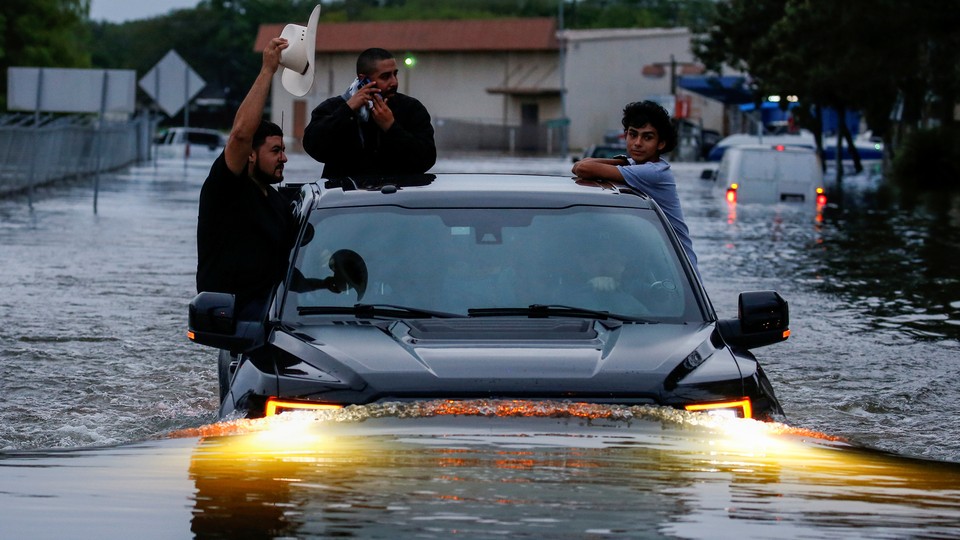 The downpour in Houston has tapered off, but not before soaking the region with record rains—more than 51 inches in some areas since Hurricane Harvey made landfall on August 25.
The magnitude of the flooding in Texas is almost incomprehensible, even for a disaster that the National Weather Service warned was "unprecedented," "unknown," and "beyond anything experienced." At least seven people have died. Texas faces a recovery that will span years.
Here's a guide to The Atlantic's ongoing coverage of a natural disaster that is still unfolding.
The Immediate Aftermath
Unprecedented Flooding in Houston, in Photos: Part I, Part II, and Part III
Alan Taylor has collected harrowing images of the storm's aftermath, rescue operations, and dramatically rising floodwaters.
A Chemical Plant Catches Fire After Harvey Flooding
Houston is the petrochemical capital of the U.S., which makes it especially vulnerable to such accidents after a natural disaster, Sarah Zhang reports.
Yes, That's a Huge Floating Mass of Live Fire Ants in Texas
Sarah Zhang found the story behind a widely-shared photo of a huge raft of fire ants floating in floodwaters. "They actually love floods," Alex Wild, the curator of entomology at University of Texas at Austin, told Zhang.
Why Ordinary Citizens Are Acting as First Responders in Houston
It's not necessarily a sign that government has failed. David Graham reports that in a disaster as large as Harvey, authorities turn to volunteers like the Cajun Navy by design.
How to Track the Ongoing Fallout From Harvey
Alexis Madrigal made an annotated list of trusted sources on the hurricane and its aftermath, from the nation's best meteorologists to the agencies on the ground in Texas.
The Houston Hospital Running Out of Food
Olga Khazan interviewed Bryan McLeod, a spokesperson for Harris Health System, about how Houston's Ben Taub Hospital is flooded, all but unreachable by ambulance, and running out of food.
Photos: Pet Rescues in Harvey's Wake
A collection of images curated by Alan Taylor shows the dogs and cats of displaced flood victims being cared for by owners, neighbors, and first responders across Houston.
A Catastrophe for Houston's Most Vulnerable People
Within cities, poor communities of color often live in segregated neighborhoods with higher flood risks. This is especially true in Houston, Tanvi Misra reports.
Using Twitter to Save a Newborn From a Flood
The use of social media during natural disasters like Harvey has become the norm in the last decade, but with every new disaster it evolves, writes Marina Koren.
NASA's New Space Telescope Is in Harvey's Path
The $8.6 billion successor to Hubble is in Houston, but it's safe from damage for now, Marina Koren reports.
Why Was Harvey So Destructive?
The Strange Future Hurricane Harvey Portends
Peter Brannen describes how the coming centuries will play out under "a new atmospheric regime, one with more extreme rain, falling in patterns unfamiliar to those around which civilization has grown."
Did Climate Change Intensify Hurricane Harvey?
Climate scientists, who specialize in thinking about the Earth system as a whole, are often reticent to link any one weather event to global climate change. But they say that aspects of the case of Hurricane Harvey—and the recent history of tropical cyclones worldwide—suggest global warming is making a bad situation worse, Robinson Meyer reports.
Why the Gulf Coast Is Uniquely Vulnerable to Disasters
Alexis Madrigal interviewed Cindy Ermus, the editor of Environmental Disaster in the Gulf South, about the interplay between Houston and Harvey, disaster management, and racial inequality.
Houston's Flood Is a Design Problem
It's not because the water comes in, Ian Bogost reports, it's because it is forced to leave again.
How Much Does Houston Spend on Flood Control?
In the coming century, the burgeoning metropolis is going to have to make huge investments to ensure its future, Alexis Madrigal reports.
Why Do Some People Decide to Ride Out Hurricanes?
Older people, people with smaller social networks, and those who are less well-off are more likely to stay put in a storm, David Graham reports.
What Makes a Storm Deadly?
Hurricane Harvey is devastating by any measure, but so far it has killed far fewer people than Hurricane Katrina. Olga Khazan interviewed John Mutter, a geophysicist at Columbia University who led an effort to count the dead in the wake of Hurricane Katrina, to understand why.
When a Hurricane Hits an Offshore Oil Platform
In the 1940s, offshore platforms were 20 to 40 feet above sea level. In the 1990s, more than 70 feet. And after Katrina and Rita, they are now at 91 feet. During hurricane season along the Gulf Coast, that's a huge potential problem, Sarah Zhang reports.
Recovery and Beyond
The Legal Crises to Follow in Hurricane Harvey's Wake
Disasters like Harvey often mean long-term legal troubles for families. Filing claims is just the beginning, Vann Newkirk II reports.
The Looming Consequences of Breathing Mold
James Hamblin writes about one of the major long-term health impacts of the hurricane. "Submerging a city means introducing a new ecosystem of fungal growth that will change the health of the population in ways we are only beginning to understand."
Trump's Empathy Deficit
The president has excelled at celebrating America's resilience, but struggled to express sympathy or consolation for Harvey's victims, David Graham reports.
Does Harvey Represent a New Normal for Hurricanes?
Research suggests a warming world will have less frequent, more intense tropical cyclones, Robinson Meyer reports.
Will Flooding in Texas Lead to More Mosquito-Borne Illness?
Julie Beck reports that long-term damage from Hurricane Harvey could create more breeding grounds for disease-transmitting insects in a region already on edge about Zika and other infectious tropical diseases.
How Hurricane Harvey Could Cause Long-Term Devastation
If Harvey wrecks the federal flood-insurance program, it may cause financial ruin for insured and uninsured homeowners alike, Vann Newkirk II reports.