Is Texas Ready for Hurricane Harvey?
Experts have long worried that a powerful storm striking the Gulf Coast could be a costly and deadly environmental disaster.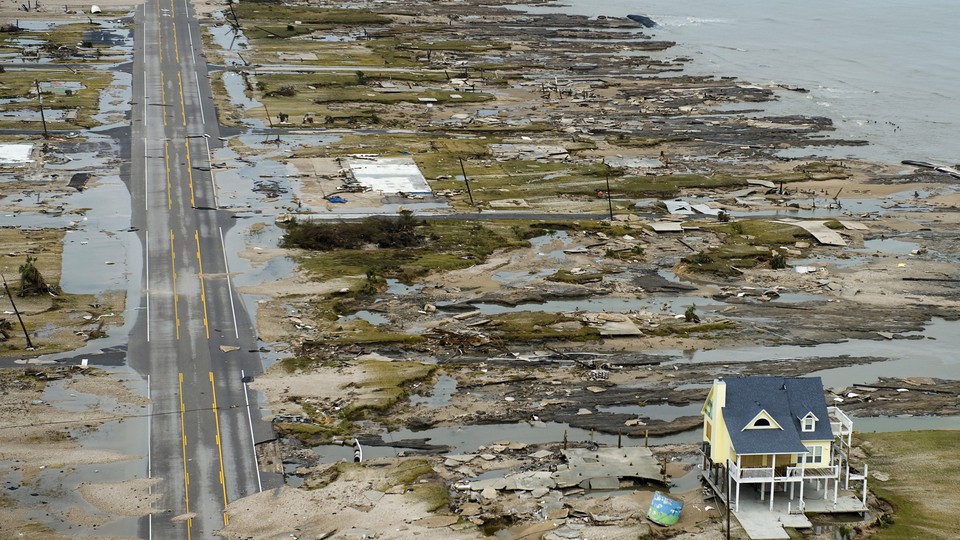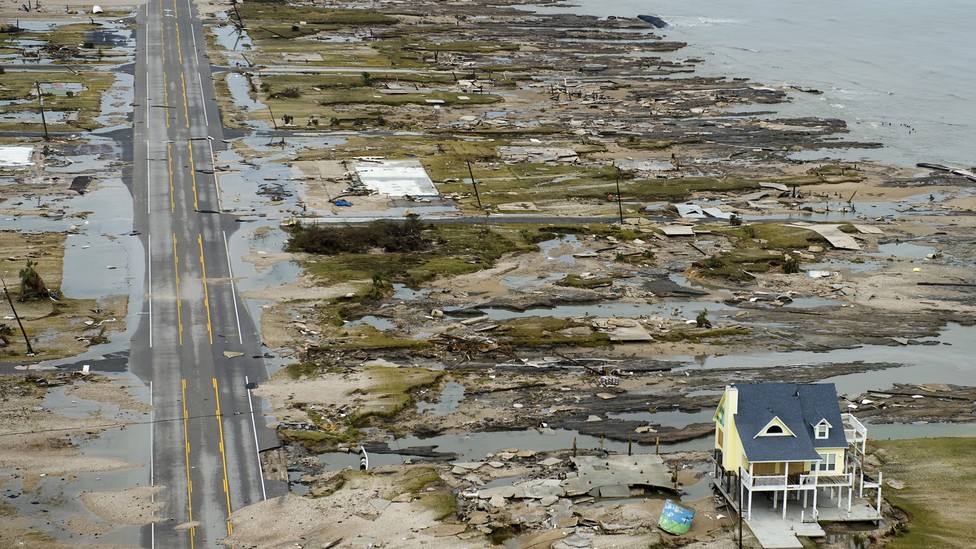 Hurricane Ike, a storm that struck the Texas Gulf Coast in 2008, was the kind of event that's often described as a wake-up call. Hurricane Harvey, which is expected to strike near Corpus Christi early Friday, could show whether the region actually woke up.
Harvey is expected to make landfall as a Category 3 storm, with winds of at least 111 miles per hour—the most powerful storm to strike the mainland U.S. since 2005. The current National Hurricane Center forecast has it making landfall on the middle Texas coast, well below Houston, although forecasters caution that its track remains uncertain. Portions of the coast, from the Padre Island National Seashore to Sargent, could receive a storm surge of 6 to 12 feet above ground level, forecasters predict. Depending on where it hits, and with what force, the storm could kill dozens, cause heavy flooding, and disrupt the national economy for months to come.
The threat of a major storm striking the area, and especially the Houston Ship Channel, the nation's second-largest port by tonnage, has long been a nightmare scenario for disaster experts, especially after Ike killed more than 100 people in the United States and inflicted $25 billion in losses. But that storm didn't hit the ship channel head on. Rice University's Severe Storm Prediction, Education, and Evacuation from Disasters (SSPEED) Center predicts a direct hit would "easily" cause more than $100 billion in damages.
Yet action to prepare for such a storm has been slow. In Houston, the most popular suggestion is something called the "Ike Dike," a seawall along the outer coast that might prevent a storm surge. But many experts think the Ike Dike would be insufficient, and in any case, the seawall still hasn't been built.
"I think everyone in the community is in agreement here—politicians, engineers, people in leadership positions—they're all in agreement that we need to do something. But it's been seven years and really very little has been done," Rice's Phil Bedient, co-director of SSPEED, told me two summers ago. "I'm actually fairly optimistic that something will be done, because it needs to be done. Now, whether that will be done before the next big one hits?"
Last year, he told ProPublica, "We're sitting ducks. We've done nothing. We've done nothing to shore up the coastline, to add resiliency … to do anything."
Bedient was only slightly more sanguine on Thursday. "I don't think much has been done to mitigate flooding in the past two years," he wrote in an email. Bedient pointed to Project Brays, a flood-reduction effort, as a positive step, but he noted that the work only protects part of the city. "No other major projects have been undertaken."
Despite the havoc it wreaked, Ike was in many ways a bullet dodged for Houston, since it didn't hit directly. A century earlier, in 1900, a storm struck Galveston directly, producing almost unimaginable destruction. Historians now estimate that between 6,000 and 12,000 people were killed.
A hurricane of that size today would have a very different effect. Because of the development of tracking technology, no storm would ever strike with so little warning, which means it's unlikely any hurricane in the U.S. will ever be so lethal. But 117 years of development in the region mean that the big storm—whether it's Harvey or a future one—will be more complicated and have farther-reaching effects.
For one thing, many more people now live in the path of a storm. Corpus Christi is a crucial oil-refining center, and the nation's fifth busiest port. Add in the Houston Ship Channel, another major petrochemical industry center, and the risk of an environmental disaster or a major disruption to energy supplies gets larger. Harris County, home to Houston, is the nation's second fastest-growing county. Population growth brings with it new developments, some of them in vulnerable places. NASA's Johnson Space Center sits on low ground on the west side of Galveston Bay in Houston.
Industrial installations in the Houston Ship Channel are built to withstand a storm surge as high as 15 feet. Ike's storm surge was 13 feet.  But SSPEED found that a category 3 storm could produce a surge as large as 25 feet. A 22-foot surge could spill 59 million gallons of crude oil and other chemicals; a 24-foot surge could spill 90 million gallons. "The damage caused by such an event would be devastating and could easily become the worst environmental disaster in U.S. history," Rice's Baker Institute for Public Policy concluded in 2015.
Already, gas prices have ticked up in anticipation of a disruption to supply. But if there's serious damage to refineries and other facilities, it could affect the supply of oil for months to come, jacking up prices around the country.
The human effects in the area could be even more devastating. It's the aftermath of an event that first responders worry about most—not only because, unlike the storms, they're subject to human control, but also because they tend to be more lethal. Can responders get people out of flooded areas? Can they get food and water and drugs in? Can they get power back on? How badly is infrastructure destroyed?
Summer temperatures along the coast are routinely in the 90s, which can be brutal with no power. After Ike, 98 percent of Harris County was out of power. Current forecasts predict 12 and 20 inches of rain on the Texas coast through the middle of next week, and potentially as much as 30 inches. Flooding could persist for days, forcing evacuations across the region. Parts of Louisiana are already flooded, and they could get more rain from the storm.  Toxic waste and spills could render parts of the area uninhabitable for long after the flood water receded. Not many people in the Houston area have flood insurance, so they could be either left out in the cold or require a government bailout (no pun intended) in the case of bad flooding.
In summer 2015, Francisco Sanchez, a spokesman for Harris County's Office of Homeland Security and Emergency Management, told me that the region was far better prepared than it had been during Ike, even though no major physical hurricane-mitigation projects were complete. Sanchez said the single biggest priority for disaster managers was communication—making sure residents knew what was happening and how to do it—and he said the county had made strides in that area. Texas Governor Greg Abbott on Wednesday declared states of disaster in 30 counties in anticipation of the storm.
The storm could also be President Trump's first major test in a natural disaster. Brock Long, Trump's pick to run the Federal Emergency Management Agency, was confirmed in late June, so it will be his first major trial as well. Long was previously Alabama's top emergency manager. A disaster can make or break a leader. George W. Bush's administration never recovered from the botched response to Hurricane Katrina, in 2005.
In the immediate term, however, the more important test is the Waffle House test. Craig Fugate, who led FEMA under President Obama, liked to gauge storm response by whether the iconic, 24-hour Southern chain was up and running. The restaurant has dozens of locations around the Houston area, so one way to judge Harvey's effect will be by how soon you get an All-Star Special in Galveston or Baytown.