Houston Battles to Rescue Residents From Rising Floodwaters
Local authorities are urging residents to seek shelter on their roofs, if necessary.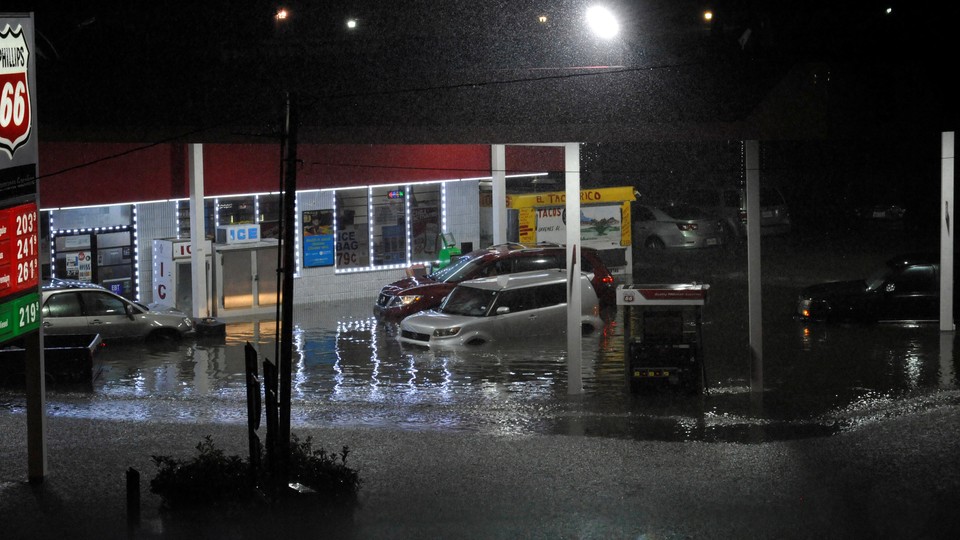 Updated at 12:27 p.m.
Authorities in Harris County, Texas, urged residents to seek refuge on their roofs as many parts of the county were inundated by flooding caused by tropical storm Harvey, and the National Weather Service called the event "unprecedented … & beyond anything experienced."
The City of Houston urged residents to call only if there was imminent danger, saying that the city's 911 lines are at capacity. That tweet was followed by a string of pleas from help from Houston residents, many of whom said they could not reach emergency responders by calling 911, and were in imminent danger from rising floodwaters. The National Weather Service urged residents to follow orders from officials. "This event is unprecedented & all impacts are unknown & beyond anything experienced," the service said in a tweet.
In Washington, meanwhile, President Trump sent a string of  tweets taking a strikingly different tone than that being employed by the emergency-management officials on the ground in Texas, saying that relief efforts were "going well." (He also found time on Sunday morning to recommend a book by Milwaukee County Sheriff David Clarke, weigh in on the Senate election in Missouri, tout his proposal for a wall along the Mexican border, and emphasize the importance of renegotiating NAFTA.)
Trump said he was watching the situation in Texas, cited "great coordination between agencies at all levels of government," and said he would visit the state "as soon as that trip can be made without causing disruption."
Wow - Now experts are calling #Harvey a once in 500 year flood! We have an all out effort going, and going well!

— Donald J. Trump (@realDonaldTrump) August 27, 2017
The flooding in Houston appeared to have no recent precedent. Parts of Harris County have received more than 20 inches of rain in the past 24 hours. Jeff Lindner, a flood-control district officer, said rainfall of more than 4 inches per hour meant many parts of the nation's fifth-largest metropolitan area would see far worse flooding than during recent storms that have hit the state. Harvey was, he said, set to surpass levels of flooding seen in southeast Texas when tropical storm Allison struck Texas in June 2001.
Eric Holthaus, a meteorologist, said on Twitter that flooding in many parts of the city was on pace to break the national record for 24-hour rainfall.
Several spots in Houston metro are on pace to break the all-time U.S. 24-hour rainfall record. (42" in 1979 in Alvin, TX)
Shown: >17.5"/10hr pic.twitter.com/3z3eGcGzWj

— Eric Holthaus (@EricHolthaus) August 27, 2017
Harvey hit Texas late Friday as a category-4 hurricane with heavy rains and 130-mile-per-hour winds. The National Weather Service said Harvey was continuing to produce "catastrophic and life-threatening flooding" and issued flash-flood emergencies for parts of southeastern Texas. The storm has been blamed for five deaths. Thousands are without power.
Texas has been preparing for a storm like this one since Hurricane Ike struck the state's Gulf Coast in 2008. As my colleague David Graham reported, "the threat of a major storm striking the area ... has long been a nightmare scenario for disaster experts ... yet action to prepare for such a storm has been slow." A massive storm, David wrote, could not have have a catastrophic economic impact, but:
The human effects in the area could be even more devastating. It's the aftermath of an event that first responders worry about most—not only because, unlike the storms, they're subject to human control, but also because they tend to be more lethal. Can responders get people out of flooded areas? Can they get food and water and drugs in? Can they get power back on? How badly is infrastructure destroyed?
The greater Houston area, a hub for the refinement and transshipment of petroleum products, with vast residential areas along the bay and riverbanks. The heavy rains have closed highways and other routes; responders are reportedly having difficulty reaching residents of lower lying areas trapped in their homes by the flooding.