Editor's Note:
This article previously appeared in a different format as part of The Atlantic's Notes section, retired in 2021.
I mentioned last night that we'd devised a plan to pick our way through passes and valleys in the Rockies, to get from the western slope — at Rifle airport in Colorado, a little more than an hour's drive west of Aspen — to the other side of the continental divide. Here, from yesterday's installment, was the plan: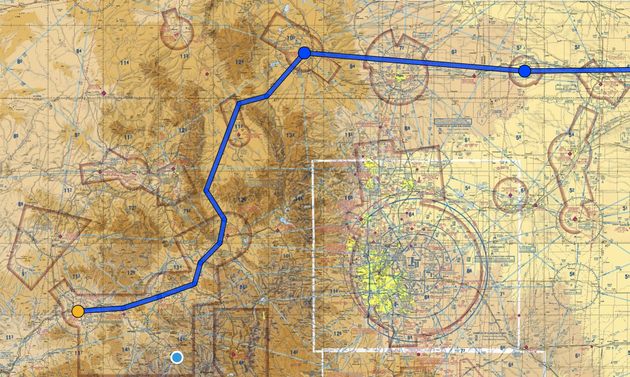 Today things went more or less as forecast. We climbed out of Rifle and headed in the "wrong" direction, down the Colorado River valley toward the west, until we'd gained enough altitude to turn back eastward through the passes. (For the aviation crowd: we did the first part of this trip at 11,500 feet, and then 12,500 feet for the highest 45 minutes or so — and, yes, as is both required by rules and advisable for safety, I had a supplemental-oxygen can that I took hits from.)
Here is how the "actual" route looked today, via Flight Aware — "actual" in quotes, because of the odd mis-readings the Flight Aware recaps occasionally give. The green line is our path, according to air-traffic control radar as rendered by Flight Aware. This version picks up our radar track about 20 minutes into the flight, somewhere around the Kremling waypoint (the RLG VOR, for the aviation crowd). The path we took resembled what we'd planned: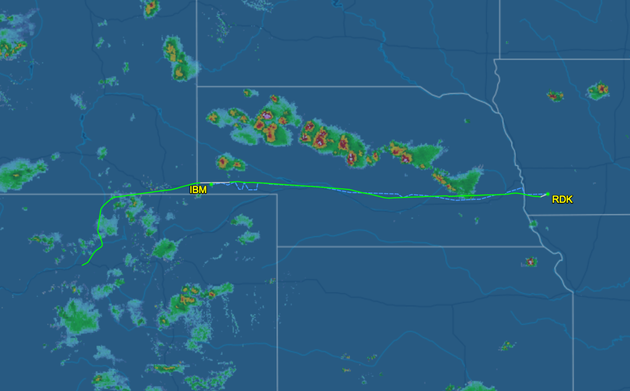 Also as foreseen, we made an early refueling stop in Kimball, Nebraska, which is just past Cheyenne and the Wyoming-Nebraska border and is marked as IBM on the map. I hadn't wanted the plane to be any heavier than necessary for the high-altitude Rockies portion of the journey, so once we got beyond the mountains, and into Nebraska, we took on more fuel. (There are people who enjoy mountain flying. I am not one of them.) Then onward across Nebraska, at a comfortable distance south of a static line of thunderstorms, to an overnight stay in the familiar town of Red Oak, Iowa, which is not far across the Missouri River from Omaha and is shown as RDK on the map.
***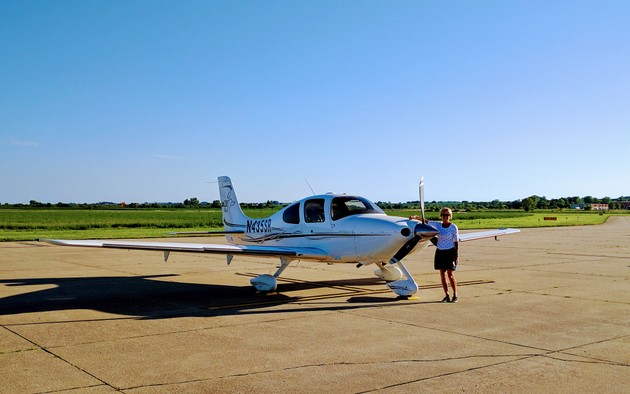 We decided to stop and stay in Red Oak, rather than pushing on across Iowa or into Illinois, because it is in a way responsible for all of the travels and reports Deb and I have done over the past few years. Back in the summer of 2012, when we were headed westward from Washington to that year's Aspen Ideas Festival, by chance we happened to stop for the night in Red Oak. We were amazed by the intensity of civic activity at the airport itself, as we'll describe in our forthcoming book — and then spent an evening talking with a family from Jalisco, in Mexico, who had opened a very popular restaurant called Casa de Oro on the main drag in Red Oak. We spent the next few days saying to each other: if so much is going on, by such a variety of people, in a little place we had not paid attention to, what must be happening elsewhere?
This afternoon we came back to Red Oak, in the dead-calm wind conditions that make an approach to landing feel like swimming through the sky. In the evening we returned to Case de Oro, which appeared to be thriving. Tomorrow, on to the east coast.