Editor's Note:
This article previously appeared in a different format as part of The Atlantic's Notes section, retired in 2021.
Nearly six months ago, I announced a hiatus from online life (except for Twitter), while my wife Deb and I decamped to my original hometown of Redlands, California and a house we rented on the campus of the University of Redlands, to finish a book on what we'd discovered in traveling around the country over the past four years.
The book is now (nearly) done; we've been occupied wall-to-wall over the past week-plus at the 2017 installment of the Aspen Ideas Festival; and tomorrow we begin the small-plane journey back to the East Coast, where we'll rejoin the Atlantic staff, actually finish off the book, and get ready for our upcoming relocation to England.
This is a placeholder note with an aviation angle, on the way you deal with the Rocky Mountains if you're flying a small, piston-powered, single-engine airplane.
***
Usually we have had to approach Aspen from the east, coming from Washington. Twice I've flown our propeller plane into the Aspen airport, and — having survived  — I choose never to do that again. Instead we've landed at some flatland airport in the Denver area, either Centennial to the south of Denver or Boulder to the north, and then rented a car for the three-to-four hour drive into Aspen.
This year we were coming from the west, from our early-2017 base at the San Bernardino airport in California, with its elegant facility called Luxivair. A week ago we flew from there to the airport in Rifle, Colorado, on the relative flatlands of the Colorado River valley on the western slope of the Rockies, and rented a car for the hour-plus drive into Aspen.
Tomorrow, we start the route back east, in placid weather and with a comparatively benign course plotted to get past the Rockies and out onto the long descent eastward — across Nebraska, Iowa, Illinois, Indiana, and then over the Appalachians to the eastern seaboard. Here are the waypoint for the lowland route out of Rifle, through a series of valleys and passes, until we escape from the really challenging terrain around Laramie, Wyoming: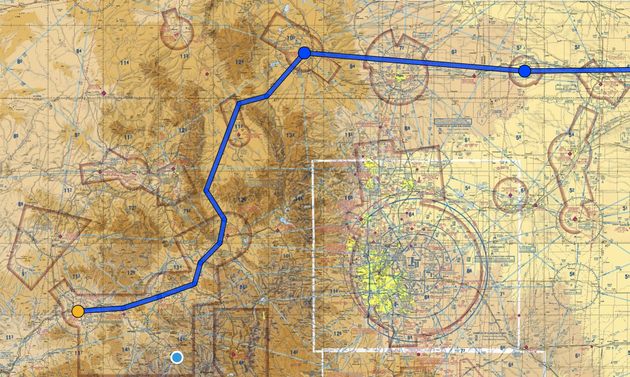 Then we'll spend tomorrow night somewhere in Iowa or Illinois — maybe Red Oak, maybe Ottumwa, maybe Peoria, all dots on the map below, and all depending on how we feel, and the weather — and then onward to the DC area in time for festivities on the Fourth of July.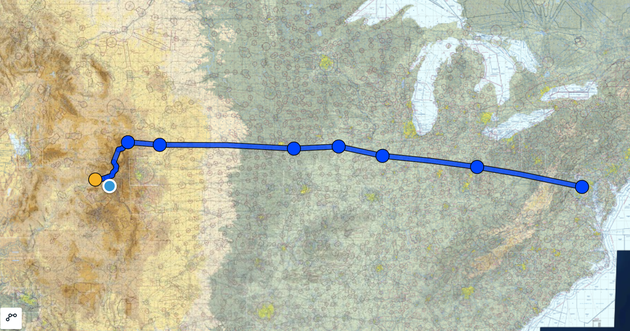 I've sort of missed, sort of not, having an online outlet. But ready to re-enter the fray. More to come — and if you're in Nebraska or Iowa tomorrow, look up and wave.