In Praise of Single Moms on Mother's Day
In the face of adversity, they embody the most American of values and guide others forward.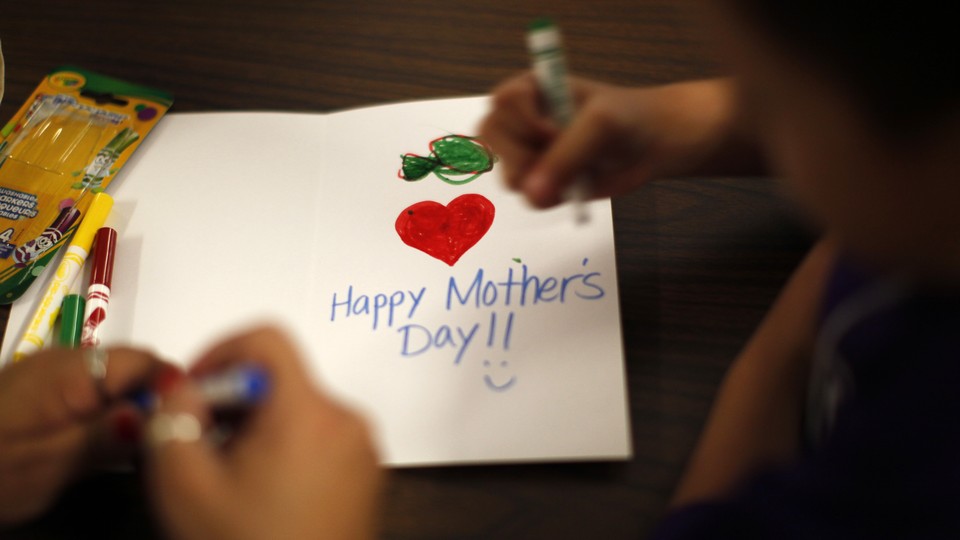 As a kid, I dreamt of a magical land of two-parent families and two-story houses. A land where everyone shopped without looking at price tags and ate at restaurants with multiple forks and non-disposable napkins. I imagined that people who had two parents and two floors had no problems and many Polo shirts. I knew almost no one who had either.
After I grew up and left Prince George's County, Maryland, to go to college in the Midwest, I rarely discussed where I came from. I quickly skipped over the conversation when people asked, referring vaguely to "just outside of Washington" before moving on to the next topic. Out of college I worked with people who had never known the inside of a Marshall's, clipped a coupon—let alone knew what a double coupon was—or walked the front lawn of a yard sale looking for clothes or dishes.
Later, I attended business school with people who used "summered" as a verb, said "rother" instead of "rather" and had parents who worked in finance, not at the phone company. I had my first experiences with a cappella groups, prep school alums, and "the Vineyard."  I racked up a series of fancy titles, precious few of which meant much to people I grew up with, and I "passed" as someone who did not come from the wrong side of the class divide.
The person who allowed and equipped me to jump over the class barriers staring us in the face was my mother. She never finished college or hung out with people who worked in "white-collar" jobs (I didn't know what those were until I reached high school). But she read and she worked, and she took advantage of Washington D.C.'s free museums and libraries to teach me just how much was possible, even if the window looked tinted at the moment. Anything I am ever able to do or achieve is attributable to her and her living example of hard work in the face of failure, determination in the face of setbacks, and perspective in the face of adversity.
As my mother said, life is hard.
And: On a scale of major world tragedies, yours is not a three.
I am thankful to have been raised by my mother and the community of single moms of which she was a part: women frequently knocked around in public for destroying American values but who actually embody the most American of values—hard work, decency to all, generosity to those not as fortunate, perseverance, sacrifice for the next generation, and a deep understanding that nothing is easy. Watching them go each day to jobs they didn't love without complaining while making the absolute most of the little we had—dollar movies, consignment shops, neighborhood plays, and warehouse grocery stores— I learned to never look for the lazy win, but instead seek the hard-won victory.
When I was growing up, my mother worked as a service representative at the phone company each day, fielding people's complaints, and sold Tupperware at night. My father paid child support on occasion, but those occasions were few. So it was up to her to figure out how to not only support us, but also to fund piano lessons, gymnastics class, and Sunday school, all of which she thought were important to future success, moral consistency, and future mobility. Payment plans were our dear friends. And the Marshall's layaway window featured prominently in our lives.
My mother never graduated from college, but she never let me think I had any choice but to be educated. As educated as I could be. And she taught—and urged—me to not see elite institutions as the domain of others, but as a natural destination, despite the fact that we didn't know a soul who had attended anything that resembled Harvard or Yale. "Maryland, Maryland or Maryland," she would tell me when discussing my many options for college. Still, she made clear that if I got a scholarship anything was possible. She herself had not given up on higher education: On evenings when she wasn't selling Tupperware, she attended night classes at University of Maryland University College. I would sit outside in the hallway while she studied, doing my homework, knowing that she and I were both stuck in classwork.
This Mother's Day I want to pay tribute to my mom. She and so many other women in my neighborhood worked one, usually two jobs, with no glamour, little pay and minimal respect, and fought hard each day for their kids to have a life that was far easier, less stressful, and more stable than their own. As a beneficiary of their toil, grit, and grace, and in acknowledgment to all those single mothers out there working right now, in this moment, for the same things, I wish you all a Happy Mother's Day.