America by Air: Parks Over Pittsburgh
Editor's Note:
This article previously appeared in a different format as part of The Atlantic's Notes section, retired in 2021.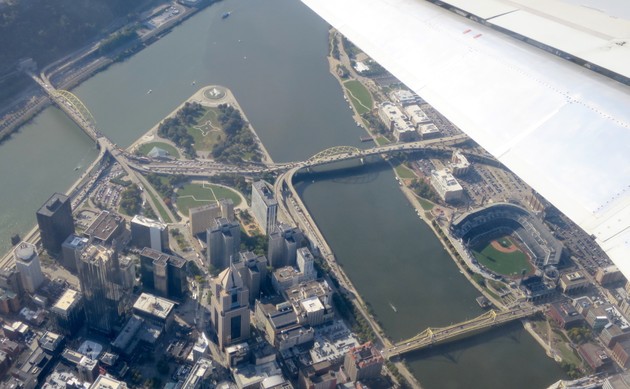 A reader sends an autumnal view over Pennsylvania:
Here's a shot of Point State Park at the Forks of the Ohio River. I shot it on October 12, 2016, at 3:37 PM on Delta Flight 869 from Atlanta to Pittsburgh as the plane was on its approach to the Pittsburgh airport. Alas, the Pirates were not in the playoffs.
The team placed 3rd in its division this year, with a 78–83-1 record. Here's a bit about the park across the water from the ballpark:
The fountain in Point State Park, which sprays water up to 150 feet (46 m) in the air at the head of the Ohio River, draws upon water from an aquifer that passes beneath the park known as the "Wisconsin Glacial Flow," an ancient river channel now filled with sand and gravel as a result of the Pleistocene glaciation and the consequent re-routing of Pittsburgh's rivers.